Breeding Insects and Reproducing White Supremacy in Maria Sibylla Merian's Ecology of Dispossession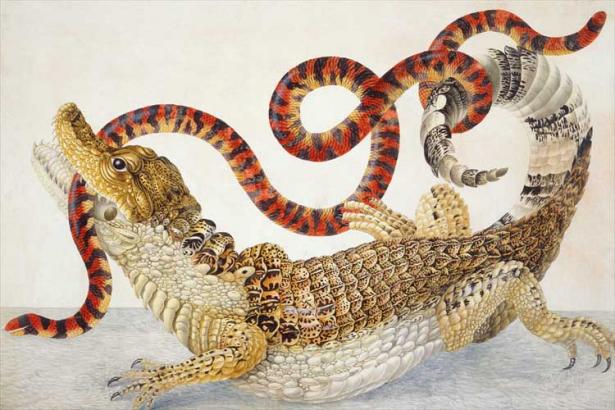 Spectacled Caiman and False Coral Snake, Maria Sibylla Merian / Wikimedia Commons | Public Domain.
Even though German-Dutch naturalist Maria Sibylla Merian has been dead for over 300 years, she is currently having a moment in popular crafting culture and in children's literature. Merian is featured on Etsy; she is frequently pinned on Pinterest; and you can read about her curiosity for butterflies and caterpillars in many books for children—several of which refer to her as "a girl." Less well known in popular culture, however, is Merian's status as an enslaver; her dependence on enslaved indigenous and African cultivators for her study of plants and insects in Surinam; and her reference to enslaved women's reliance on infanticide and abortion. These popular depictions of Merian sidestep the politics of sexual reproduction under colonialism and slavery and ignore the context in which Merian undertook her research. Instead, Merian is renown within a softer, more palatable narrative as a woman scientist who created beautifully illustrated books.  
In June 1699, at age 52 and divorced from her husband, Merian travelled to Surinam in South America from Amsterdam with her 21 year-old daughter Dorothea as a research assistant. She paid for the trip with the profits from two previous illustrated naturalist books, which were produced from her longstanding research on insect husbandry and flora in Europe. Merian spent nearly two years in the Dutch colony drawing specimens, breeding various species of insects, and observing their cycles of development—a study she undertook by exploiting the labor of enslaved African and indigenous guides, most of whom were women. This study would eventually be published in 1705, in the form of the magnificently engraved text Metamorphosis Insectorum Surinamensium.
Metamorphosis is vibrantly illustrated with 60 engraved plates of the plants and insects Merian observed first-hand during her short time in the colony. The plates are printed side-by-side with short textual accounts in which Merian narrates her personal encounters with specimens. The afterlife of her work's popularity lingers into 2019, as Merian's engravings are still frequently reproduced. Her illustrations of Surinam pineapples, for example, are printed as "kitchen wall art" and in commemorative stamps. For Merian, the pineapple was a symbol of colonial wealth and exotic acquisition. The technology of engraving allowed Merian to preserve her experience of observing a plant in person, a more reliable form of transporting live flora. Imagine, for example, shipping a pineapple back to Amsterdam—it arrives months after harvest, the insects surrounding it have died, and the fruit is probably rotten. In the reconstructed colonial ecosystem of Metamorphosis, flora and fauna have preserved life cycles and histories. Merian does not grant this preservation of life, however, to the enslaved persons she occasionally cites.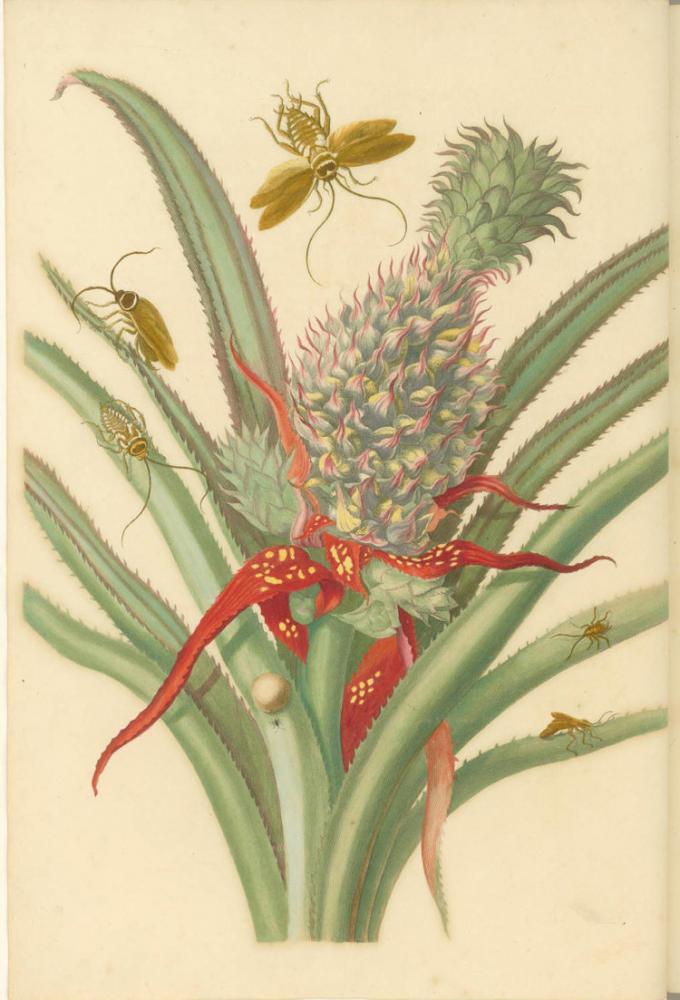 Plate 45 of Metamorphosis depicts the peacock flower along with a brief glimpse into the sheer brutality visible beneath the surface of Merian's Surinam study. Alongside the peacock flower plate, Merian describes enslaved women's use of the plant as an abortifacient as well as these women's practices of infanticide under the duress of slavery. Merian explains that she uncovered this information from indigenous and African women firsthand:
This Flos Pavonis [peacock flower] is a plant measuring 9 feet tall. It bears yellow and red flowers. The seed is used by women giving birth to carry on the labor. The Indians who are not treated well when in service with the Dutch, use [the peacock flower] to abort their children, not wanting their children to be slaves, like them. The black female slaves from Guinea and Angola have to be treated very kindly. Otherwise they do not want children in their state of slavery and will not have any. Indeed, they sometimes even kill them because of the harsh treatment commonly inflicted on them, because they feel that they will be reborn in a free state in the country of their friends, as I heard from their own lips.
The "Indians" and "black female slaves" who provided Merian with medical knowledge about the peacock flower are not illustrated in Metamorphosis. Instead, the image associated with these women's paraphrased accounts is the flower itself, which curves across the page with yellow blossoms, was paired with an evolving moth. Following this brief excerpt, Merian quickly moves from describing the peacock flower and its abortifacient properties to detailing the "pale sea green" caterpillars found near the plant. The beauty of the image obscures the text's underlying violence: the unnamed enslaved women's experiences of coerced sexual reproduction, abuse, and rape in Surinam.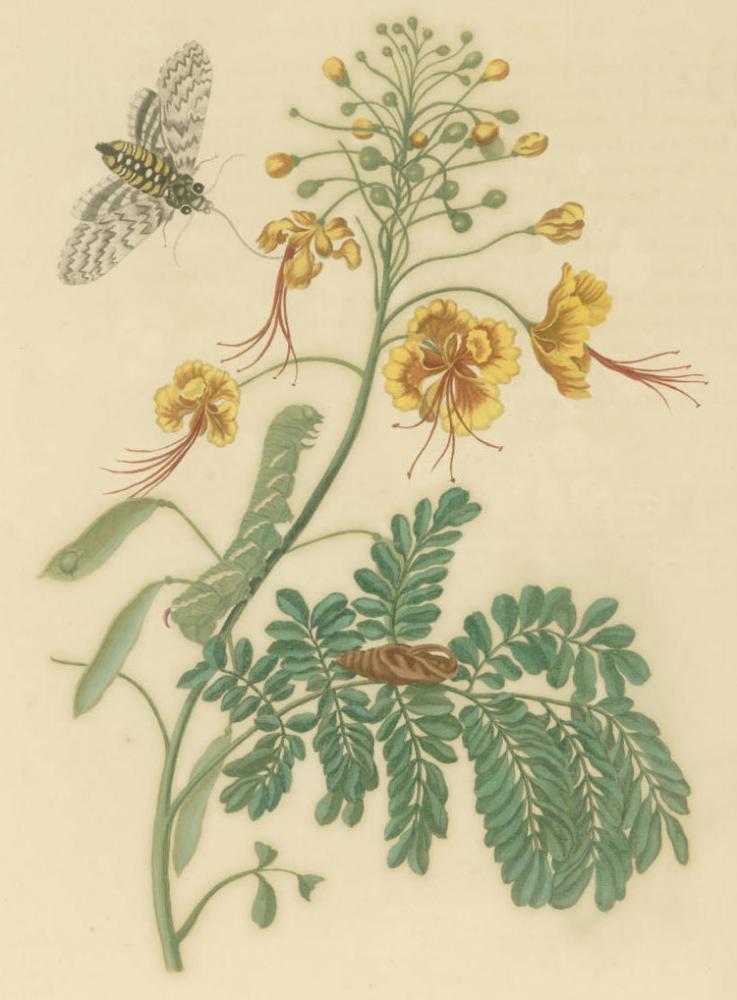 Merian's reference to labor induction, abortion, and infanticide is surprising within the larger context of her writings, which otherwise focuses on the breeding of insects, not women or sexual reproduction under slavery. Merian's devotion, above all, was to the environmental context of insects and their lifecycles, which she pursued as an enslaver of the women she cites. Her expertise was not in midwifery, uterine health, or herbalism. Yet, scholarship on Metamorphosis has too often given credit to Merian for her citation of the peacock flower passage. Scholars have suggested that her citation points to an inclusivity or mutuality among women, as if Merian shared a commonality with the women she enslaved. What the peacock flower passage ultimately shows is the unnamed enslaved women's complex understanding of the relations between herbalism, sexual oppression, and juridical notions of slave status—a complex understanding that Merian lacked.
We can assume that Merian was not meek in her regulation of the enslaved women and men she occasionally references in Metamorphosis. Natalie Davis explains that while in Surinam, Merian relied on the work of at least one indigenous enslaved domestic worker, a woman who was likely either Arawak or Carib, and who probably tended to Merian and Dorothea's garden, cooked, and did laundry in addition to advising Merian about plants and medicinal remedies. This woman, who Merian refers to in the text as "my Indian," is mentioned in the narrative accompanying Plate 36, which illustrates Costus Arabicus. Merian writes, "I had my Indian dig [Costus Arabicus] up by the root and carry it home and plant it in my garden." Further, alongside the same plate, Merian elaborates, "because the forest is so densely grown with thistles and thorns, I had to send my slaves ahead of me with axes to hack out an opening for me" to uncover specimens.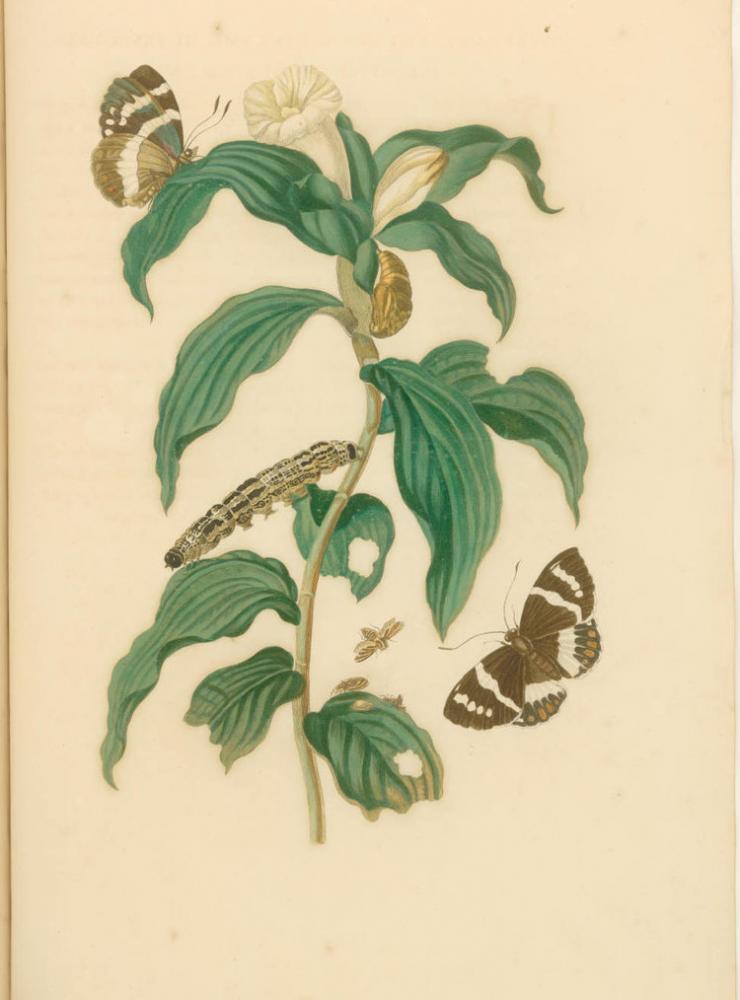 An unnamed indigenous woman—likely the person she calls "my Indian"—was taken captive by Merian and Dorothea on their voyage back to Holland in June 1701, as indicated by a passenger list for their ship. The details of this woman's life beyond her servile captivity on the journey to Amsterdam are unknown and were not documented by Merian. Claiming ownership of an indigenous woman who could serve as a resource for plant knowledge gave Merian status within the intellectual networks of naturalism. Not only could Merian boast of drawing specimens from life in Surinam, she returned to Amsterdam in possession of a living informant.
Across children's books, catalogue essays, and academic articles, Merian is celebrated for her independence as a researcher who conducted difficult studies of insects in an unfamiliar tropical environment. Her financial autonomy is also frequently noted, for her research was self-funded, and she dictated the production of her books. Yet when considering Merian's reliance on enslaved women's labor, such celebrated independence emerges as a myth. Recognizing her resilience as a woman naturalist and as a rare early modern woman empowered by her scientific research requires us to content also with her power as an actor within a slave economy and as a manager of enslaved laborers.
Many of the published and unpublished works of early modern women naturalists come from white Europeans like Merian whose research thrived because of colonialism and the slave trade. Sarah Bowdich Lee (1791-1856) collected specimens in West Africa alongside her husband, who held a "writership" under the Royal African Company at Cape Coast Castle. Although the Bowdichs were anti-slavery, they still benfitted from its infrastructure to further their scientific aims. Prior to the Bowdichs' arrival at Cape Coast Castle, enslaved Africans had been held in its dungeon, awaiting the terror of the middle passage. Bowdich Lee also collaborated with naturalist and anatomist George Cuvier. Cuvier was himself known for his terroristic anatomical examination of Saartje Baartman (Sarah Baartman), a South African woman whose body was dissected and exhibited by French naturalists in one of the most horrific cases in the history of racial science. Maria Riddell (1772-1808), who published a natural history narrative of the Leeward Islands in 1790, came from a family of plantation owners in St. Kitts and Antigua. Harriet (1830-1907) and Helena Scott (1832-1910), scientific illustrators known for their work on Australian Lepidoptera, were part of a settler colonial family who occupied Worimi and Awabakal people's territory when their father, naturalist Alexander Walker Scott, was issued a land grant by the British colonial government in New South Wales. Like Merian, these women's scientific careers prospered because of violent dispossession.
Contending with complex oppression in the history of science and popular culture requires us to recognize that white women scientists were not divested from these legacies of abuse. Merian was not as active in the slave trade as other naturalists, but popular narratives of her life must foreground her class position and status as an enslaver. Understanding how women like Merian easily took on the role of an enslaver helps us to further conceptualize how naturalist study seamlessly produced white supremacy.    
Further Reading
Stephanie E. Jones-Rogers. They Were Her Property: White Women as Slave Owners in the American South. (New Haven: Yale UP, 2019.)
 Nell Irvin Painter. The History of White People. (New York: W.W. Norton & Co., 2010).
---
Elizabeth Polcha is a doctoral candidate whose research interests include early American and Caribbean literature, digital humanities, and feminist theory. Her dissertation, "Redacting Desire: The Sexual Politics of Colonial Science in the Eighteenth-Century Atlantic World" (directed by Elizabeth Maddock Dillon), theorizes the redaction of interracial sexual encounters in colonial Caribbean writing. Liz draws inspiration for her dissertation research from her work on two digital projects housed at Northeastern: the Early Caribbean Digital Archive and the Women Writers Project.
Elizabeth was awarded the Consortium for Graduate Studies in Gender, Culture, Women, and Sexuality's 2015 Mother Board Writing Prize for the best essay written by a graduate student in the Boston consortium. Elizabeth received the award for her paper, "Fiction as Archival Data: Building a Feminist Transatlantic Genealogy from Zora Neale Hurston to Erna Brodber."
In 2017, Elizabeth was awarded a Helen Watson Buckner Memorial Fellowship to pursue research at the John Carter Brown Library in Providence, Rhode Island. During her two-month fellowship, Elizabeth worked on her project, "Joanna, Johanna, Giovanna: the Circulation of John Gabriel Stedman's Surinam Marriage."
Most recently, Elizabeth was awarded a prestigious Mellon/ACLS Dissertation Completion Fellowship for the 2018-19 academic year. She has also been named a Research Associate at the McNeil Center for Early American Studies at the University of Pennsylvania for the coming year. In April 2018, Elizabeth was honored with a 2018 Northeastern University Outstanding Graduate Student Award for Teaching.
Lady Science is a magazine for the history and popular culture of science. We publish a variety of voices and work on women and gender across the sciences.  Support Lady Science.