Global Left Midweek - July 3, 2019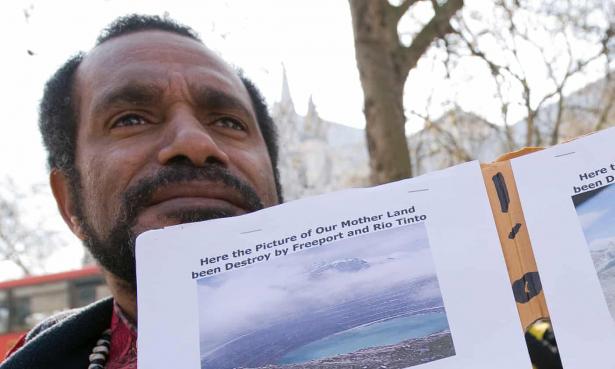 Three rebel West Papuan armies have united under Benny Wenda (pictured) to fight a long-running battle for independence from Indonesia, Photograph: Leon Neal/AFP/Getty Images
Philippines: Democratic Action and Undemocratic Outcomes
Walden Bello / The Rappler (Manila)

At the epicenter of the populist earthquake is a discontented citizenry, and it is as much an agent of change as the unorthodox personalities that have found a way to unlock its swirling passions.
France: Eco Protesters Hit Amazon
Forrest Crellin / Reuters (London)
Protests in three cities drew support from groups including Friends of the Earth and the "Gilets Jaunes."
Beautiful Slideshow of 2019 Pride Worldwide
Reuters (London)
Egypt: Opposition to Al-Sisi's Extended Power
Y. Graff / MEMRI (Washington)
The Egyptian opposition objected to constitutional amendments extending President Al-Sisi's term in office. This position was expressed, for example, by Hamdeen Sabahi, who has twice run for president and is regarded today as a leader of the Civil Democratic Movement, comprising several civil parties and opposition groups.
Sudanese protest leaders called for a one-day nationwide "civil disobedience" campaign on July 14, days after they organised mass protests against the ruling generals that rocked the country.
Helen Davidson / The Guardian (London)
Three rebel armies fighting for liberation from Indonesia join forces under movement headed by exiled leader Benny Wenda.
Guatemala: Democracy in Crisis
Jeff Abbott / NACLA Report (New York)
Violence and political maneuvering have marred the lead up to Guatemala's elections as some candidates attempt to delegitimize the electoral process. Amid the chaos, left-wing parties may have most to lose.
Algerian Revolutionary Elder Arrested
Steve Sweeney / Morning Star (London)
Algerian opposition forces united in anger to demand the release of revolutionary leader Lakhdar Bouregaa from his "arbitrary" arrest yesterday. His detention comes as part of escalating repression by Algeria's armed forces who have targeted leading opposition politicians, particularly those associated with the Berber rights movement.