Global Left Midweek - July 24, 2019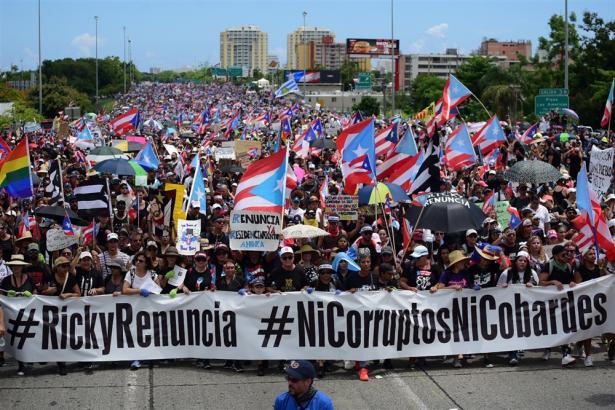 San Juan, July 22,Carlos Giusti / AP
The Protests in Puerto Rico Are About Life and Death
Marisol LeBrón / NACLA Report (New York)

The ongoing protests in Puerto Rico are not just about profane chat messages—they are a response to a broader context of violence, degradation, and exploitation.
___________
Algeria's Military Ruler Ramps Up Crackdown on Uprising
Heba Saleh / Financial Times (London)
Algeria's military chief and de facto ruler has ramped up the crackdown on the five-month popular uprising that has ended the authoritarian rule of Abdelaziz Bouteflika but failed to result in a democratic transition for Africa's largest country.
___________
Japan: Two Severely Disabled Candidates Win Seats in Upper House
Reiwa Shinsengumi candidates Yasuhiko Funago, 61, who has Lou Gehrig's disease, and 54-year-old Eiko Kimura, a cerebral palsy sufferer, were elected after being placed first and second on the group's proportional representation list.
__________
Italy: Proletarianization in the 21st Century
Christian Raimo / Il Manifesto Global (Rome)
The proletariat is not a remote 19th century anthropological category, conjuring up factory workers with eyes full of soot. Today we are realizing that even many of those who aspired to be part of the bourgeoisie have become proletarianized.
__________
Video: National Strike in Ecuador
A massive extended national strike against the neoliberal economic policies of President Lenín Moreno and the government's agreement with the International Monetary Fund (IMF).
__________
Nicaragua: A Veteran Reflects
Luis Carrión Cruz / Havana Times
Envío magazine invited one of the nine comandantes on the original FSLN National directorate, deputy minister of the interior and minister of the economy during the 1980s, and in the leadership of the Sandinista Renovation Movement (MRS) since 2005, to share his assessment of the current situation.
__________
New Leader for Parti Sosialis Malaysia
Free Malaysia Today (Kuala Lumpur)
"Giant-killer" Dr Michael Jeyakumar Devaraj was elected as the new chairman of Parti Socialis Malaysia today and pledged that PSM will go full steam ahead on climate change, affordable housing and better public transport.
__________
Spain: LGBTQ Activists vs. Rising Right Parties
Lucía Franco, Pablo León, Javier Marmisa, Susana Urra / Europe Solidaire Sans Frontières (Paris)
Volunteers speak out after the far-right Vox party requests the names of people who conduct LGBTQ workshops at public schools.