Friday Nite Videos | August 9, 2019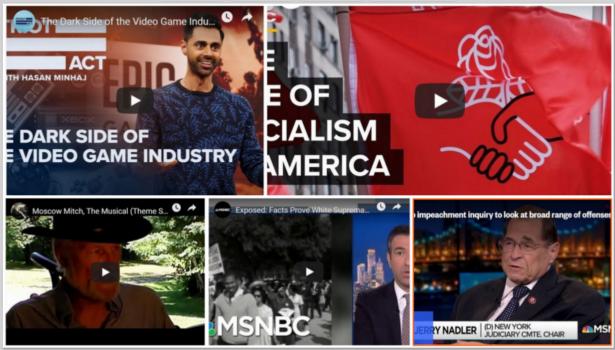 To view an video, click an image below,
The Dark Side of the Video Game Industry

Hasan takes a look at how the video game industry has grown into a $139 billion a year business and a cultural force. While gaming is more prominent than ever, some of the most popular video games are made under unfavorable working conditions. Hasan examines the exploitative labor practices at game developers like Epic and Riot Games, and the ways in which workers are finally fighting back.
Moscow Mitch, The Musical

Mangy Fetlocks, The Quasi-Intellectual Existentialist Cowboy (a.k.a, Bruce W. Nelson) imagines that someday, Mitch McConnell will receive the recognition he so justly deserves, perhaps in the form of a blockbuster musical. Until such time, Mangy takes it upon himself to immortalize "Moscow Mitch" from the humble concrete stage of his "man-cave" garage. Mangy sends his congratulations to Mitch. No one deserves this more than he.

Trump Impeachment Inquiry to Look at Broad Range of Offenses

Rep. Jerry Nadler talks with Rachel Maddow about the Judiciary Committee's inquiry into whether to consider articles of impeachment against Donald Trump, his estimated timeline of the process, and the grounds on which such articles might be considered.
Facts Prove White Supremacy Is Not A 'Hoax'

Following mass shootings, Trump ally Tucker Carlson denied the domestic threat of white supremacy, calling it 'hoax.' Former GOP Congressman Tom Coleman and MSNBC's Legal Analyst Maya Wiley debunk Carlson's claim.
Why Democratic Socialism Is Gaining Popularity in the United States

Socialism used to be a scary word in the U.S., but presidential hopeful Bernie Sanders and freshman Congresswoman Alexandria Ocasio-Cortez have helped to catapult it back into mainstream American politics. In the latest explainer from CNBC we try to answer what socialism means to different parts of the political spectrum and whether it's fad or the future of politics in America.