Media Bits and Bytes - August 27, 2019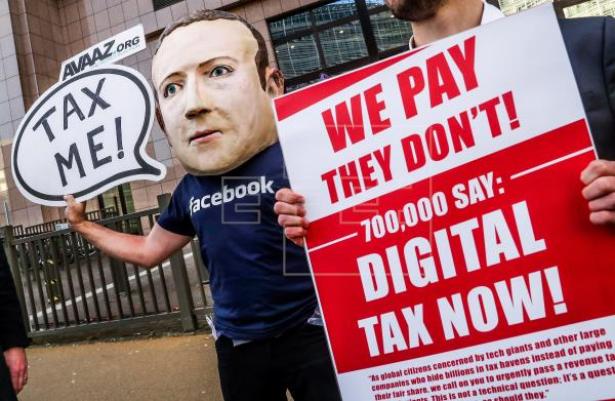 An Avaaz activist wearing a mask depicting Facebook's CEO Mark Zuckerberg holds a banner reading 'Tax me' at the start of an EU Finance Ministers meeting in front of the EC in Brussels, Belgium, Dec. 4, 2018 , Credit: EPA-EFE/STEPHANIE LECOCQ
The Global Fight Over Big Tech's Taxes
By Liam Proud
August 22, 2019
Reuters

Who gets to tax Google and Facebook? That's the kernel of a highly technical debate going on between 130 countries. Major European governments want more cash from Big Tech groups, but the Americans are likely to resist. 
Big Data's Threat to Democracy Becoming Global Problem
By Prabir Purkayastha
August 17, 2019
Asia Times
If elections can be hacked, so can democracy.
By Brandy Zadrozny and Ben Collins
August 20, 2019
NBC News
Started almost two decades ago with a stated mission to "provide information to Chinese communities to help immigrants assimilate into American society," The Epoch Times now wields one of the biggest social media followings of any news outlet.
No News of Brazil's Mass Protests Against Bolsonaro
By Brian Mier
August 17, 2019
FAIR
Everyone in the foreign correspondent community knows that the Brazilian military police are not impartial judges of crowd size. When Anglo newspapers do report on progressive protests in Brazil, however, they tend to play along with the game.
The Internet's Invisible Cleanup Crew
By Emily Drabinski
August 20, 2019
Jacobin
A hidden army of tens of thousands of content moderators is at work every day — in often appalling conditions — to make the internet as we know it habitable. We should hold Silicon Valley responsible.
Israel's Political Astroturfing App
By Emerson T. Brooking
August 19, 2019
Medium
Pro-Israel messages broadcast during May 4–5 Hamas terror attacks and IDF air strikes offer new insights into reach of the Act.IL app's social media manipulation.
Twitter Explodes with Tributes to Palestinian Grandmothers
By Yumna Patel
August 19, 2019
Mondoweiss
Social media networks were flooded with odes to Palestinian grandmothers over the weekend, with the hashtag #MyPalestinianSitty. The hashtag took off after US Congresswoman Rashida Tlaib took to Twitter to express her sadness that she would be unable to visit her grandmother, or sitty in Arabic, after Israel banned her.
The "Antifa Shooter" - A Myth Built on Tweets
By Shane Burley
August 24, 2019
Waging Nonviolence
The right is using the Dayton shooter's Twitter account to make spurious connections between antiracist ideas and mass murder.