Sanders' and Warren's Small $$ Is Beating Big $$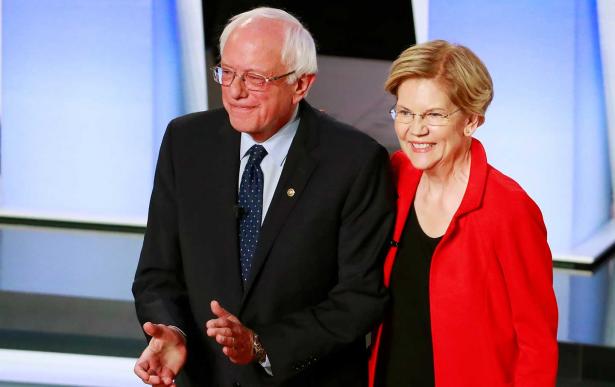 Sanders' and Warren's Small $$ Is Beating Big $$, Sanders' and Warren's Small $$ Is Beating Big $$
LOS ANGELES — With Senator Elizabeth Warren's announcement on Friday that she raised $24.6 million in the past three months, the fund-raising picture for the leading Democratic presidential contenders has come into focus: Ms. Warren and Senator Bernie Sanders are in strong position to fund their campaigns over the long haul.
Ms. Warren and Mr. Sanders, whose campaign announced raising $25.3 million in the third quarter, both raised significantly more money than they had in the previous quarter, while money totals were down for two of their top competitors, former Vice President Joseph R. Biden Jr. and Mayor Pete Buttigieg of South Bend, Ind.
Ms. Warren's total also offers further evidence of her steady rise to the top of the pack in the Democratic primary race, where she now rivals Mr. Biden as a leading contender for the nomination. And while Mr. Sanders trails both of them in recent polls, he has a loyal following that has supported him with millions of small donations, ensuring that he is well positioned for a primary season that could stretch through next spring.
More broadly, the fund-raising totals show the collective enthusiasm in the party for progressive candidates pushing messages of sweeping change. And they demonstrate the undeniable power of online donors in the primary. Ms. Warren and Mr. Sanders have sworn off courting wealthy donors and holding elite fund-raising events, while Mr. Biden and Mr. Buttigieg — who raised $15.2 million and $19.1 million in the quarter, according to their campaigns — both pursue money from big donors.
The fund-raising hauls by Mr. Sanders and Ms. Warren show that there is "strength and power to their ideas that they're putting forward, and people are engaged," said Karen Finney, a Democratic strategist who worked on Hillary Clinton's 2016 campaign.
"I think for anybody else in the race, you have to pay attention to that — that there is energy around some of these big ideas that represent bigger changes," she said.
Mr. Biden's total did little to bolster his status in the race. Already under siege from President Trump and no longer enjoying a clear lead over the rest of the field in national polls, Mr. Biden saw his fund-raising drop roughly 30 percent from the previous quarter.
Mr. Sanders exceeded his total by roughly $10 million and Ms. Warren by more than $9 million — an indicator of the gulf between Mr. Biden and his two progressive rivals in attracting grass-roots support.And for the second consecutive quarter, Mr. Biden, a two-term vice president who previously served in the Senate for 36 years, was bested by Mr. Buttigieg, the mayor of the fourth-largest city in the 17th-largest state.
Ms. Warren's campaign said on Friday that it had received 943,000 donations in the third quarter from 509,000 donors, and more than 300,000 of those donors gave to her presidential campaign for the first time. The average donation was $26, and Ms. Warren ended the quarter with $25.7 million in cash on hand, according to her campaign.
"Please take a moment to be proud of the movement you're helping build," Roger Lau, Ms. Warren's campaign manager, wrote in an email to supporters. "Close your eyes and picture Wall Street bankers scowling into their catered breakfast," he suggested.
Collecting small contributions from a vast group of donors comes with a huge long-term advantage: Those donors can keep giving again and again as the campaign goes on. That is not the case for wealthy donors writing $2,800 checks to candidates — the maximum an individual can give to a campaign for the primary race.
Ms. Warren and Mr. Sanders "are breaking these old political models in which rich donors can capture and control political parties," said Stephanie Taylor, a co-founder of the Progressive Change Campaign Committee, which is supporting Ms. Warren. "This is just a really revolutionary, seismic shift in American politics."
Beating Mr. Sanders's total for the past three months would have given another jolt of momentum to Ms. Warren's campaign. Instead, Mr. Sanders's status as the top fund-raiser for the quarter provides a reminder of his sizable base of support, even as other indicators like polling are less favorable.
In the long run, Mr. Sanders's slight financial edge over Ms. Warren in the quarter is unlikely to make a major difference in the perceptions of their candidacies. Mr. Sanders entered the race having already established an enormous network of donors during his 2016 presidential campaign, and he raised slightly less in the third quarter of 2019 than he did during the same time period in 2015.
"The biggest takeaway is that Warren is on a roll," said Stephanie Cutter, a Democratic strategist and veteran of past presidential campaigns. "She's got wind at her back. It's evident in her polls, her fund-raising and the energy at her events."
Among other candidates who have disclosed their fund-raising this week, Senator Kamala Harris raised $11.6 million in the third quarter, Andrew Yang raised more than $10 million and Senator Cory Booker raised more than $6 million, according to their campaigns.
Presidential candidates must report their fund-raising for the third quarter, which covered July through September, to the Federal Election Commission by Oct. 15.
Ms. Warren struggled with fund-raising at the beginning of her presidential campaign, but those struggles ended up being short-lived. Her third-quarter haul is another validation of her strategy to rely on online donors to finance her campaign.
That choice is central to her bid for the presidency, freeing up her schedule and creating a tidy contrast with some of her rivals: While other candidates gather with rich donors, Ms. Warren spends hours taking pictures with voters who wait in the "selfie line" at her town-hall-style events.
"I made the decision early on I was not going to spend my time behind closed doors with corporate executives and bazillionaires," Ms. Warren told the crowd at a town hall in Carson City, Nev., on Wednesday night. "I was going to spend my time here."
At a town hall in San Diego on Thursday night, she reached her latest selfie-related milestone: She has now taken pictures with an estimated 70,000 people since beginning her campaign. She made it to the end of the selfie line just before midnight.
Shane Goldmacher contributed reporting.