labor
Bernie Sanders Wins Endorsement of Nurses' Union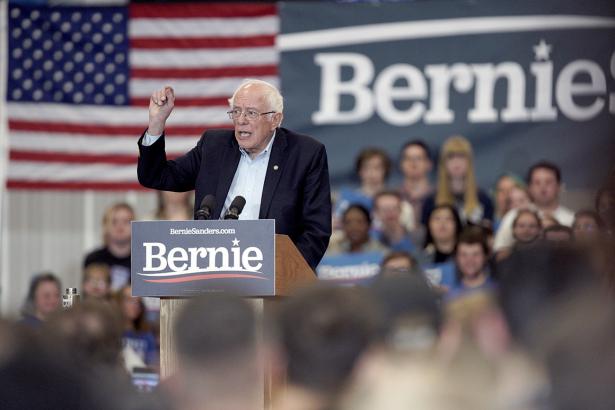 The 150,000-plus-member pro-single payer National Nurses United endorses U.S. Sen. Bernie Sanders for president for a second time., Nati Harnik/AP Photo
Bernie Sanders edged out Elizabeth Warren Tuesday for the support of the nation's largest union of registered nurses, in another show of his labor bona fides.
The nod from the pro-single payer National Nurses United — coming on the heels of the United Electrical, Radio and Machine Workers of America voting to back him in the primary — gives Sanders an advantage in the escalating debate on the left over health care.
While the 150,000-plus-member union gave serious consideration to both Sanders and Warren, the race's staunchest supporters of Medicare for All, union co-president Jean Ross told POLITICO that Sanders' much longer record of fighting for single-payer health care tipped the scales. The union backed him in 2016 as well.
"It was really longevity — the amount of time Bernie has been solid and sincere on the issue," she said. "He's ahead of the pack because he's had a lifetime of commitment to it. And our union tends to do the right thing even when it isn't popular, so we appreciate candidates who do the same."
Sanders' staffers hope the nurses' endorsement will help brand him as the definitive pro-single-payer candidate. Though Warren has co-sponsored his bill, and built on it with her own plans, some of Sanders' aides and allies have criticized her for referring to Medicare for All as a "framework." His supporters have also noted that Warren did not back single-payer health care in her 2012 Senate campaign.
"There is only one candidate in this race who won't equivocate on Medicare for All, and the nurses know it," said Nina Turner, Sanders' campaign co-chair. "He doesn't talk about frameworks."
Still, Warren has effectively courted the progressive Democratic voters who approve of Medicare for All. In a Monmouth poll of New Hampshire released in September, Warren received more support among backers of single-payer than Sanders.
Earlier this fall, eight Democratic candidates filled out the union's questionnaire, which was sent to every contender and focused not just on health care but also on labor issues and climate change.
Ross said the nurses union took a close look at candidates like Harris and Buttigeig, who previously endorsed Sanders' Medicare for All proposal but over the past year have shifted to supporting more incremental health care reforms.
Still, the union has pledged to support whichever Democrat wins the nomination.
"We have to, because what we have now is hazardous to our health and the health of the public," Ross said of President Trump.
Sanders' campaign said the nurses will likely appear with him at upcoming events. The group has an especially strong presence in California, a delegate-heavy state where officials will begin sending vote-by-mail ballots to residents on the same day as the Iowa caucuses.
"We would love them to play as active a role as they want to play," said Jeff Weaver, Sanders' senior adviser.
The union's super PAC poured nearly $5 million into the 2016 primary to support Sanders. It is planning to back him financially again. But that could pose a problem for Sanders: He has railed against super PACs and seized on the recent news that a super PAC is supporting Biden after he dropped his opposition to it.
The Sanders team, however, is distancing itself from the nurses' PAC.
"Bernie Sanders doesn't want a super PAC, doesn't raise money for a super PAC, and doesn't want anybody spending money on a super PAC on his behalf," Weaver said.
Ross said the union's executive board has yet to decide how much money they will spend boosting Sanders in the 2020 primary and how they will use the funds.
"What has worked for us is door-to-door organizing and building a mass movement," she said. "We're never going to be a wealthy union. But we do use the money we have very effectively."