Global Left Midweek - December 11, 2019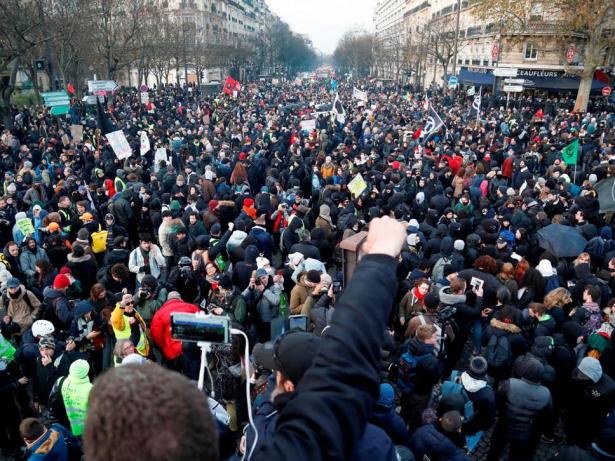 A demonstration in Paris on Tuesday, the sixth day of massive strike action over the government's proposed pension reforms, Photo: AFP via Getty
__________
Confronting COP25
Lisa Vives / IDN-InDepthNews (Berlin)
An estimated 500,000 people took part in a climate justice protest in Madrid on December 6.

__________
Momentum's Plan: Down to the Wire for Corbyn and Labour
Darren Loucaides / Open Democracy (London)
Most think that the best Labour can hope for is to deny Boris Johnson a majority government. But Momentum isn't most.
__________
Israelis Join Palestinian Solidarity Meeting in Ramallah
Adam Rasgon / Times of Israel (Jerusalem)
A number of the Palestinian officials told their Israeli guests that they appreciated their participation in the event, with Fatah Central Committee secretary-general Jibril Rajoub stating that it indicated that there was an Israeli partner for peace.
__________
France
Worst Strikes in Decades  Anthony Cuthbertson / The Independent (London)
United Left Ticket in Marseille  Cole Stanger / Jacobin (New York)  
__________
Uruguay
Election Report  Laurence Blair / World Politics Review (New York)
Political Backgrounder  Daniel Chavez / Transnational Institute (Amsterdam)
__________
Iraq: Trajectory of Protests
Peoples Dispatch (New Delhi)
The resignation of prime minister Adel Abdul Mahdi after two months of popular protests in Iraq has provided an opportunity to overthrow the political system created under US occupation. However, significant roadblocks remain.
__________
Colombia's Front of Resistance
Adriaan Alsema / Colombia Reports (Medellin)
Colombia's government is on the edge of its seat as labor unions are on strike and a multitude of social organizations have announced massive anti-government protests.
__________
India: Mass Rejection of Modi's Religious Tyranny
Ananya Singh / The Citizen (New Delhi)
People poured into the streets, not only in the northeastern states where bandhs or general strikes were called, but also in New Delhi, Hyderabad, Kolkata and Bengaluru. The call nationwide was to withdraw the bill and scrap the proposed National Register of Citizens.