Global Left Midweek - February 5, 2020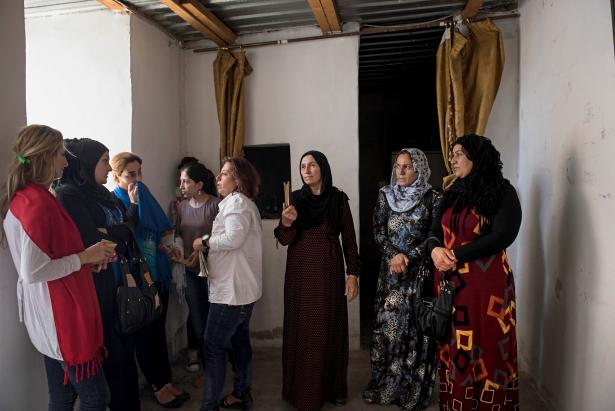 Qamishli, Rojava, Syria: Women gathering after a meeting to decide how to deal with security in their neighborhood, Lynsey Addario for The New York Times
__________
Sinn Féin Gaining on Eve of Irish Vote
Roisin Agnew / The Guardian (London)
Often referred to as the political branch of the IRA, Sinn Féin has long been the party of the hard left, appealing largely to staunch republicans, lower-income sections and Dublin's working class. In recent years, its politics have somewhat softened, as the Troubles receded, to embrace a more broadly socialist bent.

__________
The Venezuelan Communards
Ricardo Vaz / Venezuelanalysis (Caracas)
Dozens of communes from across the country are uniting to form a "large national political movement." The Communard Union is an initiative spearheaded by several communes in recent months, with the goal of bringing together popular power experiences across Venezuela.
__________
Democracy in North and East Syria 
Rojava Information Center (Northeastern Syria)
The interviews and case studies within this new report give the clearest picture yet of the stated aims of the political project in North and East Syria. The key aim of this report is to explore the unique and poorly-understood system in the words of its practitioners.
__________
North and South American Indigenous Rights Battles
Defenders Murdered in 2019  Cultural Survival (Cambridge MA)
Wet'suwet'en Pipeline Protesters  Jesse Winter / Vice (Brooklyn)
__________
Migrant Struggles in France
Luke Butterly / Verso Books (London)
After enduring 7 long months on strike, a group of undocumented migrant postal workers in France have claimed victory against backbreaking and dangerous working conditions they experienced at Chronopost, a subsidiary of the French postal service. 
__________
Malawi's Year of Mass Protests
Charles Pensulo / African Arguments (London)
Barely a week into 2020, thousands of Malawians thronged to the streets of the capital Lilongwe. According to campaigners, the level of protest in 2019 was unprecedented for Malawi with demonstrations ranging from organised large-scale marches to smaller spontaneous outbursts.
__________
Western Sahara: Polisario Today
Stefano Mauro / Il Manifesto Global (Rome)
'The young people have lost patience, and they're not the only ones. All Sahrawis feel that they have fallen victim to a lie. The Sahrawi people, led by the Polisario Front, will use all legitimate means to achieve their objectives.'
__________
Japan: Opposition Parties Talk Merger
Eric Johnston / Japan Times 
Of the 465 seats in the powerful Lower House, the CDP, DPP, SDP and like-minded independents have 120. In the 245-seat Upper House, these parties and their allies, which are considered center-left, have 61. The Communist Party says it wants to cooperate with the parties in their quest to unseat the LDP-Komeito ruling coalition.