labor
Bernie Sanders Courted the Chicago Teachers Union Endorsement. Here's Why It Didn't Happen.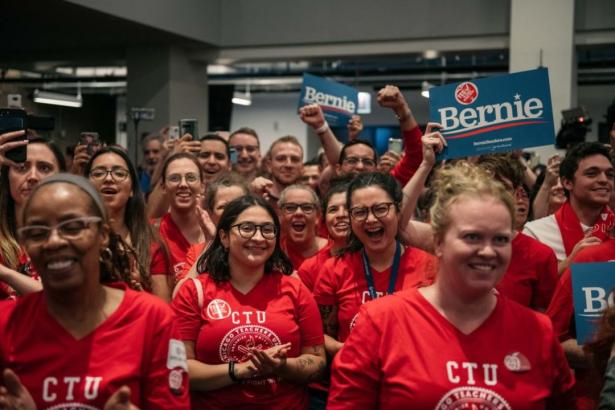 CHICAGO, IL - SEPTEMBER 24: Supporters cheer for Democratic presidential candidate Sen. Bernie Sanders (I-VT) speak at a rally in support of the Chicago Teachers Union ahead of an upcoming potential strike.,PHOTO CREDIT: Scott Heins/Getty Images
CHICAGO — Shortly before Chicago teachers went on an 11-day strike this fall, Sen. Bernie Sanders headlined a rally at the union's headquarters. The space was packed with teachers, many carrying blue "Bernie" signs.
His appearance was a show of support for Chicago educators as they pushed for a contract guaranteeing higher pay, smaller class sizes, and more social workers and school nurses. And in his speech, Sanders linked his presidential bid to the union's fight.
"You are demanding, and I am demanding, a change in national priorities," he told them.

Sanders went on to send a half-dozen messages of solidarity during the strike. And nationally, he's raised more money from K-12 teachers than any other Democratic presidential candidate.
The #RedForEd movement is a fight for the future of this nation. @CTULocal1 and @SEIU73 in Chicago are standing up and fighting back for justice in education. I was proud to stand with them last month at the start of this fight.
505 people are talking about this
So it didn't come as a surprise when hundreds of Chicago teachers took up a vote this week to endorse Sanders for the Democratic nomination. But the result was unexpected: it failed by a slim margin, and the union decided to remain neutral for now.
The result is that one of the country's largest and most vocal teachers unions won't be weighing in as voters head to the polls in early-voting states. It's an illustration of some of the factors keeping other unions from jumping into the fray, including the crowded Democratic field and national teachers unions deciding to hold back. An ambiguous start to primary season in Iowa this week didn't help.
"The confusion of who was the frontrunner, people just not being sure of who's going to beat Trump — all of those mainstream proclivities and considerations exist within our membership," said Jackson Potter, a high school social studies teacher who supports Sanders and helped lead the effort to put the endorsement question before union members. "I think Iowa did factor in."
Educators say the votes not to endorse were a result of a variety of concerns. Some were procedural, including questions about whether members had been adequately consulted. Others were local, including lingering tensions over the union's endorsement of and spending on a losing 2019 mayoral candidate.
Another big factor, union members said, was that support is clearly divided between Sanders and Sen. Elizabeth Warren, who also visited Chicago teachers during their strike.
"There are a lot of strong feelings on both sides," said one union member who witnessed Wednesday's vote. "Some really like Warren, and some really like Sanders."
A union spokesperson agreed. The neutrality vote "represented members' appreciation for two candidates, Senators Sanders and Warren, who rallied with us in our union hall and stood with us on picket lines," Ronnie Reese said in a statement. "Both supported our struggle and our issues — class size, essential staffing, veteran pay — before, during and after the strike. They're both allies."
There's no official message coming from the union's affiliated national leadership, either. The Chicago Teachers Union is part of the American Federation of Teachers, which hasn't endorsed a candidate or spent money in the presidential election so far. Neither has the National Education Association, the other of the nation's two largest teachers unions.
Both endorsed Hillary Clinton and contributed to her campaign early in the 2016 election cycle — a decision that angered educators who thought the national teachers unions didn't give enough consideration to Sanders.
As a result, the national unions changed their processes. Both unions recently told Chalkbeat that they have no timeline for when they'll issue an endorsement, though the head of the NEA has said the union is likely to wait to see the results of some early-voting states, while the head of the AFT has suggested that the union could sit out the primaries altogether.
Some local unions have declared a favorite, though. The Los Angeles teachers union, a close ally of the Chicago teachers union, issued an early endorsement for Sanders in November, prompting many observers to think Chicago would follow suit. Educators in Clark County, Nevada, who represent teachers in the nation's fifth-largest district, have also endorsed Sanders. Meanwhile, Boston teachers and one Massachusetts statewide teachers union endorsed Warren.
But other local unions have decided to sit the primaries out. A spokesperson for New York City's United Federation of Teachers said the union hasn't made an endorsement because it doesn't want to tip the scales in favor of one candidate. The real goal, the union said, is to support the eventual Democratic nominee. (The union's president, though, is personally supporting Joe Biden.)
In Chicago, the union didn't even begin to consider endorsements until after its strike had ended. Union members ratified their new contract in November. In January, an email sent to members said the union was considering weighing in and included a link to a survey that asked them to choose among several candidates.
"Our recent successful strike gave us an opportunity to take part in the public discussion," the email said.
Some union members objected to the choices offered, which didn't include a way to indicate you were undecided or preferred the union not endorse anyone.
After seeing the poll results, which weren't shared with members, a small union committee recommended not to endorse a candidate. But later, Potter, one of the 40 voting members of the union's executive board, raised a motion in one of its meetings to consider a Sanders endorsement.
In the end, the executive board agreed to put the Sanders endorsement before a union body made up of hundreds of delegates representing most of Chicago's schools. That vote happened Wednesday. The final tally: 136 votes not to endorse, 121 to endorse, and 28 abstentions.
Then, the union's leadership suggested that members take a second vote — this one on the question of whether to remain neutral in the primaries — reasoning that would avoid any perception that the union actively didn't support Sanders. That passed overwhelmingly.
Those who supported the Sanders endorsement said they were disappointed by the results.
"It would have signaled that we are part of this movement that is sweeping the entire country right now," said Kenzo Shibata, a civics and history teacher who voted in favor of endorsing Sanders and is a volunteer for the campaign. "If we, as teachers who support Sanders, have to organize independently, that's what we're going to do."
But observers said it made sense, given that many union members remained in the Warren camp and the discomfort some felt with potentially endorsing a candidate who might not earn the AFT's endorsement later, as happened in 2008.
Chicago teachers can still return to the question later in the primary, especially as the field narrows. If Michael Bloomberg — who had a contentious relationship with the teachers union in New York City as mayor — makes it further, for example, a choice would become more obvious, Potter said.
"We're not foreclosing on this," he said. "We just delayed a decision."
This story has been updated to include a comment from the Chicago Teachers Union.
Yana Kunichoff and Amy Zimmer contributed reporting. 
Kalyn Belsha @kalynbelsha kbelsha@chalkbeat.org
We believe that all children deserve access to a quality education.  A strong, independent press is vital to making that happen.
Support Chalkbeat, a nonprofit news organization, today to become a sustaining member.