Global Left Midweek - Spotlight on Eastern Europe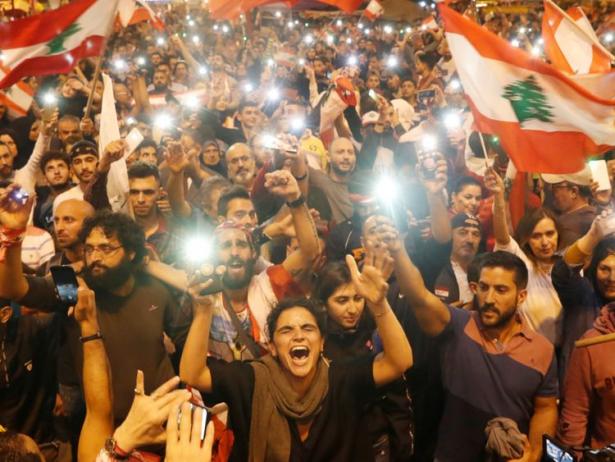 Demonstrators shout during a protest in Tripoli, Lebanon, last November,Photo: Reuters
__________
Russia's Crackdown on Activists
A terrorism trial has caused outrage among activists in Russia, who claim the entire case was fabricated by the FSB agency. A military court issued long sentences for the alleged members of the leftist "Network" group.

__________
Confronting Fascists in Slovakia
Irena Biháriová / Romea.cz (Bratislava)
Biháriová is a Romani lawyer in Bratislava and co-chair of the center-left party Progresívne Slovensko.
__________
Gender and Populism in Turkey
Alev Ozkazanc / ResearchGate (Berlin)
After 2015, gender politics was reshaped within the complex matrix of religious-nativist nationalism, neo-liberalism, neo-conservatism, militarism, and authoritarianism. As familism replaced gender equality, the women's movements, LGBT people and their organizations have been repressed by the state.
__________
Polish Farmers for Green Energy
Marta Kasztelan / Al Jazeera (Doha, Qatar)
Farmers have set up the "No to Zloczew open-pit mine" association. Aside from protesting the destruction of their livelihoods, the farmers have been raising concerns over groundwater depletion - an issue with which the region has already grappled due to the water-intensive nature of coal exploration.
How Sinn Féin Won Young Voters  Liz Dunphy / Irish Examiner (Blackpool)
A Left Government for Ireland?  Rory Carroll / The Guardian (London)
__________
Algerian Unions Under Attack
Peter Rossman / openDemocracy (London)
Trade union militants now face a double-barreled repression. They are targeted as trade unionists challenging the monopoly of the official union, and under attack for their role in driving and sustaining the ongoing democracy movement.
__________
FMLN Meets Amidst Constitutional Crisis in El Salvador
teleSUR (Caracas)
The convention of the Farabundo Marti National Liberation Front agreed on the creation of alliances with eyes on next year's legislative elections. The FMLN issued a resolution Sunday rejecting the recent constitutional violations committed by current President Nayib Bukele.
__________
Lebanon Protesters Keep Pressure On
Euronews (Lyon)
Lebanon's new government has won a vote of confidence in parliament as security forces used tear gas to try and disperse thousands of protesters near the parliament building in Beirut earlier on Tuesday.