Tidbits - Apr.30, 2020 - Reader Comments: May Day Actions, Celebrations; Toll on Healthcare, All Essential Workers; Meat Plants; Back-to-Work and Death; Cuomo Power Grab; Cuban Healthcare Workers; Unequal Burden of Covid-19; Earth Day @50; announcements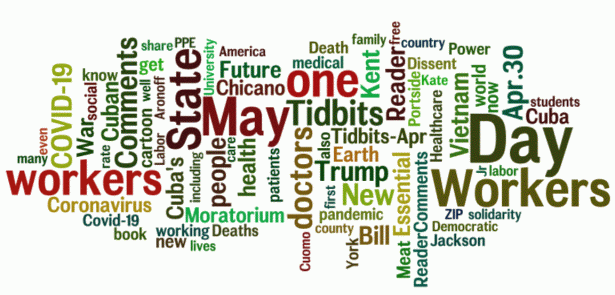 Tidbits - Reader Comments, Resources, Announcements, AND cartoons - Apr.30, 2020,Portside
Resources:
Announcements:
Tomorrow: Support Essential Workers
omorrow is May Day, which is an internationally recognized day of action meant to show solidarity among working people and marginalized communities across the globe. For millions of people, this means another month of struggling to pay rent, utilities, and expenses, and millions of essential workers continue to risk their lives to provide us with vital services. Republicans in Congress continue to prioritize aid to corporations, so we need to build pressure for them to provide real relief now.
Essential workers are enabling us to shelter in place by putting food on shelves, transporting health workers, ensuring we have clean water, working across our health care system to protect our health and safety, and caring for the elderly and critically ill. And yet, this administration feels more compelled to bail out cruise lines, airlines, and big businesses than the overworked and underpaid workers keeping millions of Americans afloat.

Essential workers must be given the compensation and job protections to reflect the importance of their work. We need an Essential Workers Bill of Rights as part of the next relief package passed by Congress. 
This Friday, can we count on you to show solidarity with essential workers by spreading the word and demanding your elected officials pass an Essential Worker Bill of Rights? Here are a few ways you can get involved:
Make a sign or poster and hang it outside your window. Let your neighbors know what an Essential Workers Bill of Rights means to you, and share it on social media with the hashtag #ProtectEssentialWorkers and #PeoplesBailout.
Share a picture or video of you and your family talking about what you want to see from an Essential Workers Bill of Rights. Don't forget to include the hashtags #ProtectEssentialWorkers and #PeoplesBailout, and demand action by tagging your representative (you can look them up here) and President Trump.
Boycott big businesses that are refusing to support workers, like Amazon, Target, and Whole Foods. Consider finding ways to support small businesses instead.
We're working alongside other partners, including People's Bailout, People's Action, the Indigenous Environmental Network, the Center for Popular Democracy, and the Hip Hop Caucus to flood social media with messages demanding immediate relief now. And be sure to check out the MoveOn Facebook Live page on Friday at 2 p.m. ET/11 a.m. PT for a livestream rally to get you in the May Day spirit!
Thanks for all you do.
Emma, Justin, Arvin, Emily, and the rest of the MoveOn team
Re: I Want My Death to Make You Angry
 
Powerful statement by a nurse on Covid-19: "I Want My Death to Make You Angry"
Letter from a frontline nurse in Minnesota by Emily Pierskalla, RN in Portside
Alice Rothchild, MD
Posted on Portside's Facebook page
     =====
I am angry! As a retired E R nurse I am outraged at the treatment of nurses, doctors and all the frontline workers that are being needlessly sacrificed because of incompetent leadership in Washington. Please read and get mad!
Mateenah Floyd-Okanlawon
Posted on Portside's Facebook page
     =====
I am angry also because I once worked in ICU when all of the HIV pos/Aids patients who were seriously ill were always admitted to ICU. At that time we did not know enough about it and there was controversy just like now as to how much protection needed. I once had a run in with a female physician who must have gotten up on the wrong side of the bed and thought I should not have a gown and gloves on. That soon changed afterwards. I had a month old baby to protect. Most of the patients were so ill that it was not too much of a question whether to protect yourself because most was on a ventilator so you came into contact with bodily fluids. I pray for the first responders everyday because I sympathize with what they are going thru. Not supplying the proper PPE amounts to genocide. We on the outside don't know the half of what they are going thru!
Mariece Dickson Roberts
Posted on Portside's Facebook page
     =====
absolutely. They didn't sign up for this. the signed up to take care of patients, not be sacrificed!
Mateenah Floyd-Okanlawon
Posted on Portside's Facebook page
     =====
for us all, now and in the future.
Mark Dworkin
Posted on Portside's Facebook page
Re: The White House Has Erected a Blockade Stopping States and Hospitals From Getting Coronavirus PPE
 
He's probably doing this so that he can say he has plenty of PPE when in actuality there is none in storage.
Carol Woolsey
Posted on Portside's Facebook page
     =====
Is trump trying to stop individual states from saving lives? This is scary. Why would he not want states to get life saving medication?
Shirley Buckley
Posted on Portside's Facebook page
Masked Pence  --  cartoon by Rob Rogers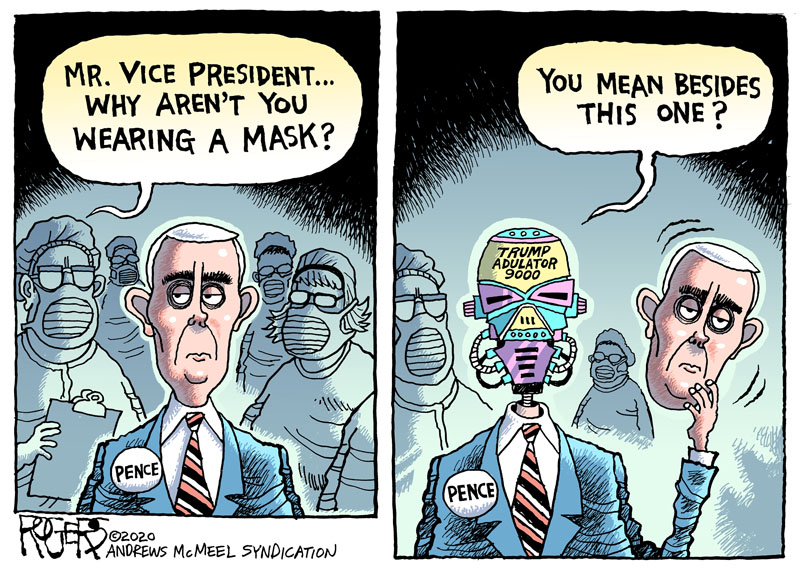 Rob Rogers
April 30, 2020
robrogers.com
Re: Meat Processing Plants Have Become Incubators for Coronavirus. Trump Reportedly Wants to Keep Them Open Anyway.
 
No Defense Production Act for PPE or ventilators, but now invoked for meat and poultry plants. Trump said he needs his daily supply of hamburgers and Big Macs. You can't make this stuff up.
Jay Schaffner
Posted on Portside's Facebook page
     =====
Trump is sentencing workers to death.
Danny Jimenez
Posted on Portside's Facebook page
     =====
Health always comes first and not life, stay safe.
Johnny Martinez
Posted on Portside's Facebook page
     =====
We don't get the DPA for PPE... but we get it for meat....
Clare Max
Posted on Portside's Facebook page
Trump and Meat Production  --  cartoon by Dave Granlund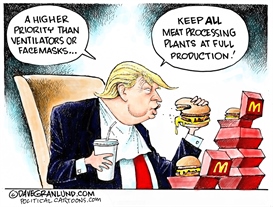 Dave Granlund
April 29, 2020
Re: Koch-Funded Think Tanks Are Lobbying to Send Workers to Their Deaths
 
I'd call this literally biting the hands that feed them! (Yeah, I know it's figuratively, but hey, they are killing the people who make this country run.)
Nancy Bruce
Posted on Portside's Facebook page
     =====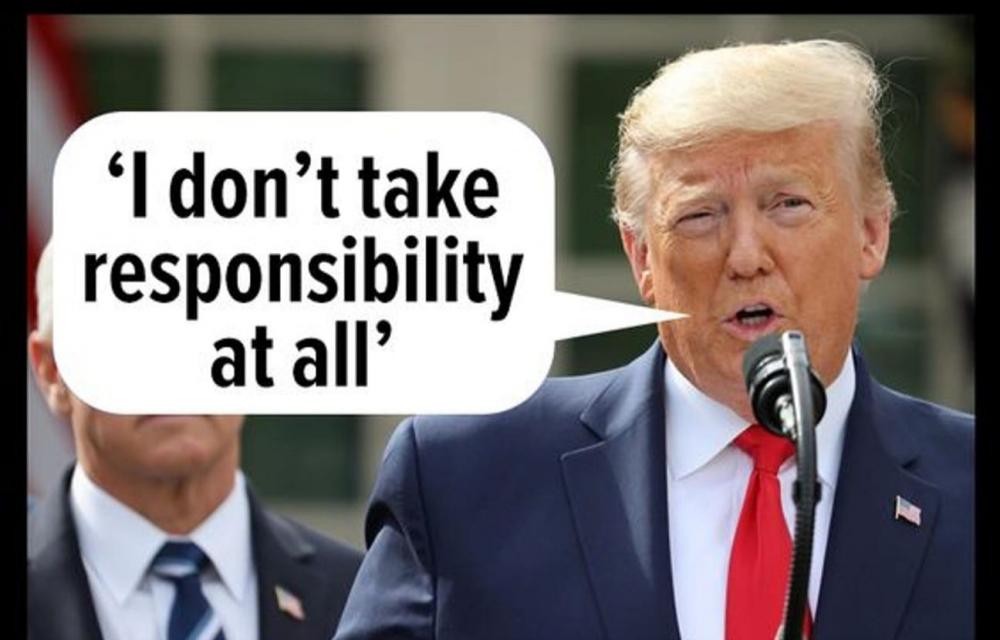 Thomas P Yaskoff
Posted on Portside's Facebook page
Re: Mass Incarceration Could Add 100,000 Deaths to US Coronavirus Toll, Study Shows
 
Of course those 100,000 deaths won't all be in prison. The guards will catch it back from the inmates and bring it home to their friends and family and from there it will spread
Edward Miessner
Posted on Portside's Facebook page
We're at war  --  cartoon by Benjamin Slyngstad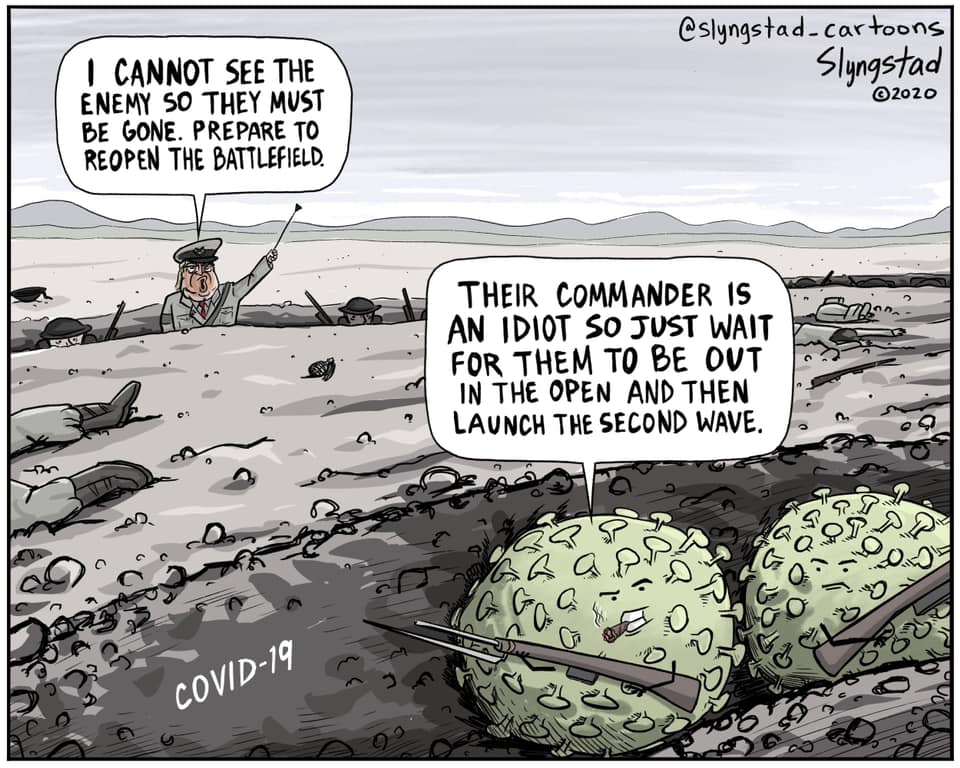 Benjamin Slyngstad
April 24, 2020
Slyngstad Cartoons
Re: US Banks Made a Quick $10 Billion in 2 Weeks
 
$10 Billion in 2 weeks stealing money for their clients that didn't rightfully have it coming to them. Every nickel should be returned.
Linwood Thomas
Posted on Portside's Facebook page
Re: Fifty Years Ago This Spring: Millions of Students Struck To End a War in Vietnam
 
I really enjoyed Steve Early's article on the student anti war movement of 1970.  I remember wearing a button earlier "Part of the Way with LBJ."  We supported him on Civil Rights but opposed him on the Vietnam War.  It looks like we are at a similar moment with Biden.
Lewis Grupper
Re: Andrew Cuomo's Power Grab is Off Camera
 
Cuomo gifted himself "rolling budget adjustment" powers, which allows him to make cuts on a quarterly basis with little to no oversight.
Meanwhile, he refuses to raise taxes on his billionaire donors which could fill the budget gap.
David Richardson
     =====
This is the kind of sneaky sh*t that Cuomo pulls behind the scenes when no one is looking.
Mike Glick
Posted on Portside's Facebook page
     =====
He is simply full of it!!!!
Lizette Colón
Posted on Portside's Facebook page
Re: Let's Stop Pretending Billionaires Are in the Same Boat As Us During This Pandemic
 
Let me tell you about the very rich; they are not like you and me... For example what's a disaster for us is a bonanza for them
Daniel Millstone
Posted on Portside's Facebook page
     =====
"But Amazon is one of the few companies that have benefited financially from the crisis. Because of all the customer demand, shares of the company have hit record highs. That has made Mr. Bezos, the wealthiest man in the world, $25 billion richer since early March."
Bezos Takes Back the Wheel at Amazon
Geoff Mirelowitz
Posted on Portside's Facebook page
     =====
They're aren't in the same boat as we, they have at least two boats. Bezoz has three.
Steve A Greenfield
Posted on Portside's Facebook page
Fauci Face Mask  --  cartoon by Adam Zyglis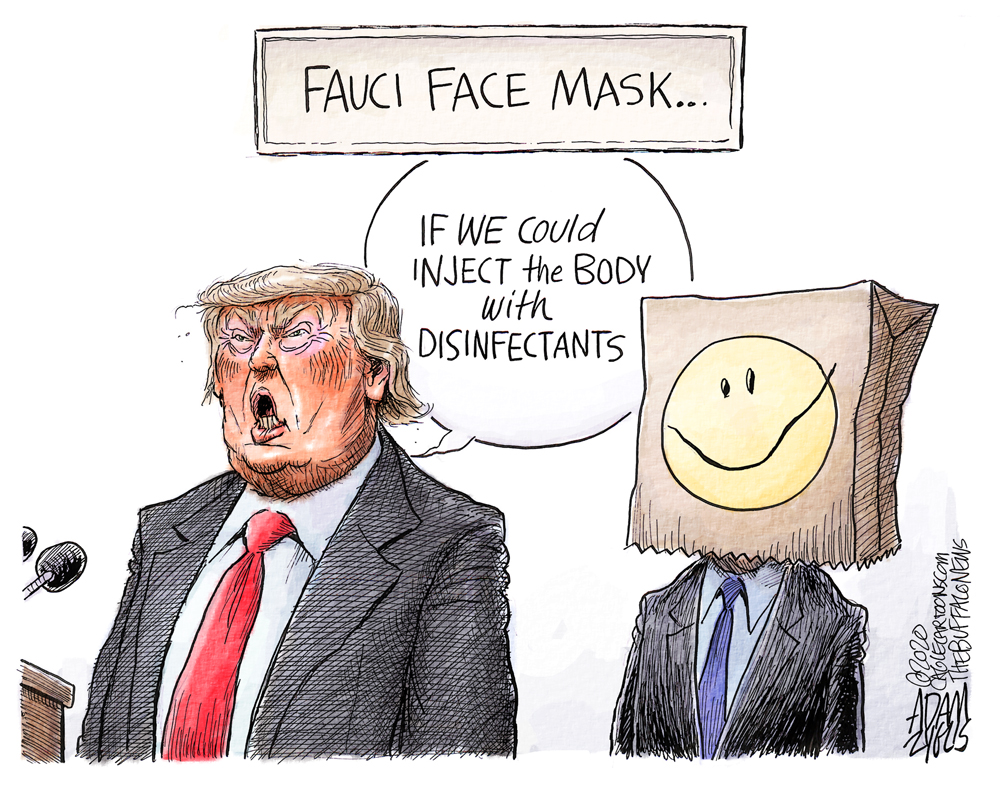 Adam Zyglis
April 27, 2020
Re: Capitalism Is Failing Its Coronavirus Stress Test-Only Workers Can Turn Things Around
(posting on Portside Labor)
 
They worship at the alter of their God Mammon( Money, money, money). To them workers lives are expendable and a minor distraction in favor of their economy. Ask Cramer, And the others at C.N.B.C. their mouth pieces for their god.
Hector Burgos
Posted on Portside's Facebook page
     =====
I hope this pandemic is the beginning of the end of capitalism. It is the only way life as we know it may have a chance.
Rafael Rivera
Posted on Portside's Facebook page
     =====
I agree! Don't know exactly the way to go, but it's been a while that I realized. Very unfair!!!!
Cecilia Diaz
Posted on Portside's Facebook page
Re: Trader Joe's and Other's Suppress Unionization Efforts During Pandemic
(posting on Portside Labor)
 
Why not boycott Trader Joe's?  The farmworkers learned 50 years ago that grocery chains have a small profit margin that is their weakness in  a boycott.
Nick Jones,  past UFW Boycott Director, 1976.
     =====
So disappointed, I expected better from Traders Joe
Sylvia R. Gonzalez Martinez
Posted on Portside's Facebook page
Re: COVID-19 Will Kill More People Worldwide Due to Water Shortages
 
It is very tragic that worldwide we spend so little thought and money on bringing clean water to people. That leads to a lot of sickness and death even during ordinary times.
Sonia Collins
Posted on Portside's Facebook page
Re: Belly of the Beast: Cuba's Untold Stories
 
When I worked in medicine, I worked for a practice in E. Oakland with one Dr, one Physician's Assistant, one medical assistant, one nurse, one lab tech, one secretary (me), an accountant and an office manager. In the office we had a book, issued by the medical association for the county. It contained the names, specialties, and contact numbers for every practicing physician in the county. They were listed alphabetically, and by specialty as well. Its primary purpose was for making referrals. It also, in the back of the book, had an interesting statistical analysis of medicine in the county.
One doc, one PA. And our practice was second in the county in the number of Medicare and MediCal patients we served. Number one was a Vietnamese doctor, running a MediCal mill - 15 minute visits, no charting, run 'em in, run 'em out, $15 paid by MediCal per visit.
The book told the story. The number of primary care physicians - and they counted general practitioners, family practitioners, pediatricians, OB/Gyn practioners all as primaries, were the smallest % of doctors in the various fields. Specialty surgeons? Many many to choose from. You've got a productive cough and a fever over 102 F? Hope one of the primaries has an opening today...
Why? Among other reasons - the doctor I worked for, who himself worked about 12 hour days (early morning rounds at Highland Hospital, 8 hours + at our clinic, then back to evening rounds), called me into his office one day in winter to tell me he was going to have to cut my hours. He was apologetic, the practice had made no money during the month of January, just broken even. I expressed dismay at the situation. He said it wasn't that bad, in bad months he had to use his credit card to make payroll. And believe you me, we were NOT well paid.
If we had had Medicare for All, we could have eliminated at least one staff position - one person did nothing but figuring out how to bill the many many insurance companies, each of which had their own requirements in how patients could be paid for, and each of which was eager to pay as little as was humanly possible.
We had a lot of very well dressed, articulate and attractive young college graduates who came through the office. Drug pushers. That is to say, representatives from pharmaceutical companies who were there to bring us sticky pads, shoe bags, plastic kidneys, enough ball point pens so we could have a different one for every day of the year, burritos, carrot/orange juice drinks, neck rubs, bags of cookies, and offers of free dinners if only the doctor would come and hear a lecture, free lunches for all of us if they could pitch something between the bagels and the Thai food. The doc tolerated this, because they brought samples of their drugs. We had a well stocked cabinet, and it allowed the doc or PA to prescribe drugs that the patients could not otherwise afford.
When prescribing treatment, equally important to examining the patient's physical condition was examining their insurance. If you have insurance A, even though drug X would be just right for you, it is not covered by insurance A and it costs an arm and a leg, so we will have to prescribe drug Y for you. Its not as good, but at least you can get it without skipping meals for six months...
It is madness.
Jack Radey
Posted on Portside's Facebook page
     =====
"Cuba's doctors, who are revered like servicemen and women are in the US, also fight, like soldiers, on the front lines in far-off places against deadly enemies. In the last month, more than a thousand Cuban doctors and nurses have traveled to twenty countries to join the global battle against Covid-19. There's historical precedence for this. In 2011, Cuba was the first country to send doctors to Haiti to fight a cholera epidemic. In 2016, then US Ambassador to the UN Samantha Power called Cuba's efforts to combat Ebola in West Africa "awe-inspiring."
But while Cuban doctors have been welcomed from Andorra to Togo, the country's medical internationalism has been condemned by the Trump administration. US officials claim the 30,000 Cuban doctors currently serving in medical missions in sixty countries are victims of "modern slavery." Last month, shortly after fifty Cuban doctors arrived in Lombardy, Italy, the State Department tweeted that countries should "scrutinize agreements" with Cuba to "end labor abuses."
I met some of the Italy-bound doctors at a small ceremony on the outskirts of Havana hours before they left on buses for the airport.
"Nobody is forcing me to be here," said Dr. Graciliano D¡az Bartolo, a veteran of medical missions to Bolivia, Haiti, and Guinea. "Being humane is what's most important, to share what we have with those who are in need. And right now, Italy needs us."
My confidence in Cuba is not rooted in numbers. Cuba has 862 cases, giving it an incidence rate 265 times lower than that of Blaine County, Idaho. (Cuba is at an earlier stage of contagion and cases are expected to increase at a more rapid pace in the coming weeks.) Instead, my assurance is based on the country's public health system and its extensive network of dedicated, community-based doctors. Even with so many doctors abroad, 70,000 physicians remain in Cuba, giving the country one of the highest doctor-to-patient ratios in the world-more than double that of the US."
Jonathan Trautman
Posted on Portside's Facebook page
Re: The Global Struggle to Control the Corona Virus
 
Amy Davidson Sorkin speaks of a "longing for leadership and for secret weapons-any weapons-against COVID-19," in her whirlwind review of 18 or so countries ("Wide World," April 27). How regrettable that she omitted mention of Cuba's world leadership in medical internationalism during the pandemic. 
In addition to the 28,000 doctors working in 60 countries already, Cuba has sent contingents of more than 1,000 doctors and other medical workers upon the request of governments seeking help during the pandemic to some 27 nations. Nations throughout the Caribbean, Latin America, and even Italy and Andorra are among those benefiting from Cuban brigades trained in the light of experience fighting Ebola in Africa and other viral diseases. 
This has been done without subtraction from the island's revolutionary history of maintaining health care as a right for all. Cuba's long-standing infrastructure of primary care neighborhood by neighborhood, door-to-door visits, organized isolation units, and regional hospitals has helped keep its COVID-19 mortality rate at 3.2%, compared to the estimated global rate of 6.9% (and a U.S. rate of around 5.5%). Moreover, Cuba's biotech industry has developed some 19 medications proven to be effective in the treatment of COVID-19. 
Interferon Alpha 2B is one example, used with great effect to bolster the immune system of patients in China. These are not "secret weapons." Cuba has made great efforts to share them around the world. The Trump administration's reaction to Cuba's leadership has been to tighten the 60-year U.S. criminal blockade of the island, having passed some 90 additional measures aimed at crippling Cuba's economy. 
This blockade has never been justified, but in these times where cooperation and solidarity are most urgent, the UN Secretary General, the Pope, and many others have been demanding that it be lifted. As Cuba's Foreign Ministry has declared, "The magnitude of the current crisis compels us to cooperate and practice solidarity despite political differences. The virus knows no boundaries or ideologies. It threatens the lives of all and therefore it is up to all of us to fight against it. No country should assume it is big enough, rich enough or powerful enough to defend itself, isolating itself and ignoring the efforts and needs of others."
Peter Seidman
Re: A Jingoistic Fantasy and the Utter Futility of Biden's China Rhetoric
 
He doesn't seem to be the guy to oppose panic with PRINCIPLE.
Joseph Maizlish
Re: Massive Spending in a Crisis Brought Bloody Consequences in Ancient Athens
 
Very interesting historical event that correlates with today's health/economic battle and use of funds.
Amparo Ocasio
Posted on Portside's Facebook page
Re: Lawfare and Asymmetric Warfare on Venezuela
 
The US is not interested in equal rights or democracy in Venezuela, they want their natural resources in particular, oil.It is not the first time they have invaded another country with the excuse of "democracy". The world cannot be fooled any longer.
Guillermo Ramirez
Posted on Portside's Facebook page
Re: The America We Need - Special The New York Times Magazine - Tidbits - April 23
 
"The Homestead Act allowed Western settlers to claim 160 acres of public land apiece". Even today this theft is still considered land that was vacant and there for the taking. On the other hand genocide can free up a lot of land.
B Fern
Re: Odetta, the Shy Folk Singer Who Defied McCarthyism's Fear Tactics
 
I remember and admire her ...For her political
consciousness !!!
María Lopez
Posted on Portside's Facebook page
     =====
An extremely important fixture of my life in the 60's along with Buffy St. Marie, Dylan, Pete Seeger and Joan Baez.
Roberto Buxeda
Posted on Portside's Facebook page
Re: The World's Dominant Ideology Is Breaking. What Will Replace It?
 
My hope is that people disconnect by becoming digital cloud-workers and zealous about a 3-day or 4-day work week.
Academia.edu with 23 million papers could be the people's publisher. Without even subscribing, they tell you if you have a reader in Ghana, Bolivia, NYC or Switzerland!
DeepL is a neural translation machine that helps with ten languages including German, Spanish, French, Dutch, Russian, Polish, Japanese and Chinese. As a freelance German translator, I can accomplish more in one hour than in three or four weeks and more in 17 hours than in a whole year!
Thinking is the best way to travel - while people are paid to leave the oil in the ground and the economy is shut down. Adaptation is the key to survival, not narcissism, solipsism, illiteracy, nihilism or profit maximization!
A list of 600+ articles translated since 4/1/2020 is available for a modest compensation.Enclosed please find Rolf Gossner's "Thoughts and Theses on the Corona Exceptional State."
I look forward to your comments and to a world of generalized security.
Marc Batko
Portland OR
freembtranslations.net 
Revealing the Unequal Burden of Covid-19 By Income, Race/Ethnicity, and Household Crowding: US county vs. ZIP code analyses (Working Paper Series - Harvard Center for Population and Development Studies)
 
By Jarvis T. Chen, ScD, Nancy Krieger, PhD 
April 21, 2020
HCPDS Working Paper Volume 19, Number 1
No national, state, or local public health monitoring data in the US currently exist regarding the unequal economic and social burden of COVID-19. To address this gap, we draw on methods of the Public Health Disparities Geocoding Project, whereby we merge county-level cumulative death counts with population counts and area-based socioeconomic measures (ABSMs:  % below poverty, % crowding, and % population of color, and the Index of Concentration at the Extremes) and compute rates, rate differences, and rate ratios by category of county-level ABSMs. 
To illustrate the performance of the method at finer levels of geographic aggregation, we analyze data on (a) confirmed cases in Illinois ZIP codes and (b) positive test results in New York City ZIP codes with ZIP code level ABSMs. We detect stark gradients though complex gradients in COVID-19 deaths by county-level ABSMs, with dramatically increased risk of death observed among residents of the most disadvantaged counties. Monotonic socioeconomic gradients in Illinois confirmed cases and New York City positive tests by ZIP code level ABSMs were also observed. We recommend that public health departments use these straightforward cost-effective methods to report on social inequities in COVID-19 outcomes to provide an evidence base for policy and resource allocation.
[Jarvis T. Chen, ScD, Nancy Krieger, PhD are with the Department of Social and Behavioral Sciences, Harvard T.H. Chan School of Public Health]
Read or download full paper here.
Earth Day at 50: The past and future of climate activism (Next System Project)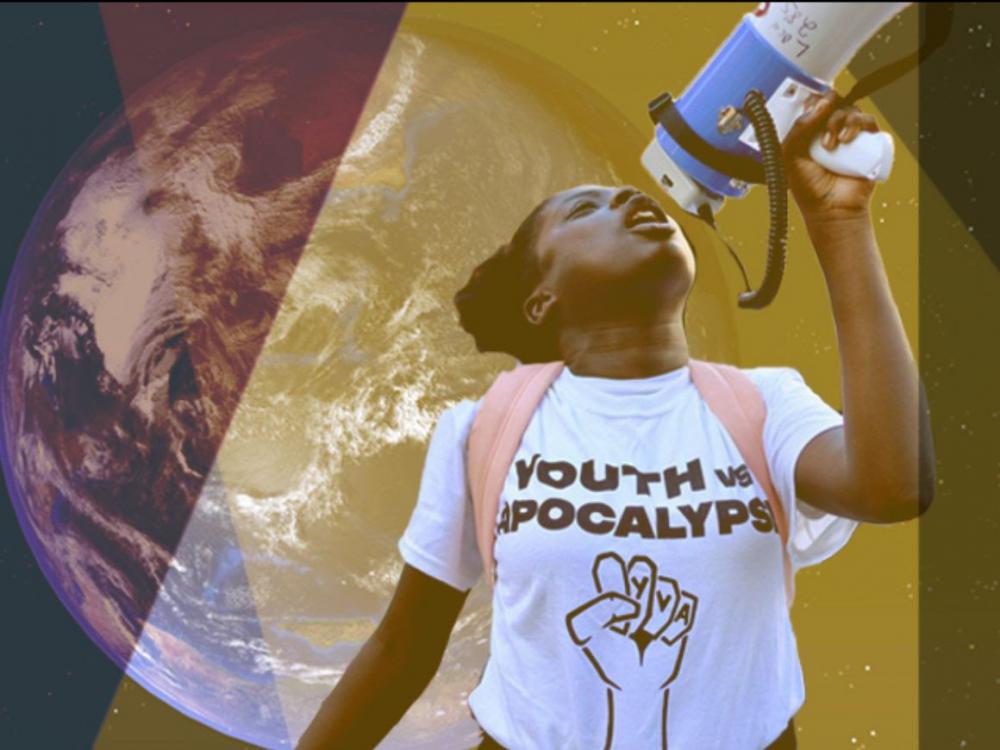 Earth Day: A dialogue between past and future
Next System Project co-chair Gus Speth participated in the first Earth Day in 1970 as a young environmental activist helping to set up what would become the National Resources Defense Council. Dulce C. Arias is an 18-year-old activist with Youth Vs. Apocalypse, one of the new vanguard of youth-led organizations challenging global leaders to take bold action to avert catastrophic climate change. On our newest Next System Podcast marking the 50th anniversary of Earth Day, Speth and Arias take a critical look at the history of the environmental movement and what young people are doing today to take the movement to protect the Earth to a new level in spite of the constraints of the COVID-19 pandemic.
McKibben, Gizmodo highlight fossil fuel buyout
Today in The New Yorker magazine, climate activist and author Bill McKibben cites The Democracy Collaborative's report with Oil Change International that calls for a public takeover of the fossil fuel industry. "Since we're handing firms bailouts, the logic goes, why not take ownership, and begin the process of winding down the industry before it can do more damage?" McKibben writes in the "Climate School" section of his column. Meanwhile, Gizmodo also references the report in opposing the Trump administration's shoring up the industry. Brian Kahn writes: "As the Next System and Oil Change International notes, a 'no strings attached [bailout] would return our economy to a precarious status quo.' We know where that road leads, and it's why we need to turn away from it now."
Read McKibben in The New Yorker...
Protect Workers to Secure Our Food Supply - Action Alert: May Day Event with Labor Leaders from Around the Globe (AFL-CIO)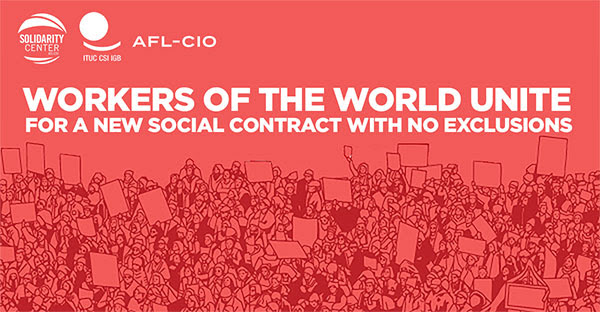 Join workers' rights advocates from Bangladesh, Honduras, the Middle East and global union organizations for a special online May Day event focused on the fight to ensure that the pandemic response protects all workers, regardless of immigration status. The COVID-19 crisis exposes systemic injustices that the global labor movement has long fought to change. This discussion will highlight issues that workers around the world are facing right now, with particular attention to migrant workers. Our speakers will provide examples of the work that unions are doing to ensure that all workers, regardless of status, have protections amid the pandemic, and will strategize about how to use the crisis as a catalyst to push for a new social contract with no exclusions. The AFL-CIO has created a May Day 2020 toolkit packed with useful resources.
May Day Special (U.S. Labor Against the War - USLAW)
 
Across much of the world, May 1st is a time to recognize the contributions of the working class and our labor movement. International Workers' Day (or, colloquially, May Day) is held on May 1st to commemorate the martyrs of the Haymarket massacre as workers peacefully protested for an eight-hour workday.
Please join me on May 1st at 7PM EST as I co-host a May Day special program with my union, the International Union of Painters and Allied Trades (IUPAT). Hear from union leaders at UE, UNITE HERE, American Postal Workers Union, AFL-CIO, Amalgamated Transit Union, Association of Flight Attendants—and more. Mark your calendars and tune in by visiting the IUPAT Facebook or YouTube accounts this Friday evening!
COVID-19 is an extraordinary threat to the health and prosperity of working people but our collective strength exemplifies the most important May Day principle: solidarity. Be sure to also watch the powerful pre-launch video featuring IUPAT members from across the country. Click the picture below and share it with our labor family.
We all want to live with dignity and respect because that's what we earned through our hard labor. We want the right to have a voice on the job because we are part of the essential class. Though at times apart, we are under the same sky, we are one family, we are all workers.
In struggle and solidarity,
Yasemin Zahra, USLAW Chairwoman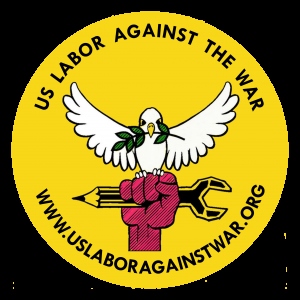 Honor America's Workers Remember Labor's Struggle for the 8-Hour Day - May 1, 2020 - Mother Jones May Day Celebration (Fridays Labor Folklore)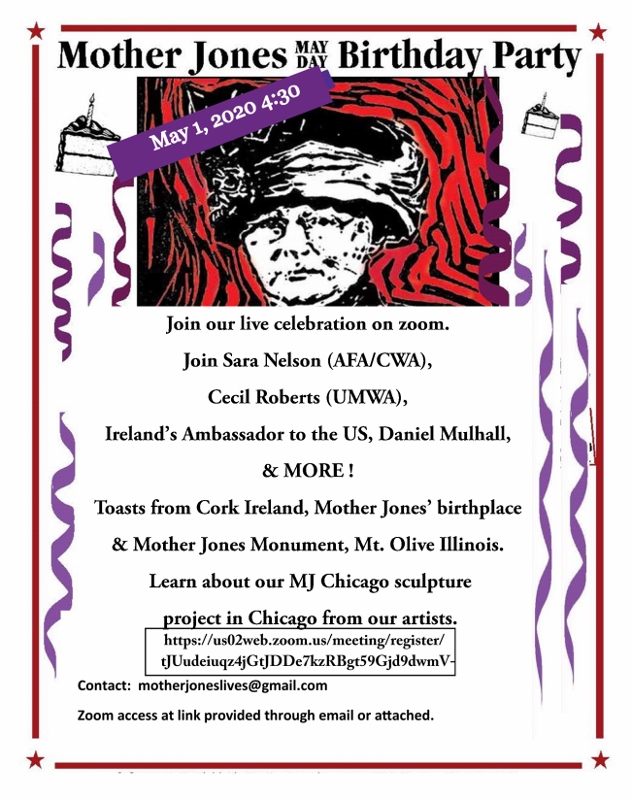 Celebrate Mother Jones' birthday on May Day! 
 
4:30 pm - Central Time (CST)
   
Register in advance.
You will be sent an invitation to join the meeting without downloading anything,  
on the day of the zoom meeting.  
Click here.
Fridays Labor Folklore, Join the mailing list.  Send an email and say Subscribe me!, Saul Schniderman, Editor, fridaysfolklore@gmail.com, P.O. Box 5349, Takoma Park, MD 20912
Webinar: "Deaths of Despair and the Future of Capitalism" with Anne Case and Nobel Prize winner Angus Deaton - May 4 (Economic Policy Institute)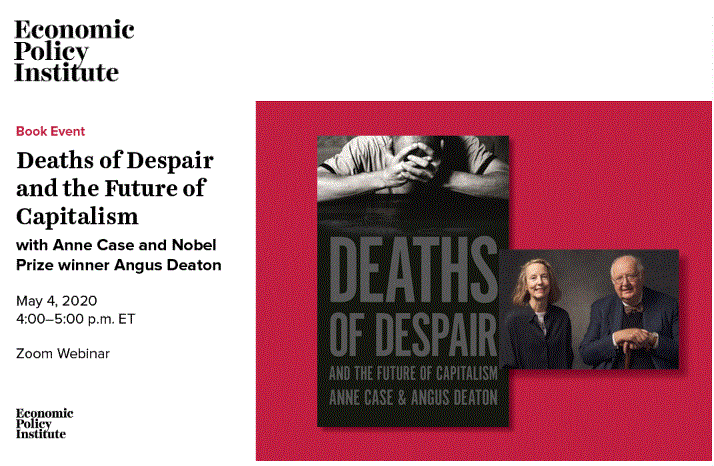 Join authors Anne Case and Nobel Prize winner Angus Deaton for a discussion of Deaths of Despair and the Future of Capitalism. This disturbing and eye-opening book is among the first to unearth a shocking increase in what are known as "deaths of despair"—including suicides, drug overdoses, and alcoholism—among middle-aged white Americans.
These findings are at the heart of their book, in which they describe some of the key reasons for the phenomenon, including corporate greed run amok, wealth inequality, and a health care system that has become "a cancer at the heart of the economy." While the picture they paint is bleak, the authors provide steps that can be taken to make sure capitalism will "serve people and not have people serve it."
 
Case and Deaton will share their findings during a presentation on the book, followed by a Q&A portion moderated by EPI President Thea Lee. 
Register for the free webinar today. After registering, you will receive a confirmation email containing information about joining the webinar. 
Monday, May 4  --  4:00-5:00 p.m. ET
Economic Policy Institute
Zoom
 
Featured speakers:
Anne Case, Professor of Economics and Public Affairs Emeritus, Princeton University
Angus Deaton, Nobel Prize winner in economics and Professor of International Affairs Emeritus, Princeton University
Moderator:
Thea Lee, President, Economic Policy Institute
Register for Free Register for the free webinar today. After registering, you will receive a confirmation email containing information about joining the webinar.
"We Own The Future" Virtual Book Discussion - With Kate Aronoff, Sarah Leonard & Bill Fletcher Jr. - May 7 (The New Press, Democratic Socialists of America, Dissent magazine, and DSA Fund)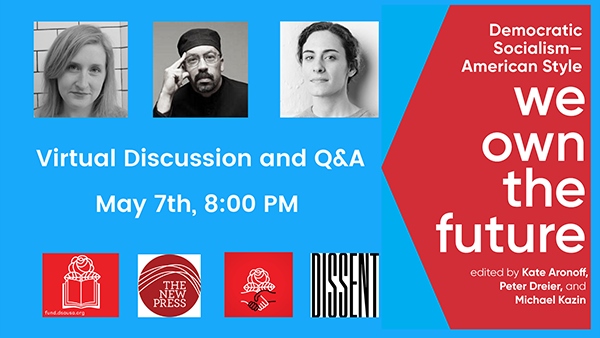 We Own the Future - A Virtual Discussion with Kate Aronoff, Sarah Leonard, and Bill Fletcher Jr.
Thursday, May 7, 8 PM ET / 7 CT / 6 MT / 5 PT
 
Please join The New Press, Democratic Socialists of America, Dissent magazine, and DSA Fund for a virtual discussion on the new book We Own the Future: Democratic Socialism—American Style, edited by Kate Aronoff, Peter Drier, and Michael Kazin.
Kate Aronoff, a co-editor of the volume, will be joined by contributors Sarah Leonard and Bill Fletcher Jr.
Registration is free. You will receive an email with a discount offer on We Own the Future in ebook or print, as well as instructions for joining the meeting.
Amidst an unprecedented pandemic and the imminent failure of the capitalist system to address it adequately and equitably, we must chart a new course. In We Own the Future: Democratic Socialism—American Style, leading socialist thinkers and activists come together to examine the United States' own democratic socialist history and how we might achieve a world where every human being is guaranteed a life of safety, health, dignity, and even joy, free from the commodification of basic necessities. The chapters of this timely and urgent volume tackle climate change, foreign policy, gender and the family, healthcare, election reform, socialist governance, and more.
Journalist Kate Aronoff is a staff writer at The New Republic. Her writing has appeared in Dissent, The Guardian, The Nation, Jacobin, and the New York Times. She is a co-editor of We Own the Future: Democratic Socialism—American Style (The New Press), and lives in Brooklyn.
Sarah Leonard is a contributing editor to The Nation and an editor-at-large at Dissent.
Bill Fletcher Jr. has been a senior staff person in the national AFL-CIO; the former president of TransAfrica Forum; a Senior Scholar with the Institute for Policy Studies; an editorial board member of BlackCommentator.com; and in the leadership of several other projects. Fletcher is the co-author (with Peter Agard) of The Indispensable Ally: Black Workers and the Formation of the Congress of Industrial Organizations, 1934-1941; the co-author (with Dr. Fernando Gapasin) of Solidarity Divided: The crisis in organized labor and a new path toward social justice; and the author of 'They're Bankrupting Us' – And Twenty Other Myths about Unions. Bill is also a contributor to Dissent.
50 Years Later - Remembering Kent State, Jackson State, the Chicano Moratorium, the War in Vietnam - Webinar - May 9 (Vietnam Peace Commemoration Committee)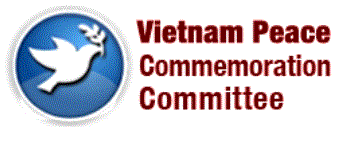 Webinar is scheduled for Saturday, May 9, 3 - 5 p.m. ET.
We will honor the National Student Strike and the deaths of protesters at Kent State, Jackson State and the Chicano Moratorium, including presentations by survivors Alan Canfora, Gailya Porter and Jorge Rodriguez plus songs by Peter Yarrow.
Updated program details, including speaker information, are here with the registration link.
(Please share with friends and colleagues.)
Or register directly here.
If you did not see our last newsletter with many resource links, go here.
Fifty Years Later
In May 1970, millions of students from at least 884 colleges and high schools took part in the largest national student strike in U.S. history to protest President Nixon's expansion of the Vietnam War into Cambodia, the killings of students at two universities, and to demand new national priorities as articulated by Dr. Martin Luther King, Jr. at Riverside Church one year before his assassination. ("Beyond Vietnam")
Four white students were killed during antiwar protests at Kent State University. Two black students were killed at Jackson State University protesting racially charged intrusions onto their campus. Three Latino demonstrators were killed during the Chicano Moratorium antiwar and social justice march in East Los Angeles that summer. Join us on May 9 to commemorate these events, honor their victims and reflect on implications for today.
On site events will be live streamed
Kent State Updated virtual multi focus program here "Special video tribute to be aired at noon on Monday, May 4, featuring footage from past commemorations as well as newly recorded messages from several of the students wounded in 1970 who reflect on that day and their lives since the shootings"
Jackson State A virtual event will begin at 8:30 p.m. ET on Thursday, May 14. More details and link here

Video Resources for This Time
Fire in the Heartland, documentary about Kent State made by alumnus Daniel Miller, description and preview here. A new 56 minute version will be shown on PBS stations between May 1 and 4. If we can get the list of stations, it will be posted here.
The Year that Trembled, film that dramatizes the effect on young people of the draft and Kent State; made in 2002 by Jay Craven, based on the novel by Scott Lax; trailer and description here. Jay is a long time friend of VPCC and is offering DVDs to our network for $10. Contact him here.
Days of Possibilities by Rich Orloff, documentary-style play adapted from letters and interviews with students who attended Oberlin College in Ohio; explores the impact of the Vietnam War, from small and polite demonstrations in 1964 to the campus-wide response after Kent State. Presented on May 4 by five theaters in New York, Tennessee, Maryland, California and Massachusetts live-streaming their own free performances. Details here with links to performances.
Celebrating the Lives and Legacy of Phillip Gibbs and James Green, a documentary about the police shootings at Jackson State University here.a documentary about the police shootings at Jackson State University here.
The Chicano Moratorium: Why 30,000 People Marched Through East LA in 1970, a short documentary about the killings at the Chicano Moratorium march here; more contemporary footage and detail in Chicano Moratorium: A Question of Freedom here; Requiem 29: The Chicano Moratorium is a documentary work print with powerful footage of the march and of the court inquest on the murder of LA Times columnist Ruben Salazar here
Books
Kent State: Death and Dissent in the Long Sixties (Culture, Politics, and the Cold War) by Thomas Grace, Adjunct Professor of History, Erie Community College, wounded as a student at Kent State
Steeped in the Blood of Racism: Black Power, Law and Order, and the 1970 Shootings at Jackson State College by Nancy K. Bristow, Professor of History, University of Puget Sound
Articles
Updated list on the Webinar information page here