Media Bits and Bytes - Trump's War on Free Speech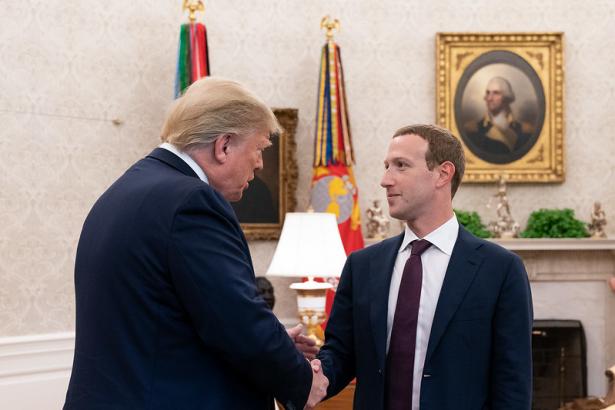 Trump meets Zuckerberg,Official White House Photo by Joiyce N. Boghosian
Trump's Executive Order on Social Media
By Jane Coaston
May 29, 2020
Vox

It won't hold up in court. That's not the point.
By Eliza Bechtold
May 29, 2020
The Conversation
His feud with Twitter is another example of the ways in which the president has routinely distorted the principles of the First Amendment.
How the Exec Order Could Affect the Election
By Lauren Hirsch
May 28, 2020
CNBC
It could force media companies to face growing pressure of litigation and political heat during the run-up to the 2020 election. 
Zuckerberg Twits Twitter for Responding to Trump
By Rachel Sandler
May 27, 2020
Forbes
Zuckerberg rebuked Twitter for its decision to tag two of President Donald Trump's tweets about mail-in voting with fact-check links, saying that private companies "shouldn't be the arbiter of truth."
Facebook Workers Stage Virtual Walkout
By Kaya Yurieff and Donie O'Sullivan
June 1, 2020
CNN
Some Facebook employees staged a virtual walkout on Monday to protest CEO Mark Zuckerberg's decision not to take action on a series of controversial posts from President Donald Trump last week.
By Alison Rourke
June 1, 2020
The Guardian
Angry editorials call for change and accountability and accuse Donald Trump of being 'exactly the wrong leader for the times'.
What if Minneapolis Were Hong Kong?
By Karen Attiah 
May 29, 2020
Washington Post
If we talked about what is happening in Minneapolis the same way we talk about events in a foreign country, here's how the Western media would cover it. 
By Jon Allsop
June 1, 2020
Columbia Journalism Review
As the weekend progressed and the protests continued, police officers abused journalists in cities across America.