Media Bits and Bytes - June 16, 2020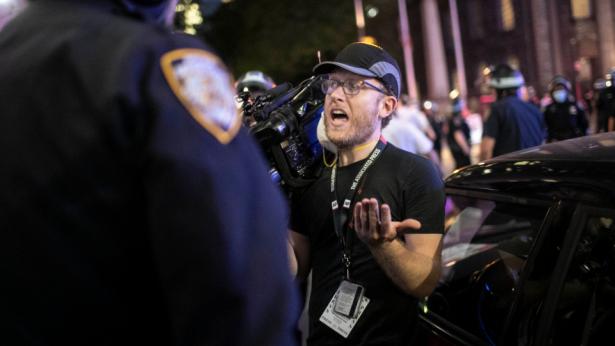 New York City police officers surrounded, shoved and yelled expletives at two Associated Press journalists covering protests in the latest aggression against members of the media during a week of unrest around the country, credit: AP Photo/Wong Maye-E
By Alissa Quart
June 10, 2020
Columbia Journalism Review
News outlets are starting to shrink or disappear altogether. And after the last two weeks, we have a new chapter to the media extinction narrative, as physical violence and threats to journalists covering protests, often at the hands of police, are starting to pile up.
By Paul Farhi and Sarah Ellison 
June 13, 2020
Washington Post
Newsroom uprisings are partially about the lack of minority employees in key jobs and leadership positions — but also about how stories about race are reported and framed, and who gets to do the reporting and framing.
By Karl Bode
June 9 2020
Vice
The government has routinely ignored the impact media consolidation has on the diversity and quality of journalism, especially in local broadcasting. The public is now awash in conspiracy theories and highly partisan takes presented as hard news.
By Scott Neuman
June 16, 2020
NPR
The Voice of America's two top executives stepped down Monday following Senate confirmation of President Trump's pick to run the agency that oversees the international broadcaster.
By Will Matsuda
June 11, 2020
Aperture
Four photo editors talk about the inherent subjectivity of photojournalism, the racist distribution of power and opportunity in the industry, and their demands for a sustained commitment to make photography more Black, far into the future.
Philippines Court Convicts Journalists
By Samantha Bagayas
June 15, 2020
Rappler
For journalists all over the country, the guilty verdict on Maria Ressa and Reynaldo Santos Jr carried a clear message: "To be critical is to be snuffed out."
By Brian Stelter
June 12, 2020
CNN
Many large national brands avoid Carlson's 8 p.m. talk show, even though it is among the highest-rated shows on cable television, which would normally make it an attractive place to run ads.
Facebook's Anti-Union Software
By Lee Fang
June 11, 2020
The Intercept
Facebook actively building tools designed to suppress labor organizing has sparked a flurry of posts from Facebook employees denouncing the union-busting feature.
By Tom Simonite
June 12, 2020
Wired
Amazon, Microsoft, and IBM say they want federal rules around the technology. Critics of the proposal, sponsored by four Democrats, say it doesn't go far enough.