Global Left Midweek - July 22, 2020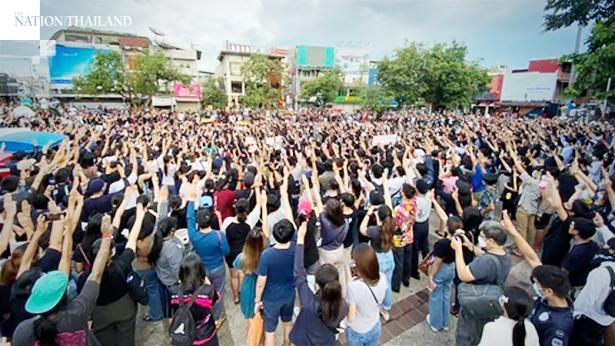 Anti-government protesters gathered at Tha Phae Gate in Chiang Mai, Thailand on Sunday (July 19) following a similar rally at Democracy Monument in Bangkok on Saturday,Photo: The Nation (Thailand)
__________
China and Hong Kong

Moderator's Note: Who is the Left in China and Hong Kong?
This signed moderator's note is a first for Global Left Midweek. It does not represent the views of the Portside collective.
GLM tries to keep up to date on the international left in its various forms: political parties, mass movements, intellectual discussions and cultural expressions. We aim to promote internationalism in the US. Readers may notice a distinct partiality to - but not tailing of - some parties in and out of power. But in our view there is no camp of parties or governments that can speak for the whole international left. Those days are over, if they ever really were, and we would view an attempt to return there as retro.
The current situation in China and Hong Kong poses real questions in this regard. Most Americans have no opinion as to whether China is capitalist, socialist, or a mix. Leftists might be inclined in any of these directions. For example, Tricontinental: Institute for Social Research, which we share from frequently, point to the Chinese effort against Covid-19 as a big success thanks mainly to their planned economy and the state's ability to act efficiently. Some leftists (like Bernie Sanders) see a complete lack of democracy and hence, a system far from their idea of socialism. 
Is China's left to be found in the Communist Party and its supporters, including those in Hong Kong? Or is it to be found in grassroots movements, in labor, in the culture, or in electoral groups whose future is in doubt? 
These questions are made more complicated by two historic events currently unfolding: the Law of the People's Republic of China on Safeguarding National Security in the Hong Kong Special Administrative Region, which went into effect July 1; and the growing threats of war with China emanating from the Trump White House. 
The push to protect Hong Kong autonomy and their system of representation has been massive. If sheer numbers give an indication that a mass movement has a democratic nature, then this is a democratic movement.
Some supporters of Beijing argue that the movement is pro-imperialist in nature regardless of the broad spectrum of tendencies within it. That spectrum runs from British royalists to Falun Gong to social democrats and anarchists. Some reports have Hong Kong capitalists favoring Beijing domination for commercial reasons. What all would agree is that the movement is now facing a crackdown, courtesy of Beijing authorities. 
Those whose automatic response is to declare support for the pro-autonomy, pro-democracy movement have to consider the growing threat of war that drives the Chinese government to lock society down even harder. In turn, how China responds to the Hong Kong movement is being used to justify hostilities.
Neoconservatives in both parties and some white nationalists in Washington are dragging out the old 'yellow peril' rhetoric. They are focusing on a concocted China threat, and how to meet it diplomatically, financially and militarily. The danger this poses should be hard to ignore or belittle.
How to deal with this conundrum for the left? For now, we have to take what info we can get and try to make sense of it. We should look to the people, not parties and governments, to be the agents of democracy, progress and peace. But no mass movement appears on the scene with a foreign policy. We have to watch the moves of world powers carefully. International dialogue is absolutely crucial, including movements, parties, and independent analysts. 
- Ethan Young, GLM moderator
Three Reports
China's Inward Shift  Wang Xiangwei / South China Morning Post (Hong Kong)
The Security Law  Jen Kirby / Vox (New York)
Candidates Register in Hong Kong  James Pomfret and Jessie Pang / Reuters (London)
__________
Thailand: Liberation Youth
Sammy Westfall / Vice (Brooklyn)
Around 2,500 mostly young Thai protesters gathered at Bangkok's Democracy Monument on Saturday to demand sweeping changes: the dissolution of parliament, an end to official harassment of government critics, and a rewriting of the nation's constitution.
__________
South African Teachers
Pavan Kulkarni / Peoples Dispatch (New Delhi)
Teachers' unions have mounted a country-wide campaign for re-closure of schools in South Africa. As a part of this campaign, the Educators Union of South Africa has begun to organize teachers and students on daily hour-long picket lines outside schools. 
___________
Socialist Register Since the 1960s
Rafael Khachaturian / New Politics (New York)
The articles gathered in Class, Party, Revolution mostly span the British/Canadian journal's first decade, 1964-74. They contain kernels of insight for present struggles, as we enter the third decade of the twenty-first century in the midst of escalating global contradictions that leave no part of the world untouched by crisis.
__________
Insurgent Seasons in Chile and the US
David Duhalde and Carlos Figeroa / Jacobin (New York)
Both Chile and the United States have seen massive social upheavals over the past year. The two countries have much to teach each other about how such unrest can translate into substantive political change.
___________
Women and the Covid Crisis
Feminism Working Group of the Party of the European Left / European Left (Brussels)
The structural crisis of the capitalist system accelerated by the Covid-19 pandemic has further exacerbated the class and gender divides present in our society.
___________
Healthcare Workers Unprotected
Jayati Ghosh / Project Syndicate (Kings Park NY)
The public acclaim for health-care workers has not translated into better working conditions or higher wages, and certainly not systematic efforts to ensure their physical safety during the pandemic.
__________
Croatia's Anticapitalist MP Katarina Peović 
George Souvlis / Jacobin
How activists in the former Yugoslav republic are building the fight for democratic socialism.
__________
Italy: Meet Gli Stati Popolari
Camilla Valerio / Italics (Rome)
This may be a popular movement that can unite, from below, the many losers of our time and that can, in Aboubakahr Soumahoro's words, propose a "politics of human sympathy, a politics which is not indifferent but which feels the pain and the need to start again, protecting the human being."