The West Coast Is on Fire: 'It Just Took Off as If There Was Jet Fuel'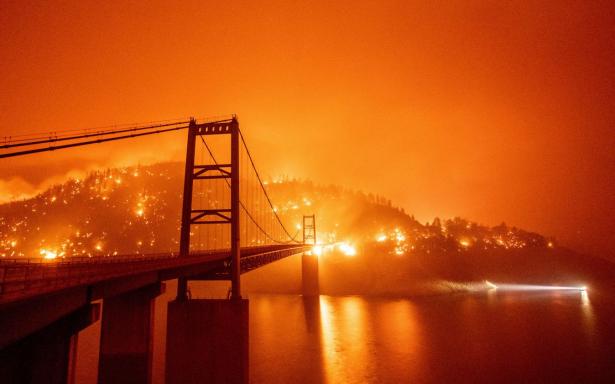 Wildfires are burning out of control throughout California and the Pacific Northwest. Oregon's wildfires tore through small cities, forcing thousands of residents to evacuate.,Credit: CNBC
Massive wildfires on the West Coast have killed at least seven people in the past three days, engulfed already-devastated parts of California in flames, and turned skies in San Francisco a bright shade of orange.
A 1-year-old died in Washington state, three people were killed in Oregon, and three people were found dead in Butte County, California, the site of 2018's tragic Camp Fire. The death toll is expected to grow. Another dozen people are still missing in Butte County, the sheriff told reporters after the Bear Fire, which had consumed a little more than 8,000 acres as of just three days ago, exploded in size between Tuesday and Wednesday and spread across more than a quarter of a million acres.
Dozens of wildfires
There were at least 24 large wildfires in California, 14 in Oregon, and another 12 in Washington as of Wednesday, according to the National Interagency Fire Center. Just two of those fires, both in Oregon, have been contained.
In California, 2.5 million acres have burned so far this year, more than during any year in the past three decades, with several months remaining in the year. Fire season normally lasts at least through October. Tens of thousands of people are under evacuation orders in California.
The Creek Fire has engulfed nearly 167,000 acres in Fresno County in five days, and is currently at 0 percent containment, according to the California Department of Forestry and Fire Management (CalFIRE).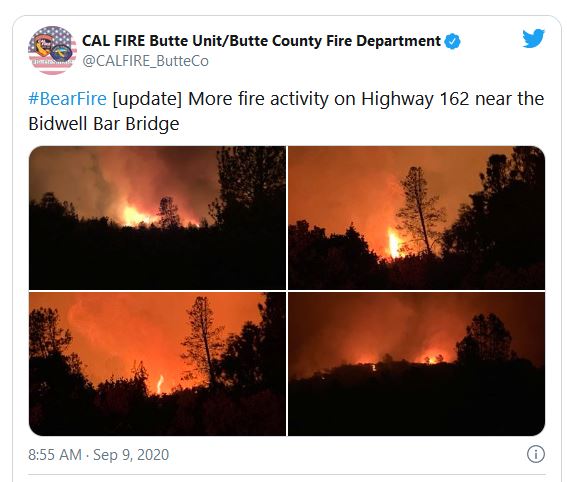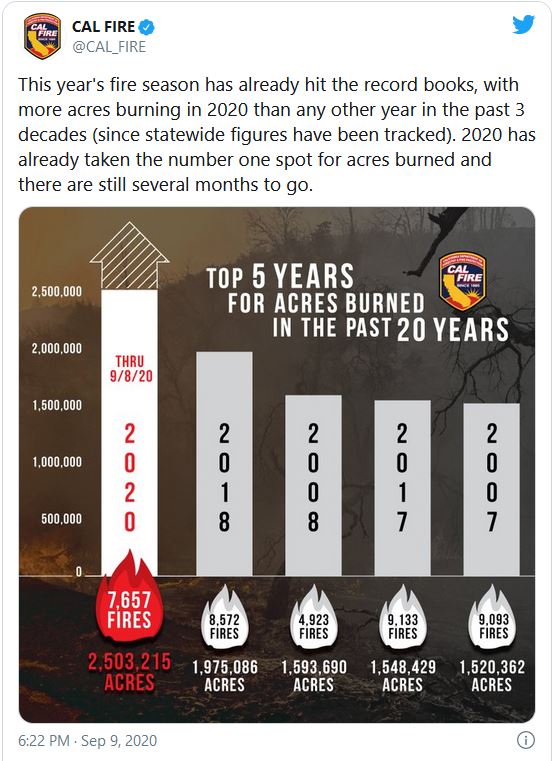 'It just took off as if there was jet fuel'
In Oregon, hundreds of homes and at least five towns were "substantially destroyed," according to Oregon Gov. Kate Brown. More than 470,000 acres have burned in the state, CNN reported.
"We expect to see a great deal of loss, both in structures and in human lives," Brown said during a Wednesday press conference. "This could be the greatest loss of human lives and property due to wildfire in our state's history."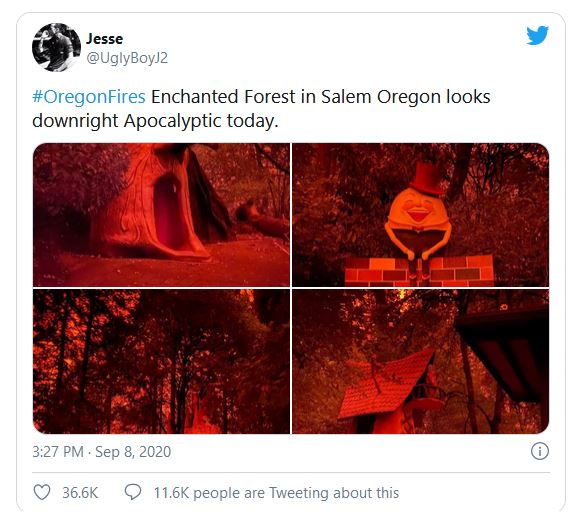 The town of Malden, Washington, in Whitman County, was decimated on Monday, with a Labor Day fire burning roughly 80 percent of the town's structures. Even the town's fire station burned, with the fire truck still inside.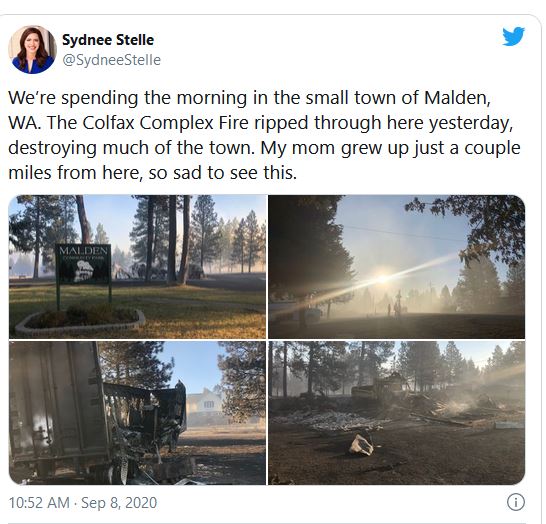 "It just took off as if there was jet fuel," Whitman County Sheriff Brett Myers told the New York Times. "You could have had all the fire resources in the world. Unless you had a fire truck for every house that was on fire, you just couldn't touch it. It was that swift."
Extreme heat and high winds
The destruction is being driven by unprecedented heat and strong winds that are helping to spread the fires in an unpredictably quick fashion.
"When you have a fire run 15 miles in one day, in one afternoon, there's no model that can predict that," U.S. Forest Service forester Steve Lohr told the AP, referring to the Creek Fire. "The fires are behaving in such a way that we've not seen," he said.
Parts of California have seen temperatures topping 110 and even 120 degrees in the past week. The heat from the Creek fire alone has been so strong that it generated its own thunderstorm cloud.
Additionally, strong wind conditions have also played a major role in the spread of the fires, with winds of 45 mph fueling the Malden fire. More than 90,000 people across the Pacific states were without power as of Thursday morning.
'Like nothing we've ever seen'
Even in parts of the West Coast not currently fighting wildfires, including San Francisco, the skies turned a bright shade of orange that lasted throughout the day. Mayor London Breed took to Twitter to speak to residents.
"I know people might be confused, they might be scared," Breed said in a video. "This is really like nothing we've ever seen. But we're tracking this very closely, and we'll continue to share information as we know more."
Bewildered San Francisco residents posted pictures and videos to social media.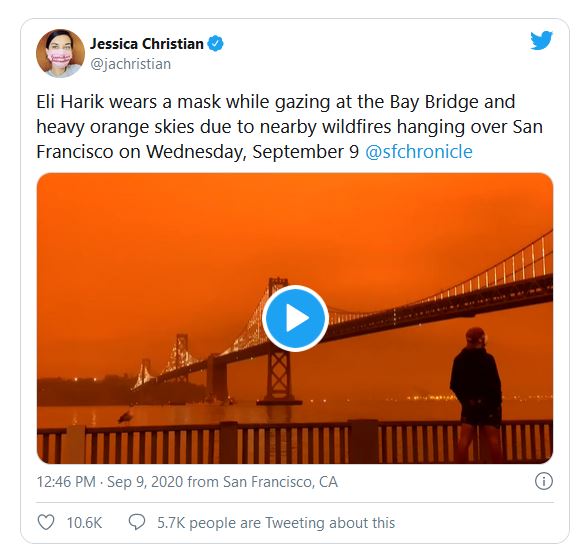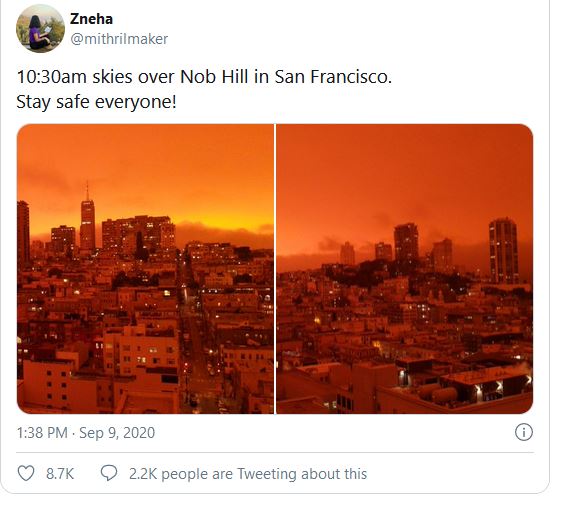 High winds have helped prevent the city from becoming blanketed in a smoky smell, with the city's marine layer helping to prevent it from feeling some of the worst effects on air quality, ABC 7 reported. As of Thursday morning, the air quality in the city was moderate, according to the EPA.