Global Left Midweek - Focus on Political Parties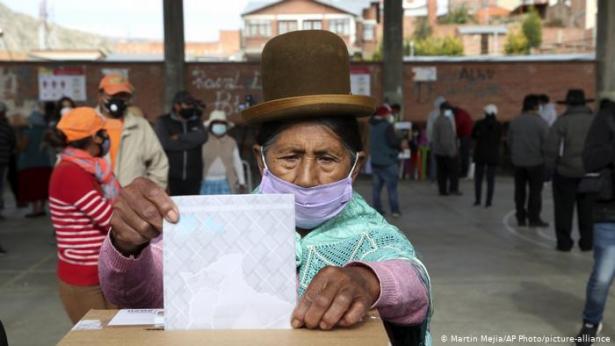 Bolivians vote out the right,credit: Martin Mejia/AP photo/picture-alliance
__________
Solid MAS Win in Bolivia! Voters Reject Coup
Linda Farthing / NACLA Report (New York)

The landslide MAS victory comes as a sigh of relief after signs of voter intimidation and a year of democratic rollbacks and human rights abuses.
__________
Labour/Greens Rewarded in New Zealand, Māori Party Secures Seat
A Righteous Crimson Tsunami!  Martyn Bradbury / The Daily Blog (Auckland)
The Māori Party Defied the Odds  Leigh-Marama McLachlan / The Guardian (London)
__________
Left Parties Support Thai Democracy Movement
The Party of the European Left and 23 other left parties call for solidarity with the mass democracy movement in Thailand, as government suppression intensifies.
__________
Cuban Communists Initiate Monetary Reform
Towards a Single Currency  Marc Frank / Reuters (London)
The Cuban Party Describes Itself  Iroel Sánchez / Granma (Havana)
__________
Pakistan Democratic Movement: Elite Opposition Unifies
Jyoti Malhotra / ThePrint (New Delhi)  
The Pakistan Democratic Movement (PDM), an alliance of 11 opposition parties, held its first major public demonstration after being formed last month.
__________
Turkey: PKK, HDP and the Kurdish Movement
Guney Yildiz / MERIP (Chicago)
The Kurdish movement includes the third largest opposition party in Turkey, the People's Democratic Party (HDP), which is a coalition between Kurdish activists, some Turkish leftist groups and certain prominent Turkish liberals.
__________
Bangladesh: Party Leaders Injured at Protest
New Age (Dhaka)
Police arrested 12 labour leaders and jute mill workers after a clash during a demonstration over reopening of the state-owned jute mills in Khulna left at least 50 injured.
__________
Australia: Socialist Alliance Manifesto
Green Left (Sydney)
Political consciousness can develop rapidly in the process of sustained collective struggle. Mass movements act as schools of direct democracy. They can also give birth to new institutions of popular democracy. 
__________
Nigeria At the Brink
The Root of #EndSARS  Fadumo Abiodun Paul / Premium Times (Lagos)
The Moment Has Arrived  Dele Momodu / This Day (Lagos)
__________
Corbyn Reflects
Ronan Burtenshaw / Tribune (London)
'The Labour Party cannot win in the long run if all it does is play a media game and pursue a Westminster strategy. It has to be a real presence in the community.'