Global Left Midweek - November 4, 2020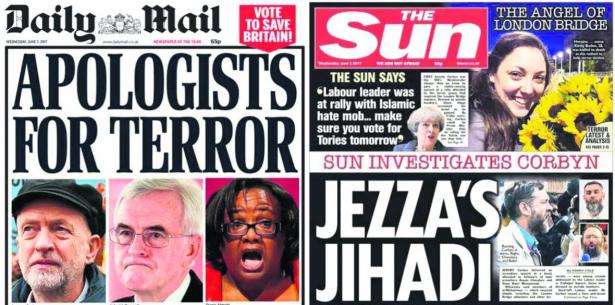 The UK media rampaged against Corbyn for years. Image,Morning Star
The Political Excommunication of a Socialist Leader

UK Labour Attacks Its Left  Ronan Burtenshaw / Tribune (London)
In the Name of Fighting Antisemitism  Richard Sanders and Peter Oborne / Middle East Eye (London)
Corbyn's Comrades Rally  Dan Sabbagh and Jessica Elgot / The Guardian (London)
Unions Respond  Jamie Doward and Michael Savage / The Guardian
__________
Five Bad Habits of Nearly Successful Political Projects
Gargi Bhattacharyya / Verso (London)
Some stumbling blocks for electoral paths to socialism in the aftermath of Corbynism.
__________
Rosanna Rossanda's Working Class Politics
Mattia Gambilonghi / Jacobin (New York)
Starting in the 1970s, Rossanda and the manifesto group debated the relationship between spontaneity, consciousness, and organization.
__________
Protests Are the Tip. Mass Movements Are the Iceberg
Feminism in Poland  Sylwia Krakowska / transform! (Vienna)
Nigeria's #ENDSARS  Andy Wynne and Femi Aborisade / Review of African Political Economy (London)
Colombia: Still On the Streets  José Antonio Gutiérrez D. / Roar (Amsterdam)
Indonesia: Video Interview  Robertus Robet / NewsClick (New Delhi)
Namibia: Youth Against Violence  Heike Becker / Rosa Luxemburg Stiftung (Berlin)
__________
Greens Agree to Join NZ Labour Government
Justin Giovannetti / The Spinoff (Auckland)
Ardern said the deal secures Labour's mandate, while giving the government access to some of the talent in the Green benches.
__________
A Win for Greens in Oz Vote
The Greens spent years building a framework for participatory democracy in the Queensland area.
__________
Legacies
Comandante Uriel, Colombia  Vivian Fernandes / Peoples Dispatch (New Delhi)
Orlando Gutiérrez Luna, Bolivia  Carwil Bjork-Jones / Carwil Without Borders (Nashville)
Sister Margaret MacCurtain, Ireland  Sarah Mac Donald / Global Sisters Report (Kansas City)
Mahabad Qaradaghi, Iraqi Kurdistan  Wladimir van Wilgenburg / Kurdistan 24 (Erbil)
Reuvin Kaminer, Israel  Joel Beinin / +972 (Tel Aviv)
Robert Fisk, UK  James North / Mondoweiss (New York)