Dispatches From the Culture Wars - March 16, 2021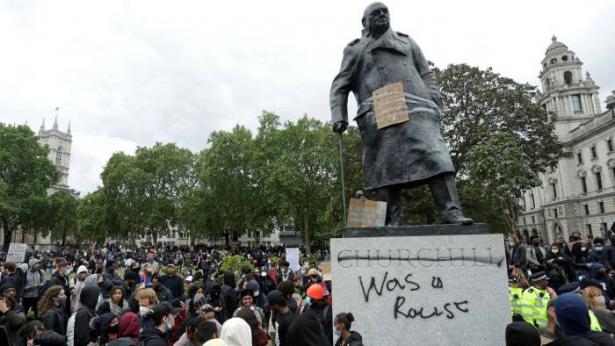 The statue of Winston Churchill in Parliament Square after it was defaced with the words (Churchill) 'was a racist'. Credit,Isabel Infantes/AFP/Getty
By Lucas Dolan and Simon Frankel Pratt
Foreign Policy
A series of political processes set into motion by Republican Party officials and organizers is propelled by a far-right media ecology that seeks to cultivate and exploit an increasingly radical ultraconservative base. 
By Jim Newell
Slate
A progressive slate of nominees backed by the Democratic Socialists of America won control of Nevada's Democratic organization. This prompted employees of the state party to quit, taking $450,000 in funds with them—to set up shop elsewhere.
By Nitasha Tiku and Jay Greene
The Washington Post
Economists switched from reminding people that the stock market is not the same as the economy to declaring that the stock market had become fully unhinged from reality, as the shift to working, communicating and buying from home enriched the tech giants.
Cancel Culture and the War on Woke
Who's In Charge of Cancel Culture  By Benjamin Wallace-Wells, The New Yorker
Outlawing Wokeness  By Sean Illing, Vox
From PC to Woke  By Otto English, Byline Times
'Islamo-Leftism' Haunts France  By Didier Fassin, The Guardian 
When Cons Cancel  By Keith Baldwin, Popdust 
If the Tables Had Been Turned By Tal Axelrod, The Hill
Cori Bush Bursts the Bubble By Tessa Stuart, Rolling Stone 
By Liv McConnell
Teen Vogue
Our brains react to a "perceived" threat as if it is a real threat, and it triggers a need to reach safety. What complicates this need is that many of us can't yet because the pandemic is still very much ongoing. 
By Helen Shaw
New York Magazine
I celebrate that our theaters closed, because it's one of the few ways we've protected our people, by acknowledging that they were not essential. 
By Kathryn Vasel
CNN
The pandemic's impact on the global workforce may have changed things forever.