Tidbits - Apr. 1, 2021 - Reader Comments: GOP Voter Suppression; Asian Americans Attacked; Refugees, Pensions; China, Uyghurs; Aretha Franklin biopic; Black-white unemployment gaps; Amazon workers; Challenging Antisemitism; more....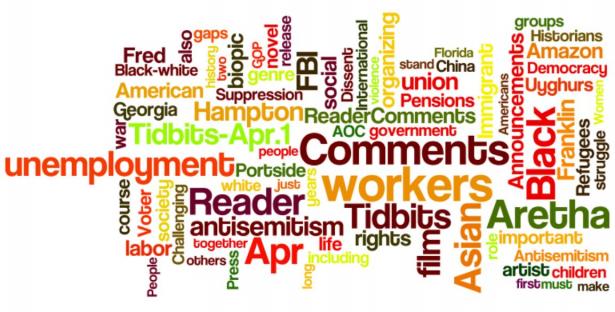 Tidbits - Reader Comments, Resources, Announcements, AND cartoons - Apr. 01, 2021,
Resources:
Announcements:
Re: Stacey Abrams on Republican Voter Suppression: 'They Are Doing What the Insurrectionists Sought'
The 'coordinated onslaught' of bills touts the big lie of voter fraud that fueled the January 6 insurrection, says the former Georgia candidate for governor.
Judyth Hollub
Posted on Portside's Facebook page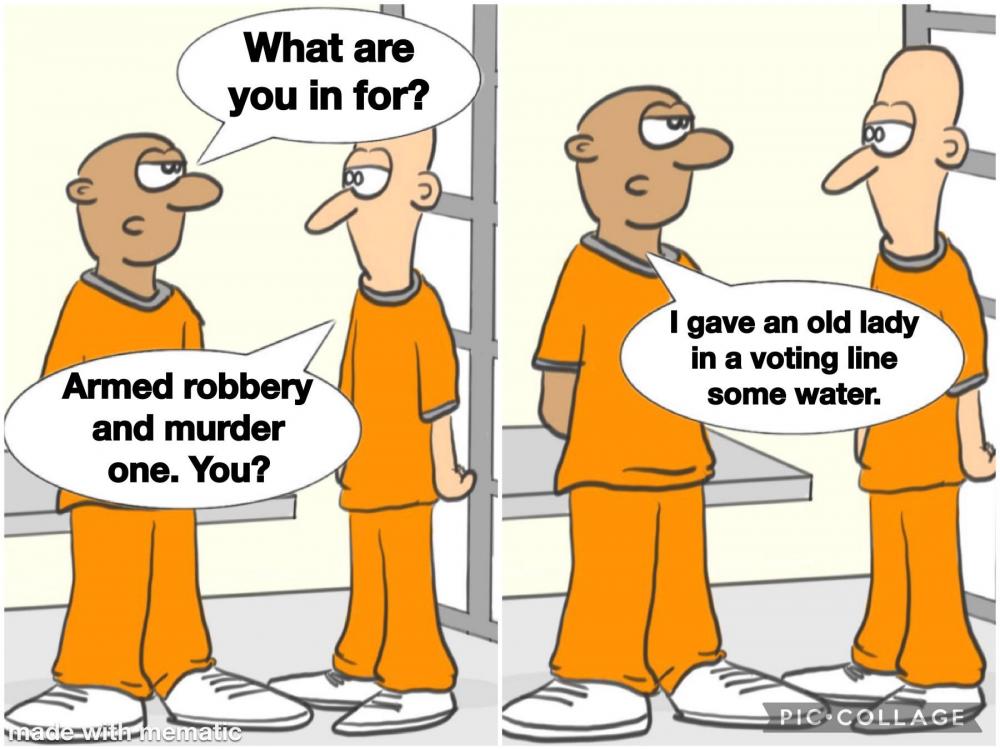 Re: The Greater the Disaster, the Greater the Profits
Believe me, the forces that shaped our southern border over the decades have been far more powerful than Donald Trump or any individual politician. During the 2020 election, it was commonly asserted that, by getting rid of Trump, the United States would create a more humane border and immigration system. And there was a certain truth to that, but a distinctly limited one. Underneath the theater of partisan politics, there remains a churning border-industrial complex, a conjunction of entrenched interests and relationships between the U.S. government — particularly the Department of Homeland Security (DHS) — and private corporations that has received very little attention.
Dave Lott
Posted on Portside's Facebook page
   =====
Lord help us!!!
Vanessa Simagan
Posted on Portside's Facebook page
   =====
Private immigrant detention and private prisons should be illegal.
Felice Sage
Posted on Portside's Facebook page
Re: On a Quilt of Oppressions and Injustices
One needs to put all this in the context of the Chinese Exclusion Act, the lynchings, beatings and driving out of Chinese in the West, the Spanish-American war, which was less a war against Spain than against the Philippines, in which all the barbaric methods used in Vietnam were first tried out -- along with the language of "gooks," etc., and then the Second World War in which the war against Japan was accompanied by Internment ofJapanese-Americans and racist propaganda, and then the war against Korea (also involving the Chinese) followed by the war against Vietnam with its accompanying anti-Asian racism. And always the narrative of the Yellow Peril and the Yellow Hordes -- none of which enters into discussion of present-day anti-Asian violence.
Joseph Kaye
Re: Talking Socialism | Catching up with AOC
You ROCK AOC!!!
Curtis Davis
Posted on Portside's Facebook page
   =====
A significant leader. Hope she reaches for a long time.
Jose Felipe Gonzalez
Posted on Portside's Facebook page
Background Checks -- cartoon by Rob Rogers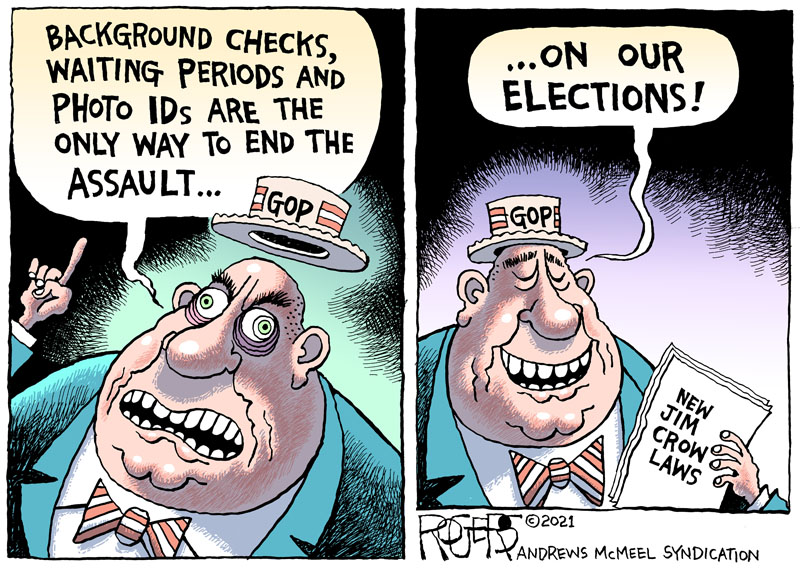 Rob Rogers
March 30, 2021
robrogers.com
Re: No One Else Was Going To, So These Teamsters Saved Their Own Pensions
Except the Butch Lewis Act has been a major priority of some other industrial unions, including the United Steelworkers, who have two pension plans in immediate need of help. I'm a Steelworker, and we've been working on this issue, from the bottom up and the top down, for several years now.
Luke Gordon
Posted on Portside's Facebook page
Re: Garment Workers Win $22 Billion in Historic Victory Against Wage Theft
Did you know today is the anniversary of the fire at the Triangle Shirtwaist Factory?
Marian Paroo
Posted on Portside's Facebook page
Unions - A Major Inconvenience for Those Who Exploit and Abuse the Working Class (International Brotherhood of Teamsters - IBT)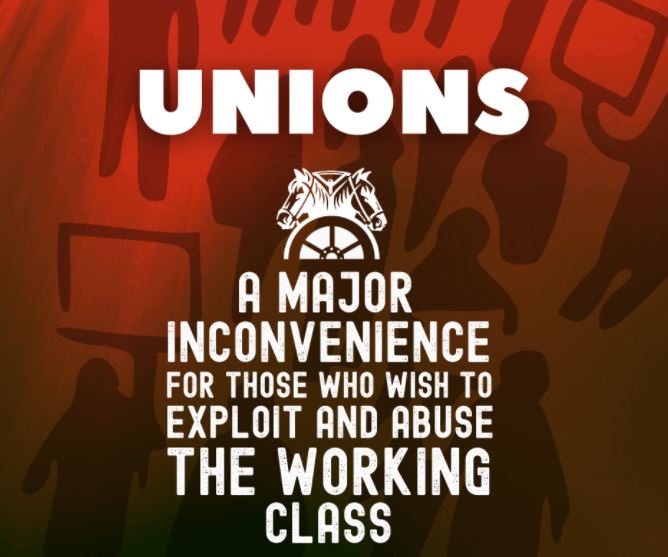 International Brotherhood of Teamsters - Facebook page
March 26, 2021
Re: The Planet Cannot Survive Our Remorseless Pursuit Of Profit
Oil companies knew 50 years ago the huge damage they were doing. Their motive to ignore it is the same now as it was then.
Jose Luis Medina
Posted on Portside's Facebook page
(posting on Portside Labor)
Thank you for this important but very tragic info. This story is similar to others here in Canada during the 1970s and early 1980s, as for example Canada Metals in Toronto, International Nickel in Sudbury, Artistic Woodworking, Toronto, Anaconda American Brass, New Toronto, Goodyear Tire in Etobicoke, Dofasco in Hamilton, Ontario, many companies in Buffalo, New York, and too many others elsewhere, for instance Bhopal, India to mention.  Corporate profit and government complicity in establishing a "legal framework" make such examples a common story affecting workers everywhere including here in Sarnia, Ontario where we have our own chemical valley. Keep educating others to these ongoing tragedies. 
Joe Grogan
Bolton, Ontario
Re: John Roberts Said 'Things Have Changed Dramatically.' Georgia Says He's Wrong.
the only thing that changed dramatically is the lack of commitment by the people populating the nine seats of the Supreme Court to the most basic right provided in the Constitution.
Judith Halprin
Posted on Portside's Facebook page
Re: Who Were The Scottsboro Nine?
Although Langston Hughes is mentioned in the article on the Scottsboro 9, his most frequent collaborator, Elie Siegmeister (1909-1991), is not. Siegmeister's 1933 song, with lyrics by Charles Aborn, "The Scottsboro Boys Shall Not Die" was also important in the struggle to free them. I believe this is the only recording of it (sung by Helene Williams) from a NY Green Party Concert of Aug. 6, 2011.
George Maynard, in *The Daily Worker*, 5/12/34, called it "unquestionably the best mass song the American movement has produced so far."
Its popularity was also noted, though grudgingly, by Aaron Copland, a month later, in *New Masses* (6/5/34).
Leonard J. Lehrman
ljlehrman.artists-in-residence.com
   =====
Systemic racist policies ...American history...repeating itself in Georgia election process.... We must vote, do not stay at home thinking your vote does not count
Robbie Garrison
Posted on Portside's Facebook page
   =====
Thank you for this important social history and in particular the background on this tragic account of how systemic racism occurred during this tragic situation.
Joe
Re: "We Are Here Because You Are There": Viet Thanh Nguyen on How U.S. Foreign Policy Creates Refugees
"And so, part of the project of a novel like The Committed, which begins on a refugee boat that I deliberately call an "ark," is to reframe the experience of refugees, whether they're fleeing from Vietnam or whether they're fleeing south of our border to the north or whether they're fleeing from Africa into the Mediterranean, to recast these people as heroes undertaking very difficult journeys with enormous obstacles, and that if they succeed, we should treat them as heroes rather than as desperate and frightened objects of our pity."
Susan Collier Lamont
Posted on Portside's Facebook page
Re: The Young Uyghurs Mobilizing to Keep Their Culture Alive
Visitors to Xinjiang see mosques open, the Uyghur language as the medium for teaching in schools, and Uyghur language TV Channels. That is cultural genocide? Or even genocide, when the population is increasing? These young people are victims of the propaganda war.
Dan Morgan
Posted on Portside's Facebook page
   =====
Haven't you ever heard of Potemkin Villages--Stalin's USSR was expert at providing such showplaces to fool foreigners and the CCP is too. Of course Uighur children are taught in their own language--at least to start, but what are they being taught? Is it their own culture or a Han Chinese culture with a few "quaint native" decorations?
Stan Nadel
Posted on Portside's Facebook page
   =====
There's no 'of course' about it. Mapuche children in Chile have never been taught in their own language since the genuinely genocidal war 140 years ago. Nor have the Welsh, nor many other ethnic minorities the world over. I know Han nationalism is strong but I don't think they control what is taught in the mosques. This anti CPC (note- not CCP) campaign is based on US imperialism's fear of losing its power to bully every other nation.
Dan Morgan
Posted on Portside's Facebook page
Re: new Aretha Franklin biopic, Genius: Aretha
We saw the first episode of the new Aretha Franklin biopic, Genius: Aretha (National Geographic; dir. Anthony Hemingway, written by Suzan Lori-Parks, with Cynthia Erivo in the title role), and, on my part at least, immediately came upon two artistic problems. 
The first was the film's portrayal of its protagonist as an "accidental" artist, seeming lacking in an aesthetic point of view. This is common among a certain genre of film, especially a portion of the film genre that dramatizes the lives of artists. This is so radically different from its counterpart in the novel, where the Künstlerroman is an honored genre. Hollywood has corrupted this genre by taking art and aesthetics out of the artist's story, and is responsible for such spectacular failures as Charlton Heston's long and terminally suffering Van Gogh, a portrayal so excruciating to me as a pre-teen that it soured me for life when it comes to genre of film that portrays an artist's life. All this only gets worse when the subject matter is the allegedly "closer to nature" black artist, as Clint Eastwood and Forest Whitaker showed us three decades ago.
The film's other problem has to do with the ongoing portrayal, in film and elsewhere, of black people as abject objects. This is a problem in the social sciences as much as it is in Hollywood film portrayals. It was the animating theme of Bird (1988), which stepped gingerly into the already-running stream. If this biopic is bereft of any sense that Aretha Franklin was an artist that really and truly and actually made artistic choices, the filmmaker's decision to turn her family into something straight out of the Moynihan Report only compounded the offense. How did such a prolifically abused child grow up to be such a great artist? Here the film meets another traditional cinematic genre, in which the abject object transforms itself into a Magical Negro. The examples of this are far too numerous to mention, and in the cases where a film about a black artist has been saved despite this handicap, it is only because of the work of outstanding actors (Jamie Foxx, Chadwick Boseman — at least twice — and, surprisingly, Beyoncé), who transcended the limitations of the genre.
Cynthia Erivo makes a valiant attempt to turn this picture into something it doesn't intend for itself. She's a good singer, making music with sensitive musicians, and this should have gone a long way toward making the film something other than what it's become. Some social media commentators have complained, in the name of some kind of African American national pride, about Erivo's lack of physical resemblance to Aretha, and about the differences in nationality between the two artists, a set of complaints I regard as spurious. That Erivo is less than successful here has little to do, in my view, with whatever physiological differences stand between her and the artist she's portraying. Nobody has ever said the lead actor in Lust for Life failed because he was an Englishman portraying an artist of Dutch nationality. And nobody, in the last half-century, has either complained about or credited the nationality of an actor of German, Dutch, English, and Irish ancestry regarding the quality of that actor's portrayal of the most famous Italian gangster in film history. (On the other hand, neither Elia Kazan nor Marlon Brando can ever be forgiven for the travesty that is Viva Zapata.) It seems that, when it comes to complaints and values such as those that these "black nationalist" complainers offer, that the oppressed often demand of themselves such irrelevant and ultimately cosmetic versions of truth in the place of demanding that society meet the much higher standard of removing barriers to social equality.
I had trouble with Genius: Aretha, from the very first scene, and could barely stand to look at it; I kept leaving the couch and going into the other room. Fiction when drawn from life is under no requirement to be documentary, and to evaluate fiction on those terms is to not evaluate fiction at all. While I don't demand absolute truth from fiction, I do demand enough truth as to not violate common sense. That the film does little to show us the great artistic workshop that was Aretha's family, while doubling down on the white men as saviors, black men as pimps, and the womanizing preacher tropes, does little to help us understand the actual lifeworld the film pretends to dramatize. Genius: Aretha so seared its own artistic genius into our minds here in this household with its first episode that we forgot to look at the second episode. Maybe I'll finish it one day. At the same time, the corruption of artists being unable to make films about artists — something novelists long ago mastered — will, one can only suppose, continue.
Geoffrey Jacques
posting on Facebook
Asian Immigrant Women Advocates Leaders' Statement Denouncing White Supremacy & Misogyny
"For over 35 years we have appreciated the solidarity and support of friends and allies from all walks of life. We will continue to stand up and work together against multiple forms of discrimination and violence including this kind of senseless, racist and sexist killing of our Asian sisters in order to build and live in a just, peaceful and humane society."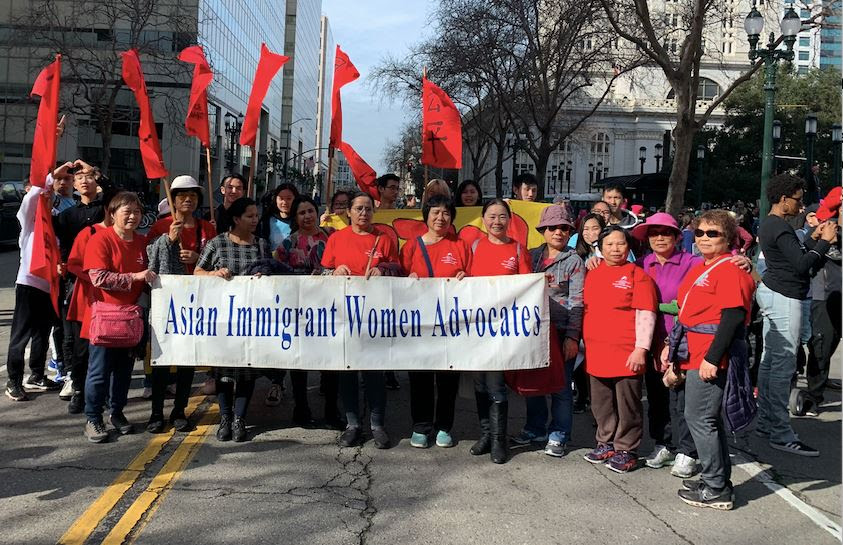 We are Asian immigrant and refugee women leaders at AIWA. We are also salon, childcare, home care, restaurant, food service, garment, factory, and other low wage workers and we condemn the targeting of Asian women and the violent shootings at Atlanta spas. 
我们是亞裔移民婦女促進社的亞裔移民和難民領袖。我們也是沙龍,托兒所,家居護理,餐飲,食品行業,車衣,工廠,和其他低工資女工,我們譴責亞特蘭(Atlanta)水療中心對亞裔婦女對暴力槍擊事件。
हामीहरु एवामा (AIWA) एसियाली आप्रवाशी तथा शरणार्थी महिलाहरुको नेतृत्व गर्दछौँ। हामीहरु सैलुन, बालबच्चा, घर हेरचाह, रेष्टुरेन्ट, खाद्ध्य सेवा, कपडा सिलाउने, कारखाना तथा अन्य कम आय वाला कामदार पनि हौँ र हामी एसियाली माहिला प्रति लक्षित तथा एटलान्टा स्पा मा भएको हिंस्रक गोलावारिको भत्सर्ना गर्दछौँ।
We are angry and sad about these murders. We are also afraid because of the rise in racially motivated hate attacks against Asian Americans over the past year, which was encouraged by former President Trump calling COVID-19 the "China Virus." 
我們對此謀殺案感到憤怒和悲傷。我們也很害怕,因為在過去的一年裡,針對亞裔美國人的種族仇恨和攻擊事件有所上升,因前總統特朗普(Trump)將COVID-19稱為"中國病毒"的煽動。
हामी यी हत्याहरुले दुखित र रुष्ठ छौं। बिगतका बर्ष देखि एशियाली अमेरिकीहरू विरूद्ध जातीय रुपमा उत्प्रेरित घृणाका आक्रमणहरु बढेका कारण हामीहरु डराएका पनि छौं, जुन पुर्व राष्ट्रपति ट्रम्प ले कोभिड-१९ लाई "चिनिया भाइरस" भनेर उत्साहित गरिएको थियो।
API Women have always been subject to sexual, gender and racial discrimination and violence in the US and across the globe. This incident is another outrageous and heart-wrenching brutality against Asian women who have been degraded and economically, socially and politically oppressed by a long history of institutional racist and sexist sentiments and policies.
荏至全球範圍內,亞太裔女性一直受到性,性別,和種族的歧視和暴力。此次事件是對亞裔女性對又一次令人憤慨和痛心的暴行,她們在經濟上,社會上,和政治上一直受到體制性的種族主義,性別歧視和政策的侮辱與壓迫。
एपिआई (API) महिलाहरु अमेरिका का साथै विश्व भरि सधै यौन, लैंगिक, जातिय बिभेद तथा घृणा मा पर्न सक्दछन्। यो घटना एसियाली महिलाहरूको बिरूद्ध एक अर्को अपमानजनक र हृदय छिया पार्ने बर्बरता हो जुन संस्थागत जातीय र लैंगिकवादी भावना र नीतिहरूको लामो इतिहासले पिरोलिएको र आर्थिक, सामाजिक र राजनैतिकरुपमा उत्पीडित छ।
At AIWA, we have been developing the grassroots leadership of low-wage and low-income Asian Immigrant Women to fight for our rights to live with dignity and respect. For over 35 years we have appreciated the solidarity and support of friends and allies from all walks of life. We will continue to stand up and work together against multiple forms of discrimination and violence including this kind of senseless, racist and sexist killing of our Asian sisters in order to build and live in a just, peaceful and humane society. 
我們一直在培養低工資和收入亞裔移民婦女的基層領導力,為我們爭取有尊嚴和受尊重的生活權利。 35年來,我們感謝各界朋友和盟友的團結和支持。我們將繼續挺身而出,共同努力,反對多種形式的歧視和暴力,包括這種對我們的亞裔姐妹無理種族主義和性別歧視的殺害,以建立和生活在一個公正,平和人道的社會。
एवामा हामि निम्न ज्याला तथा निम्न आयका एसियाली आप्रवाशी महिलाहरुको तल्लो तहको नेतृत्व बिकाश गरि हाम्रो स्वभिमान र सम्मानका साथ बाच्न पाउने अधिकारको लागि लड्दछौं। हामी ३५सौं बर्ष देखि बिभिन्न मित्र तथा सहयोगीहरु का साथै बिभिन्न क्षेत्र बाट पाएको सहयोग तथा ऐक्यबद्धताको सराहना गर्दछौं। न्यायपूर्ण, शान्तिमय र मानवीय समाजको निर्माण गर्न र बस्नका लागि हामी एसियाली दिदि बहिनीहरू प्रति भएको यस प्रकारको निर्ममता, जातीय र यौन हिंसा लगायत विभिन्न प्रकारका विभेद र हिंसा विरुद्ध खडा भई काम गर्ने छौं।
Thank you for standing with us today and giving us hope for tomorrow.
感謝你們今天和我們站在一起,給我們明天的希望。
आज हाम्रो साथमा उभिनु भएको र भोलीको लागि आशा प्रदान गर्नु भएको मा धन्यबाद ।
Signed by (partial list):
楊紫媚ChiMei Yeung
蔡玉萍YuPing Cai,
吳敬愛JingAi Wu,
余慧珍HuiZhen Yu,
彭麗霞LiXia Peng,
劉蘭芳LangFong Lau,
梁金歡JinHuan Liang,
陳冬花DongHua Chen,
Jessi Chen,
李惠賢HuiXiang Li,
黃燕蘭YanLan Huang,
 關玉華YuHua Guan,
邓永紅YongHong Deng ,
連桂芳GuiFang Liang,
吳海燕HaiYan Wu,
劉冰Bing Liu, 
Kalpana BK (कल्पना बिक)
Mamata Gautam (ममता गौतम)
Sangita Gautam (संगिता गौतम)
Swostika Timalsina (स्वस्तिका तिमल्सिना
Dipa Neupane (दिपा निरौला)
Sobita Kuinkel (सोबिता कुईँकेल)
Durga Chhetri (दुर्गा क्षेत्री)
Manikala Subba (मनिकला सुब्बा)
Neelam Sigdel Gautam (नीलम सिग्देल गौतम)
Shrija (श्रिजा)
Bhim K Gurung (भिम कुमारी गुरुँग)
Prem Pariyar (प्रेम परियार)
Kala Subba (कला सुब्बा)
Som Rai (सोम राई)
Manju Rai (मञ्जु राई)
Lalita Subba (ललिता सुब्बा)
Kalpana Subba (कल्पना सुब्बा)
Bamu Suhang (बामु सुहान्ग)
Sashi Subba (सशी सुब्बा)
Ambika Poudyal (अम्बिका पौडेल)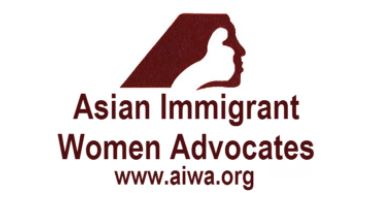 Asian Immigrant Women Advocates
310 8th Street, #301
Oakland, CA 9460
Black-white unemployment gaps widen with the recovery (Economic Policy Institute)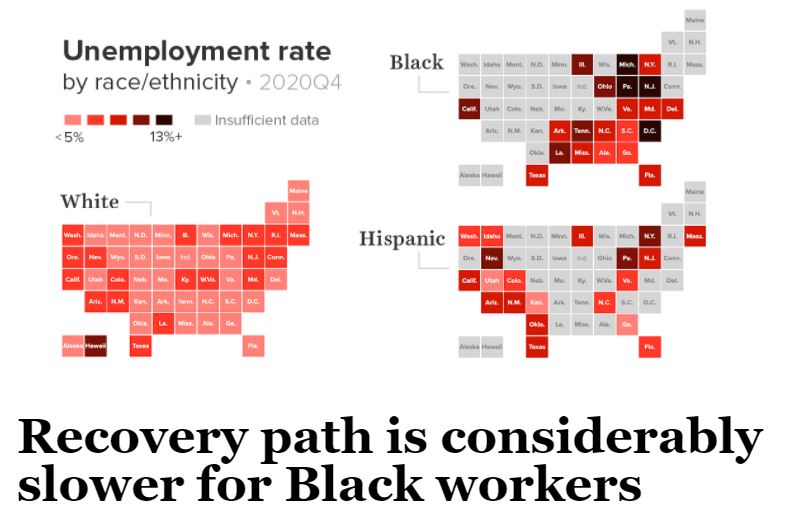 What surprised EPI Economist Kyle K. Moore when crunching the numbers for our latest report on state unemployment by race and ethnicity?
The fact that the historical unemployment gap between Black and white workers returned so quickly, he says. While unemployment rates fell for all groups over the third and fourth quarters of 2020, Hispanic unemployment remained 60% higher than white unemployment over both quarters, while Black unemployment rose from 60% higher to 90% higher between the third and fourth quarters—nearly completing its rise back toward a long-standing trend in which Black workers are twice as likely to be unemployed as white workers.
"Achieving equity in the labor market—one component of which would be that workers from different groups were equally likely to find employment—would require addressing the occupational segregation that leaves certain groups more highly exposed to precarious employment than others," he stresses.
Read full report here
Economic Policy Institute
1225 Eye St. NW, Suite 600
Washington, DC 20005
Phone: 202-775-8810 • epi@epi.org
Announcing UNION MADE - A novel of labor struggle and romance (Hard Ball Press)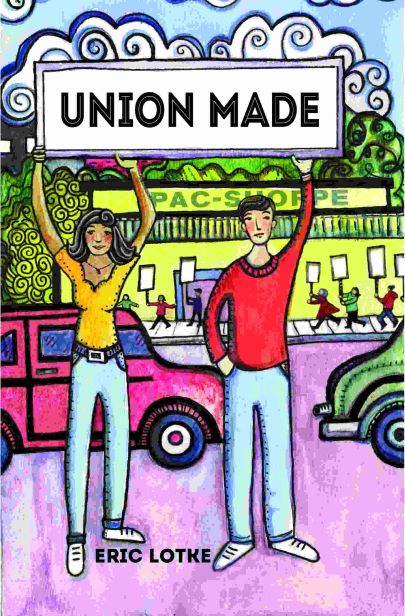 Essential workers, unite!
In Union Made, a fast-paced romance with a political edge, Pac-Shoppe department store employees are fighting for union representation. The novel reveals the tactics, strains, and risks of mobilizing a multiracial group of workers to stand together against a merciless management holding them down.
With a strong female lead and a gripping labor campaign that explores union organizing from the inside, Eric Lotke puts the reader in the shoes of Catherine Campbell, a labor organizer, and Nate Hawley, an accountant whose company is planning a hostile takeover of Pac-Shoppe, the company she's trying to organize. There are sparks between the union activists and the company's dirty tricksters, and sparks between Catherine and Nate.
As Catherine's campaign falters in the face of Pac-Shoppe's illegal hardball tactics, Nate's sympathy for the workers and his fascination with Catherine grow. Can the lonely accountant interest the determined labor organizer by sharing evidence of Pac-Shoppe's dirty tricks? How much trouble will he be in if he reveals corporate secrets to the union? Find out in this touching love story wrapped in a contemporary labor battle.
Now available from Hard Ball Press and from booksellers everywhere!
 
" An awesome read with fascinating twists and turns featuring the unlikeliest of romantic interests, further demonstrating that love and relationships can develop under any conditions…Highly Recommended! - -- Labor Press
 
"…captures the blood, sweat, tears, courage, love, and solidarity that animates a union organizing drive. - OSM!  MAGAZINE
"The dilemmas of union organizing, class struggle and romance are described compellingly and in clear and entertaining prose in Union Made." - Portside
"[The book is} addictive. Kind of like M&Ms." Phineas Baxandall, author of Current Economic Issues: Progressive Perspectives from Dollars & Sense
 
About the author
 
Eric Lotke is an author, activist and scholar. He has fought against mass incarceration and for other ways to keep communities safe. His lawsuit over the exploitative price of phone calls from prison led to new rules by the FCC. His latest novel, Union Made, explores what union organizing means for the workplace, the economy and maybe even the organizer's love life. Lotke believes that a unionized workforce is key to combating rampant income inequalities in today's society. He is a happily married father of two and a resident of Arlington, Virginia.
Hard Ball Press
415 Argyle Rd., 6A
415 Argyle Rd. 6A
Brooklyn, NY 11218
Black Against Amazon - April 5 (Organizing Upgrade, Dissent MAgazine, Black Work Talk)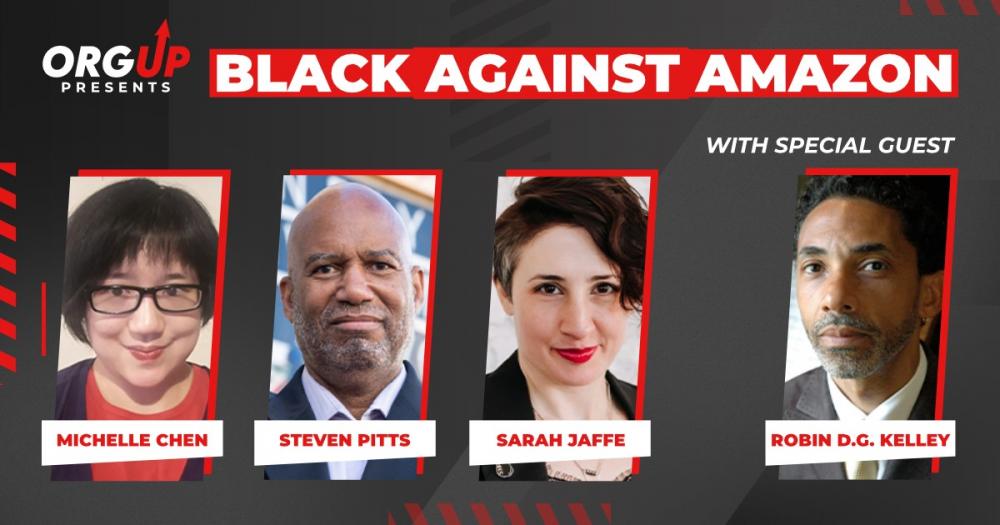 Event by Organizing Upgrade, Dissent Magazine and Black Work Talk: an OrgUp Podcast by Steven Pitts
Monday, April 5, 2021 at 7:30 PM EDT
Price: Free
Galvanized by Black Lives Matter, heirs to Alabama's legacy of militant Black unionism have mounted the largest organizing drive at an Amazon warehouse to date. Nearly 6,000 workers at the Bessemer facility – more than 80% of them African American – are voting on whether they should join the Retail, Wholesale and Department Store Union. Just two days after voting closes, historian Robin D. G. Kelley will join Sarah Jaffe and Michelle Chen, co-hosts of Dissent's Belabored podcast, and Steven Pitts, host of the Black Work Talk podcast on Organizing Upgrade, to discuss the effort, its import, and what it has to say about the state of the Black working class today. A special OrgUp Presents live show!
For the People Week of Action April 5-9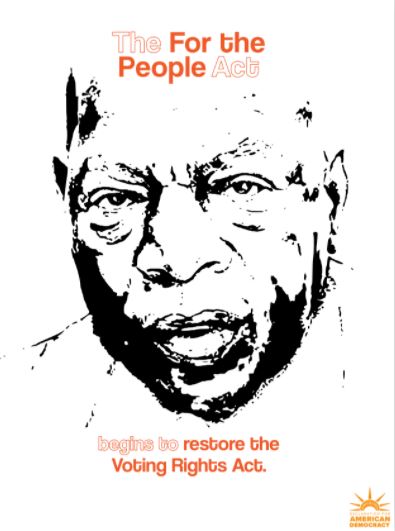 We have a once in a generation opportunity to fix what's broken in our democracy – and we must seize it!
The For the People Act (HR1/S1), the boldest and most sweeping democracy reform bill in decades, just passed the House of Representatives. This bill protects the sacred right to vote, gets big money out of politics, stops partisan and racial gerrymandering, and creates a more accountable government.
Now, we must pass it in the Senate and send it to President Biden to sign into law.
But we need your help.
Join the Declaration for American Democracy April 5th-9th for the For the People Week of Action, where we will host a week of training and organizing to mobilize thousands of people across this country to make their voices heard on HR1/S1.
Over the course of the week, activists will hold Demand Democracy local actions across the country, conduct virtual advocacy visits with their Senators, and have the opportunity to attend Democracy Teach-Ins to learn more about issues like gerrymandering, voting rights and voter suppression, how to get big money out of politics, and how democracy reform can advance equality and social justice.
RSVP to Attend and Receive Updates
Set up a virtual lobby meeting with your Senate office! The week of action organizers will provide a toolkit full of tips for how to successfully schedule and organize a meeting. Senators take requests for meetings as a measure of public interest in the For the People Act too. Sign up now and an organizer will follow up with you.
Host a Demand Democracy local action near you! https://www.recoveryrecess.org/event/recovery-recess/create/ This could include holding a banner in a high-visibility area with friends or a socially distant outdoor rally. The week of action organizers will provide you a banner making toolkit, press and outreach materials, and one-on-one support. Sign up here to host an event.
Challenging Antisemitism As Part of the Larger Struggle for Justice - April 20 (Jewish Voice for Peace South Florida)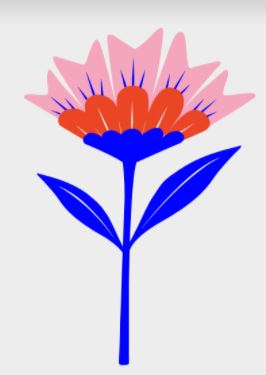 Tuesday, April 20Th - 7 Pm-8:30 Pm
Online Via Zoom - Please Register Here For Link
Panelists will discuss how challenging antisemitism must be rooted in the struggle for equality and human rights for all; what's really behind the controversial International HolocaustRemembrance Alliance (IHRA) definition of antisemitism, and how it has been used as a political tool by DeSantis and others; and how resisting this political agenda is part of our commitment to building a just society in Florida and beyond.
Presenters:
Jamil Dakwar, human rights lawyer; Advisory Board Chair, Adalah Justice Project
Meena Jagannath, Director of Global Programs,Movement Law Lab; co-founder, Community Justice Project
Alana Lentin, Associate Professor in Cultural & Social Analysis, West Sydney University, Australia, and author, Why Race Still Matters (Polity Press, 2020)
Barry Trachtenberg, Rubin Presidential Chair of Jewish History at Wake Forest University & author of The United States and the Nazi Holocaust: Race, Refuge, and Remembrance (Bloomsbury, 2018)
Mark Tseng-Putterman, writer, educator, and Ph D candidate in American Studies at Brown University
Moderator: Martha Schoolman, Associate Professor of English, Florida International University
Why are we having this discussion?
We believe it is vitally important for all of us to be deeply committed to challenging all forms of bigotry and injustice. We believe that antisemitism should be challenged together with Islamophobia, white supremacy, xenophobia, and anti-Black racism. But, unfortunately, some of he current definitions, resolutions and laws being put forth under the guise of concern about antisemitism have a different political agenda. The intention behind these efforts is not about challenging antisemitism but, rather, is an attempt to silence and penalize those speaking out or human rights for Palestinians.
Our governor in Florida, Ron DeSantis, is part of the problem: He has signed an antisemitism bill that is specifically designed to punish critics of Israel's policies. Silencing those who call for justice has nothing remotely to do with fighting antisemitism and ends up diverting attention from the most important cause of antisemitism today, namely, the rise of white nationalist violence.
We created this panel as an opportunity to discuss with all those who are committed to eradicating antisemitism, along with all other forms of injustice, how we can most effectively do hat together. Our fight against antisemitism must be rooted in the struggle for equality and human rights for all. We hope you will join us!
Historians' Petition: Fred Hampton FBI Records (Historians for Peace and Democracy)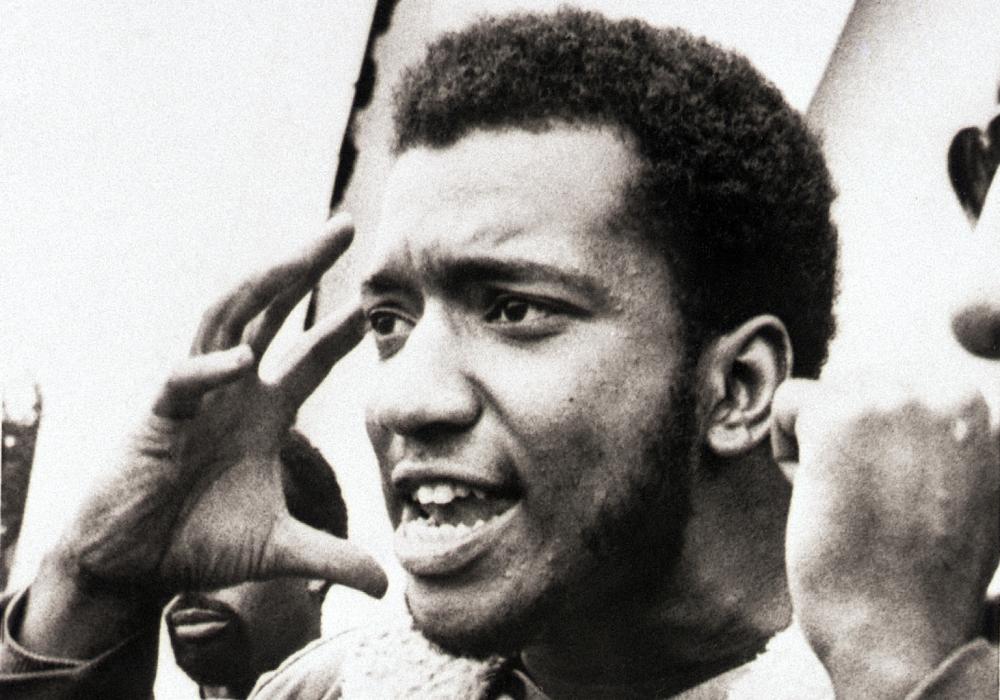 There is an important effort underway, led by Representative Bobby Rush (D-IL) and and Defending Rights and Dissent (DRD) to seek the Department of Justice's full declassification of FBI files on slain Chicago Black Panther Party leader Fred Hampton.
You may sign the petition here.
With the release of a major movie, Judas and the Black Messiah, documenting the police murders of Hampton and Mark Clark, we have a great opportunity to expose the history of state repression in the United States.  We urge you to sign on!  
Van Gosse and Margaret Power, Co-Chairs
for the Historians for Peace and Democracy (H-PAD) Steering Committee
Historians in Support of Releasing Fred Hampton Files
Members of Congress, led by Rep. Bobby Rush, and civil society groups will be calling on Attorney General Merrick Garland to release in full all remaining documents on the FBI's role in the death of Fred Hampton. This call is in response to the National Archive and Record Administration's release in December 2020 of documents previously withheld during litigation against the FBI.
Defending Rights & Dissent is organizing a letter signed by historians, scholars, journalists, and other researchers showing their support for the release of this information.
https://docs.google.com/document/d/1uQbgyxEkLu4T1g4dIgojC9FPBe0HptoZWNC1_dUlkR0/edit
The letter can be found here or read below:
Dear Attorney General Merrick Garland,
We are historians, scholars, journalists, and other researchers whose work has touched on the FBI, the civil rights movement and other movements for social change, or the US government's response to social movements. Members of Congress and civil society groups have written to you calling for the full release of documents relating to the killing of Black Panther Fred Hampton still being held by the government. We support those calls.
Government documents are primary source materials of immense historical importance. Historians have used declassified FBI documents to shed light on numerous important aspects of our nation's past, including abuses of FBI power such as the bureau's role in McCarthy-era Red Scare, counterintelligence programs (COINTELPRO; 1956-1971), and harassment of civil rights leader Martin Luther King. These issues are not just of scholarly importance; the FBI's history of covert influence on American social movements and politics is of immense public concern.
The role of historians and other researchers in informing the public about government abuses of power is highlighted by the fact that the latest revelations about the FBI's role in Fred Hampton's death came from a request filed to the National Archives and Records Administration. It took five years from the time the request was filed for the information to finally be released. And even then, key parts of it are still being withheld.
With the renewed Blacks Lives Matter protests and release of a film about the FBI's role in his death, public interest in Hampton's life and the FBI's campaign against him remains strong. Releasing the remaining information in the Department of Justice's possession will help to advance the cause of justice. It will also advance scholarship and study of an issue of vital public interest.
Sincerely, 
2021 Cornell/AFL-CIO Strategic Corporate Research Summer School - June 13 - 25, 2021 (Cornell ILR and AFL-CIO)

Sponsored by Cornell ILR and the AFL-CIO Center for Strategic Research
When: June 13 – 25, 2021
Where: Online
Course Overview
This course is for anyone seeking careers in the labor movement, worker centers, environmental groups, or other social-change organizations to make and keep corporations accountable. By the end of the course, participants will be prepared to begin and advance in careers in strategic research and strategic campaigns from having understood and researched corporate ownership structure, corporate finance, and the sources of union power.
The course is also for students who want to learn about and contribute to the innovations taking place in union organizing and bargaining campaigns that led to major wins for workers, including teachers, digital media workers, and airport cleaners. These victories came about through a combination of grassroots rank-and-file mobilizing, rank-and-file leadership development, and escalating actions in the workplace and broader community. However, fundamental to all these campaigns was careful strategic research. Learn more about the course.
Strategic Corporate Research Summer School
262 Ives Faculty Building, Cornell University
Ithaca, NY 14853
(607) 269-7246
scrsummer@cornell.edu