Global Left Midweek - Workers: Fighting For Our Lives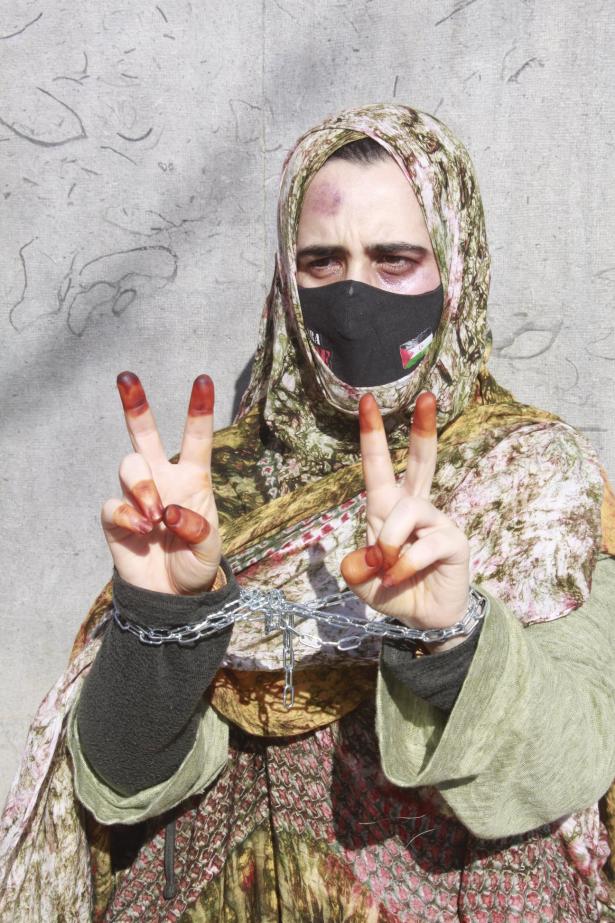 Sahrawi activist Sultana Khaya was brutally assaulted by Moroccan agents in her home in February. Credit,@FiSahara/Twitter
__________
Palestine: Workers' Stories
Anna Mojave / New Frame (Johannesburg)

Stories collected by the Palestine New Federation of Trade Unions (PNFTU) and the Palestinian Land Defence Coalition were presented at a seminar hosted by the Gqeberha branch of the South African Federation of Trade Unions (Saftu) on 19 March. The Palestinian organisations said 48 Palestinian workers died last year at work or on their way to work at Israeli companies.
__________
Myanmar: Anti-Coup Strikes
Ma Moe Sandar Myint and Ko Ar Kyi / Jacobin (New York)
Myanmar's coup government has slaughtered workers for launching general strikes against the junta — but workers have doubled down, calling for comprehensive sanctions against the military. We talked to two leaders of the strikes.
__________
Zimbabwe: ZCTU Declares General Strike Intentions
Moses Matenga / Newsday (Harare)
ZCTU president Peter Mutasa said a crucial meeting involving doctors, teachers, the Zimbabwe Federation of Trade Unions and other stakeholders was held recently to find a lasting solution to salary disputes. He said the general feeling was that a general strike that stops all workers from going to work was the only way out.
__________
The Power of the Polish Women's Strike
Katarzyna Boni / Jewish Currents (New York)
Last October, the Constitutional Tribunal declared that terminating a pregnancy due to severe and irreversible fetal impairment was contrary to the Polish Constitution. For International Women's Day 2021, there were hundreds of spontaneous direct actions, mainly under the umbrella of the All-Polish Women's Strike.
__________
PRC/Hong Kong: Labor Activist Speaks on the Crackdown
Kuen Gor / Borderless Movement (Hong Kong)
"All the leaders in the pro-democratic camp, from the moderates to the radicals, have been arrested. What do we do now? My answer would be that there is a multiplicity of approaches that can work, because a democratic struggle is bound to be pluralistic."
__________
Venezuela: Labor's Labyrinth
Cira Pascual Marquina / Venezuelanalysis (Caracas)
A talk with Eduardo Sánchez, president of the Sindicato Nacional de Trabajadores de la Universidad [University Workers' National Union] and the Federación de Universitarios [University Workers Federation], a Marxist critic of Maduro's labor policy. 
__________
Romania: Healthcare Workers Report
Ana Vračar, Miloš Vlaisavljević and Tibor Meszmann / LeftEast (Bucharest)
A Day of Action Against Commercialisation of Health, initiated by the Organisation of Workers' Initiative and Democratisation (OWID/BRID), Здружение ЕСЕ and სოლიდარობის ქსელი / Solidarity Network, brought together trade unions and associations representing healthcare workers from South East Europe and the Caucasus. 
__________
Philippines: Laban ng Masa Calls for Duterte to Resign
Links (Sydney)
"When the insurrection of the electorate brings the common opposition candidate for president to victory in 2022, Laban ng Masa will push for the immediate formation of a National Council of Progressive Filipinos to coordinate executive, legislative, and mass movement efforts to ... begin the transition to a democratic socialist system."
__________
Western Sahara Under Siege: Sultana Khaya Speaks
Luca Peretti and Cosimo Pica / il manifesto Global (Rome)
Sultana has organized and participated in demonstrations and denounced and documented the abuses of the occupation forces, especially against Sahrawi women. 
__________
Peru: Two Takes on Pedro Castillo
Pro  Ricardo Jiménez A. / Peoples Dispatch (New Delhi)
Con  Javier Puente / NACLA Report (New York)