Global Left Midweek - May 19, 2021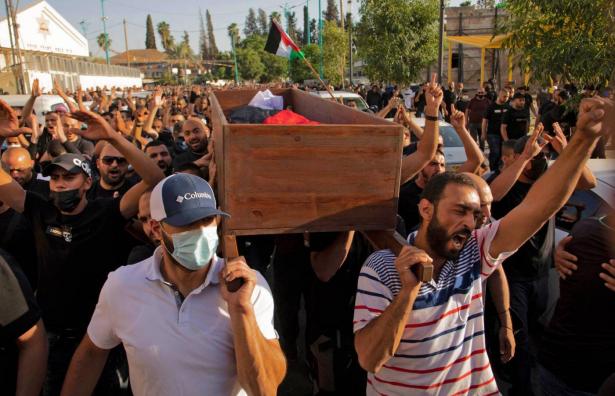 Palestinians in Israel carry the coffin of Mousa Hassouna, killed during demonstrations, in Lod on 11 May 2021. Credit,AFP
__________
Palestine in Crisis

Growing Sense of a Common Struggle Maha Nassar / The Conversation (Waltham MA)
The National Strike  Mustafa Abu Sneineh / Middle East Eye (London)
The World Stands With Palestine  / Peoples Dispatch (New Delhi)
More Solidarity  Kristine Cannon / Scary Mommy (New York)
Palestinians and Kurds  Sarah Glynn / Links (Sydney)
__________
The Colombian Uprising
Uncountable Numbers in the Streets  Adriaan Alsema / Colombia Reports (Medellín)
Striking Against Neoliberalism  Forrest Hylton / Jacobin (New York)
__________
Chile: The Fight For a New Constitution
John Bartlett / The Guardian (London)
Chile's established political elite has been roundly rejected at the polls six months ahead of a pivotal presidential election, as the country turned to a progressive new generation to write the next chapter in its history. [ALSO IN CHILE: Communist Party candidate Irací Hassler was elected mayor of Santiago de Chile.]
__________
Left/Green Zagreb
Marko Kostanić / Rosa Luxemburg Stiftung (Berlin)
In Croatia, Tomislav Tomašević from the political platform Možemo! ["We Can!"], which is in coalition with several smaller liberal and left-wing parties, won an overwhelming victory in the first round of the capital city's mayoral election.
__________
Philippines: Democratic Socialists Call for Internationalist Foreign Policy
Rasti Delizo / The Inquirer (Makati)
As a mass movement-based socialist political center, Laban ng Masa aims to "lead in forming an alliance of governments in the global South to oppose the encroachments of the US, China, and other dominant powers while making use of their competition to widen the political and economic space for maneuver of developing countries."
__________
Why the Struggle to Survive Should Not Be a Way of Life
Ambika Satkunanathan / Groundviews (Colombo)
Corrupt and dysfunctional practices are resilient, adopt new forms and adapt to suit the context. In these circumstances, expecting people to be resilient would amount to ignoring the oppressive, discriminatory and inequal power structures that disempower them.
__________
Issa Shivji's Revolutionary Conception of Human Rights
Paul O'Connell / Review of African Political Economy (London)
A new theory of human rights must be thoroughly anti-imperialist, thoroughly democratic and unreservedly in the interest of the people (understood here as the mass of workers and peasants).
__________
Working-Class Glasgow Stood With Refugees
Last week's standoff between Glasgow's Southside and the Home Office was an inspiring victory, but it wasn't spontaneous — it was the product of many years of organizing against evictions and deportations.
__________
Next Steps for a People's Vaccine
Jayati Ghosh / Project Syndicate (New York)
The Biden administration's decision to stop opposing a proposed COVID-19 waiver of certain intellectual-property rights under World Trade Organization rules is a welcome move. But ending the pandemic also requires scaling up knowledge and technology transfer, as well as public production of vaccine supplies.
__________
Remembering Leo Panitch/Beyond the Socialist Impasse: Web Conference June 5
Left Forum and the Socialist Register are commemorating the life and spirit of Leo Panitch. The Left Forum is sponsoring a series of panels which underline three major foundations of Panitch's corpus of research, teaching, and activism: (1) Reimagining Socialist Parties and Practice; (2) Debating Socialist Strategies Post-Pandemic; and (3) The State and Global Capitalism.