Global Left Midweek - August 11, 2021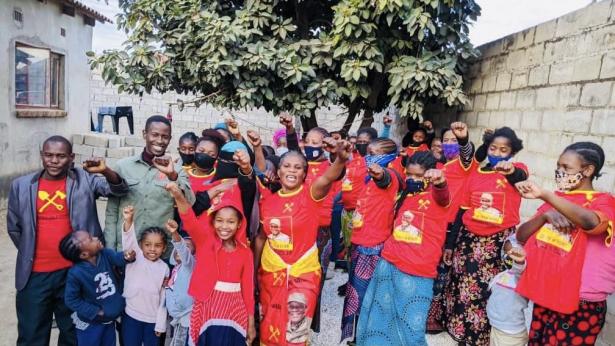 Socialist Party candidate for Lusaka Mayor Rabecca Musonda (center) and SP candidate for Kamwala Ward Councillor Ezekiel Ngisi with supporters in Kamwala Ward in Lusaka, Kabwata Constituency. Credit,Peoples Dispatch
__________
Responses to the Climate Red Alert
Megan Rowling and Beh Lih Yi / Global Citizen (New York)
[Moderator's note: This article steps away from our focus on the left, to present views closer to the center that reflect the dire climate emergency flagged by the UN's Intergovernmental Panel on Climate Change.]
__________
A Message to Uncle Sam and Uncle Joe
Sarah Marsh / Reuters (London)
Many countries in Latin America and the Caribbean, a region which is still scarred by Washington's backing of coups during the Cold War and has shifted leftwards in recent years, are asking the US to back off from its hostile stance towards Cuba.
__________
Remaking the Arab Working Class
Joel Beinin / Jacobin (New York)
From the Tunisian trade-union movement and Egypt's wildcat strikes to the Sudanese Professionals Association, action by organized workers has often been of pivotal importance in the fight for political freedom and social justice.
__________
Strategic Questions for the South African Left
William Shoki / Africa is a Country (New York)
After the looting and failed insurrection, what would it mean for the South African left to undertake a populist political strategy? And should it look to South America for inspiration?
__________
East African Workers Now
Phil Wilmot and Twinomugisa Pius / Roar (Amsterdam)
Are radical worker struggles, which waned as a result of protracted government efforts to infiltrate and co-opt organized labor, making a comeback in East Africa?
__________
Women's Liberation in Gaza and the West Bank
Fidaa Al Zaanin / Rosa Luxemburg Stiftung (Berlin)
The Tal'at group is independent, unlike other Palestinian women's organizations. Political parties and formal institutions have no control over it nor the tools and tactics they use. It opened a new window of opportunity to place a progressive feminist agenda at the core of Palestine's national emancipation.
__________
Resistance on the Defensive
Colombia  David Escobar / Links (Sydney)
Tunisia  Omar Al-Ghazzi / Middle East Eye (London)
Sudan  Ashraf Alhassan / African Arguments (London)
__________
Zambia's Socialist Party
Pavan Kulkarni / Peoples Dispatch (New Delhi)
Fred M'membe's Socialist Party has emerged as a third force in Zambia, providing voters with an alternative to the ruling Patriotic Front and the opposition United Party for National Development.
__________
Asia's Young Revolutionaries
David Pierson / Los Angeles Times
Armed with technology and the warp-speed language of pop culture, the protest generation has galvanized support across borders with indelible gestures like the defiant three-finger salute borrowed from the dystopian "Hunger Games" films.
__________
The Roma Struggle
Sebijan Fejzula / LeftEast
We still have a long way to go in mobilizing politically against all racially motivated anti-Roma violence. Moreover, when it comes to the struggle against anti-Roma racism — or antigypsyism — we are still lacking the solidarity of the leftist social and political movements in Europe.