The Red Tape That Could Cost Millions of Americans Their Homes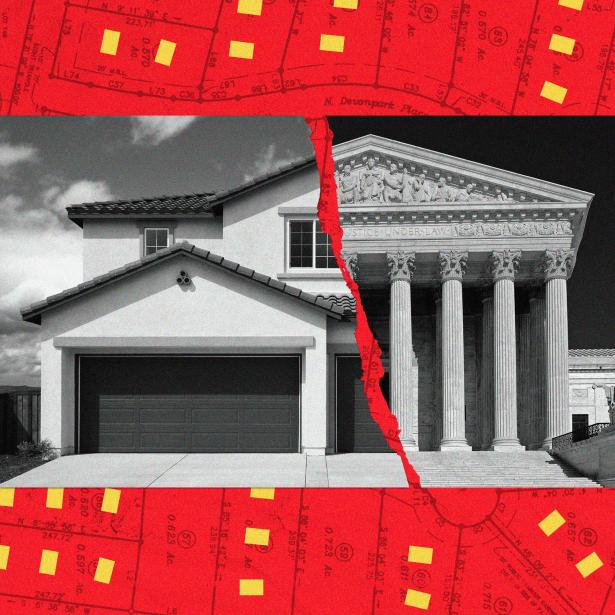 The New York Times; Photography by Feverpitched and Rudy Sulgan via Getty Images
Last week, the Supreme Court struck down the federal eviction moratorium, one of the strongest strands in the social safety net that the government laid down last year to cushion the blow of the coronavirus-induced recession. Without that protection, millions of Americans around the country are now in jeopardy of being kicked out of their homes.
It's an astonishing state of affairs, especially given how much money the federal government has spent on pandemic relief: After more than $5 trillion and 17 months, why are so many Americans still hanging on a knife's edge, and what would a long-term solution to the crisis look like? Here's what people are saying.
How we got here
The threat of an avalanche of evictions has been looming over the country since March 2020, when the pandemic cast tens of millions of Americans out of work to navigate an expanded but nonetheless dysfunctional unemployment insurance system.

Congress imposed a moratorium, but it lapsed in July 2020, prompting the Trump administration to step in: Mass evictions, the former president argued in an executive order, could lead to a surge in infections if people were kicked out of their homes and forced to crowd in with relatives or move into homeless shelters.
The new moratorium, which rested on the authority of the Centers for Disease Control and Prevention rather than Congress's, restricted landlords' ability to expel tenants who fell below certain income thresholds or were unable to pay rent because of medical or economic hardship. Tenants had to attest, often in court, that they had sought rental assistance and had nowhere else to live if they were evicted.
Where things stand: As of August, nearly 6.2 million households owe $16.8 billion in back rent, according to The National Equity Atlas. Congress has allocated much more than that, about $46.5 billion, since December for emergency rental assistance, but only $5.1 billion of it has been disbursed.
Why? An overburdened bureaucracy is one reason: The United States has never had a federal system to keep Americans in their homes, as The Times has reported, so one had to be created on the fly, with predictably poor results.
"The problem is not the Treasury Department; it is the states and localities that are supposed to be distributing the aid," The Washington Post editorial board writes. "Some states have had to set up distribution systems from scratch. Others have been overwhelmed with applicants. Technical glitches have plagued application websites."
The way that funds were doled out to states was also highly flawed, Peter Hepburn, who runs the Eviction Lab at Princeton, argued in The Times in June. Congress allocated the funds on the basis of state population without taking into account differences in the number of renters, the cost of rent or the extent of pandemic-related hardship, and it also mandated a minimum payment to smaller states.
"The result is that far more assistance will be available to renters in smaller, rural states than in larger, urban states — those that, in many cases, were hardest hit by the pandemic," Hepburn explained. "If you were to divide the maximum aid allocated to the states by the number of occupied rental units, each renter household in New York would get $766, compared to $5,167 in Wyoming."
Another problem stems from limitations around who can apply for assistance, Sema K. Sgaier and Aaron Dibner-Dunlap write in The Times. They estimate that half of the 6.2 million households in arrears make too much money to be eligible for aid."The result," they say, "is that at-risk households in nearly every county are still catastrophically behind."
Debatable  Agree to disagree, or disagree better? Broaden your perspective with sharp arguments on the most pressing issues of the week. Get it sent to your inbox.
Can an evictions crisis be avoided?
In an ideal world, David Dayen, the editor of The American Prospect, writes, states would simply distribute the remaining 89 percent of rental assistance funds Congress gave them in a timely manner: "If that money was parceled out at even a somewhat reasonable rate, there would be no crisis at all."
But whether states are capable of meeting the challenge remains an open question. Biden administration officials have said that the pace of payments accelerated in August, but they acknowledged that they were not doing so fast enough to entirely prevent a wave of evictions. Dayen, for his part, believes that the program's flaws are inherent to its decentralized design and cannot be easily fixed.
Last week, a group of Democratic lawmakers cited the lack of progress in a letter calling on congressional leadership to extend the moratorium through legislation, which the Supreme Court would be less likely to strike down. The Biden administration has also called on states and localities to put in place their own eviction moratoriums for at least the next two months, as New Jersey and Washington, D.C., have done.
What about landlords?
While corporate landlords have posted large profits in recent months, about 40 percent of rental units in the United States are owned by individual "mom and pop" investors, and many of them are struggling to cover their own bills and mortgage payments.
"The longer the ban continues," Jonathan O'Connell reported for The Washington Post this month, "the more small, independent landlords — many of them senior citizens — are likely to exhaust their savings and move on" by selling their properties to Wall Street-backed and foreign investors.
Distributing the full $46.5 billion of rental assistance would help stem those losses, but the National Apartment Association, a landlord group, says even the full sum would not be sufficient to cover what landlords are owed in back rent. The group filed a lawsuit against the government late last month seeking an additional $26.6 billion.
It was pressure from landlord groups that helped sink an effort by House Democrats in July to extend the federal eviction moratorium. Even if the measure could now overcome the objections of the party's more conservative members, it would stand very little chance of clearing the 60-vote threshold in the Senate.
To break the stalemate, Gary Painter, a professor of public policy at the University of Southern California, argues that Congress should create a federally financed and operated loan program. Unlike the current rental assistance program, it could offer both tenants and landlords immediate relief, and by requiring tenants to repay back rent over a 10-year period, it could win Republican support.
"At this point," he writes, "only Washington has the scale and scope to head off a crisis whose costs have the potential to tick into the tens of billions with far-reaching, long-term impacts on renters."
What's next
The eviction moratorium is not the only source of pandemic relief now drying up. Federal changes to unemployment insurance — which expanded eligibility, increased payments by $300 per week and extended benefits — are set to expire on Sept. 6. Americans who lost their employer-sponsored health insurance and became eligible for six months of free premiums will see those benefits lapse on Sept. 30. And in January, the tens of millions of Americans with student loan debt who have not had to make monthly payments since last March will have to begin doing so again.
Not everyone thinks the end of the eviction moratorium spells disaster. "Property owners are likely to evict only as a last resort," Howard Husock, a senior fellow at the American Enterprise Institute, argued in The New York Post in July. "The reason is basic: An owner can't be sure of finding a replacement. For owners who rely on rental income to maintain their buildings and pay their own bills — think here of the hundreds of thousands of mom-and-pop landlords — a vacant unit is their biggest fear."
But others are much less sanguine. An analysis from Goldman Sachs released on Sunday concluded that without congressional action or faster disbursement of rental assistance, some 750,000 households will face eviction by the end of the year. Those evictions, the analysis suggested, would in turn increase vacancy rates and offset some of the pressure from the housing shortage.
"The 750,000 households don't just magically disappear. Why would aggregate vacancies increase under stagnant housing?" Darrell Owens, a housing policy analyst at California YIMBY, wrote on Twitter. "Because the plan is to make them homeless."
Spencer Bokat-Lindell is a staff editor in the Opinion section. @bokatlindell