Report Details Corporate Landlord Gluttony as Millions Face Eviction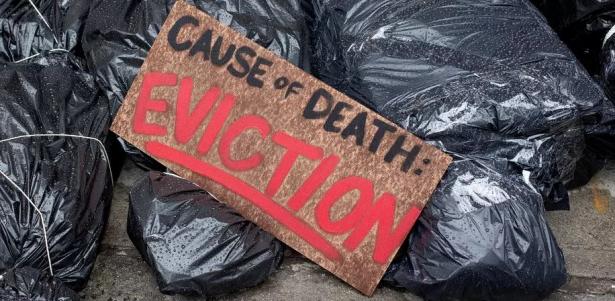 Tenant rights activists leave prop body bags outside the home of New York State Senator Brian Kavanagh on February 28, 2021 in the East Village neighborhood of New York City.,Photo: Andrew Lichtenstein/Corbis // Common Dreams
Despite their loud public complaints to lawmakers about the supposed "economic hardships" caused by the CDC's now-terminated eviction moratorium, large real estate companies have privately touted their solid performance during the coronavirus pandemic—and they've rewarded their CEOs with major pay increases.
A new report (pdf) provided exclusively to Common Dreams by the government watchdog group Accountable.US shows that large corporate landlords have reported "strong or stable" earnings to investors in recent months as millions of people across the U.S. worried about losing their homes. Thanks to the U.S. Supreme Court's ruling against the eviction moratorium on Thursday, millions of people are now at imminent risk of eviction. 
One specific example the new analysis cites is Equity Residential, an investment firm that represents 20% of the apartment real estate investment trust (REIT) market. According to Accountable.US, the company "reported 'considerable positive momentum,' collected 97% of its expected residential revenue in Q1 2021, and pulled in over $2.5 billion in rental income in 2021," even with the moratorium in place.

"In 2020, Equity boosted its CEO's pay by over $1 million to $7.6 million," the report notes.
Equity Residential was hardly alone. "Mid-America Apartment Communities, which represents 13% of the market and is the largest U.S. apartment owner, said its balance sheet was in 'great shape,' collected 99.1% of its billed rent, and boosted its 2021 earnings outlook by nearly $30 million in mid-2021 due to 'strong rent growth,'" Accountable.US shows.
"In 2020," the report observes, "MAA paid its CEO $4.7 million."
With the moratorium now out of the way and federal rental assistance trickling out at a disastrously slow pace, corporate landlords across the country will soon have even more license to evict tenants who are behind on their payments and increase rents—a major boon for Wall Street investors and an opportunity for rental giants to boost their record profits even further.
Kyle Herrig, president of Accountable.US, told Common Dreams that by striking down the CDC's eviction moratorium, the conservative-dominated Supreme Court "sided with rich corporate landlords that are itching to kick out vulnerable families even as they have boasted about strong performance and boosted their CEO compensation substantially."
"It's a classic case of an industry valuing higher profits over people who are hurting," said Herrig.
The Supreme Court's 6-3 decision Thursday came in response to a lawsuit led by the Alabama Association of Realtors, which argued that the CDC overstepped its legal authority by implementing the eviction moratorium.
The nationwide ban on evictions for non-payment of rent was first put in place by the Trump administration in September and extended multiple times thereafter, despite howls of protest and aggressive behind-the-scenes lobbying by the real estate industry.
As OpenSecrets reported earlier this month, "Housing and real estate industry groups spent more than $100 million on lobbying in the past year and a half, while Congress and the White House worked to extend the Covid-19 eviction moratorium these groups hoped to stop." 
Accountable.US notes in its new report that the National Association of Realtors—which has spent more than $18 million on lobbying so far this year—has donated nearly $100,000 to Sens. Pat Toomey (R-Pa.) and Mike Crapo (R-Idaho), two outspoken opponents of the eviction moratorium.
Democratic lawmakers have also recently benefited from real estate industry cash.
After the ban lapsed at the end of July, progressive lawmakers and activists led by Rep. Cori Bush (D-Mo.) camped out on the steps of the U.S. Capitol building to demand an extension. In response to grassroots pressure, the CDC issued a new, slightly narrowed version of the eviction moratorium on August 3 that covered roughly 90% of the U.S. The moratorium was designed to remain in effect through October 3.
The Supreme Court struck down the newest version of the moratorium on Thursday, despite warnings that an avalanche of evictions amid surging Covid-19 infections could be catastrophic. Analysts estimate that more than 11 million people across the U.S. are currently behind on rent.
"Millions of poor and working class people, Black and brown people, women and families will wake up tomorrow at risk of eviction with no place to go," Tara Raghuveer, director of the Homes Guarantee Campaign at People's Action, said in a statement late Thursday. "This decision will be a death sentence for some."
Offering a possible preview of what's to come, a recent study by a UCLA-led team of researchers found that the number of coronavirus infections and deaths "increased dramatically after states lifted eviction moratoriums" last year.
Herrig told Common Dreams that "rather than damage public health in the communities their tenants live just to boost their bottom lines, the big rental companies should do the right thing and hold off until the health crisis is over." He also urged Congress to intervene immediately.
"As rich rental companies continue their relentless assault on housing protections in the courts," Herrig said, "Congress should not delay expanding aid to all eligible renters in need."
[Jake Johnson is a staff writer for Common Dreams.]
Our work is licensed under Creative Commons (CC BY-NC-ND 3.0). Feel free to republish and share widely.