books
Romance Writers of America Rescind Award for Lakota Genocide Redemption Narrative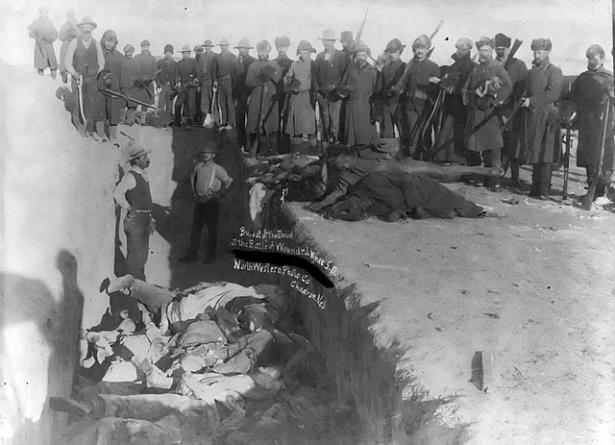 Mass grave of Lakota dead — after the 1890 Wounded Knee Massacre.,
Fresh off a year that saw a bubbling over of long-standing issues around racism, the cancellation of its marquee awards, multiple board shake-ups, and the departure of two executive directors and multiple staff, the Romance Writers of America (RWA) has again found itself embroiled in controversy. This time, the association gave one of its new Vivian awards to At Love's Command by Karen Witemeyer, a historical romance that most observers saw as glorifying the genocide of Lakota people at the Wounded Knee Massacre in 1890. For librarians, this never-ending storm of controversies raises questions about whether RWA's awards should be considered a useful tool for collection development or readers' advisory when it comes to the romance genre.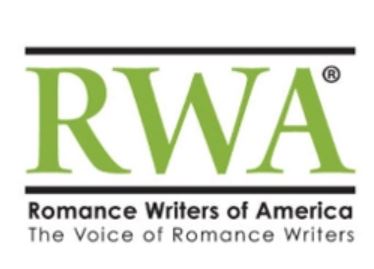 The genre has long struggled with a lack of diversity, with publishers for years refusing to print the stories of BIPOC and LGBTQIA+ authors, or only doing so in ways that segregated those stories from the rest of their romance lines. Since its founding in 1980 the RWA has  also struggled to make space for authors who were not cisgender, straight, white, Christian, and abled. Despite having an initial board that included Vivian and Barbara Stephens, both Black women, and Celina Rios Mullan, a Latina woman, within two years RWA's board of directors would be entirely white and remain that way for more than a decade. It wasn't until 2002 that Shirley Hailstock would become the group's first Black president. The organization's previous marquee award, the RITA, created in 1982, did not see a Black author win until 2019. In 2005, members of the board used the organization's magazine, Romance Writer's Report, to distribute a survey intended to limit RWA's definition of romance to one man and one woman, which a later board apologized for in 2016. And these are just the problems that made the public eye; for years, in forums public and private, members shared stories of microaggressions and outright racist treatment they experienced at RWA events and meetings.
While the latter half of the 2010s saw the organization make some progress in addressing the concerns of authors of color as well as LGBTQIA+ members, in December of 2019 that hard work started to fall apart. It was revealed that the group intended to censure Chinese American author Courtney Milan, reportedly for her comments about a fellow author's book being a "racist mess." The ensuing months of uproar, summarized best by Jezebel author Kelly Faircloth as a "spectacular implosion," resulted in the resignation of the group's first executive director as well as her hand-picked successor, and the resignation of most of the board of directors. The RITA awards were scrapped for 2020, and the group announced that a new award named for founder Vivian Stephens would be rolled out in 2021. It would keep most of the original contest categories, but with a new approach to judging that the RWA said would result in a a more equitable playing field for authors of color as well as for other historically excluded authors, including LGBTQIA+ authors of all backgrounds.
When the first class of Vivian finalists were announced in April, several observers flagged At Love's Command as a concerning choice in the "Romance with Religious or Spiritual Elements" (also known as "inspirational") category. Karen Witemeyer's book opens in the midst of the Wounded Knee Massacre as the male protagonist Matt Hanger, an army captain, describes the Lakota people he and his men have slaughtered (including a child who Hanger shoots on-page) as having provoked the attack through their defiance of the army's orders. As the book continues, Hanger finds redemption through his Bible and the love of Dr. Josephine Burkett. Commenters argued that, while many romance protagonists have moral failings, genocide is not typically one of them. Despite objections, the book continued in the contest and was named the winner of the Vivian Award for its category on August 1.
When Witemeyer's book was announced as the winner, online backlash was swift and fierce. Those who had been trying to raise the alarm for months were now joined by voices within and outside of the romance world decrying the book. On the Monday after the awards, RWA Board President LaQuette released a statement acknowledging the criticism, but defending the use of redemption narratives in the religious or spiritual elements category, arguing that the subgenre requires that "the character can't be redeemed by human means; only through their spiritual/religious awakening can they find redemption for their moral failings and or crimes against humanity." The inclusion of "crimes against humanity" in LaQuette's statement immediately raised questions, as the term does not appear in RWA's own definition of the inspirational subgenre. In addition, some pointed out that redemption is not a feature of all religious and spiritual belief systems (it also does not appear in the Vivians category description) and that LaQuette's emphasis on requiring it could exclude non-Christian narratives.
The day following the statement from LaQuette, the RWA Board issued a separate statement apologizing for the controversy and announcing that they were rescinding the award for Witemeyer's book. As of the writing of this piece, no winner for the category is listed on RWA's website.
It's worth pointing out that this wasn't the first time a genocidal male main character was featured in the "Romance with Religious or Spiritual Elements" category. In 2015, Kate Breslin's For Such a Time, about the love between a Nazi concentration camp guard and a Jewish prisoner, was nominated and also drew strong condemnation from the romance community. For Such a Time was also nominated for "Best First Book," but did not win either award.
Nor is this the first time that problematic narratives involving Native Americans have featured in the romance genre. One of the most popular of the romance subgenres in the 1980s and 1990s was the "Indian Romance," which typically involved one white and one Native main character in a story that—while treated as romance in the industry at the time—often included kidnapping and/or rape, in the 19th-century American West. Romance fan magazine Romantic Times (later renamed RT Book Reviews before being shuttered in 2018) included the category in its annual awards, presenting a "Best Indian Romance" award from 1984-1993.
Given all of this, are awards given by the Romance Writers of America a good tool for collection development, as other genre related awards are? Many notable authors skip the contest altogether because of the contest's reputation for snubbing authors of color, the cost to enter, or simply because they are not RWA members. Additionally, the contest was historically judged by authors who had entered it, although this has changed somewhat with the new Vivian Awards structure.
At the very least, the Vivians should be taken with a grain of salt until further notice. In their place, librarians can turn to awards like the Ribbies, sponsored by romance bookstore The Ripped Bodice and judged by a panel of romance bloggers, librarians, and social media influencers, or The Swoon Awards, organized for the first time last year and voted on by readers. Additionally, blogs like Smart Bitches, Trashy Books and Girl, Have You Read (among many others) are a great resource for reviews and new releases. Smart Bitches, Trashy Books also has an excellent readers' advisory tool in its Book Finder, which allows for searching by tropes, subgenres, and archetypes among other categories.
In the 140 years since it was created, Library Journal has been inspired by the belief that libraries transform lives, at every stage of life. 
We were there to help libraries in the United States begin organizing as a profession, and as the national and global network of libraries took their place in town squares, campus centers, and schools. As libraries have adapted, we have been there all the way--leading the profession forward by identifying trends on the brink of impact, surfacing best practices and innovations to invest in, identifying emerging leaders, sharing important news and perspectives that shape the field, guiding purchasing decisions, acting as an advocate for librarians and libraries--leading the field through the great changes and innovations required to keep libraries strong. Each day we build on this storied tradition by fueling the innovation engine at the center of every community--your library. 
We can't think of a community that doesn't rely on its library, and we can't think of a better mission than having everyone at those libraries -- town, city, campus, school students--rely on Library Journal and School Library Journal to help them inform learning, inspire kids to read, spark the inquisitive impulse and instill a lifelong love of reading—all the while building the community's capacity to thrive and spurring economic development. 
Information on subscribing to Library Journal is available here