Dispatches From the Culture Wars - October 26, 2021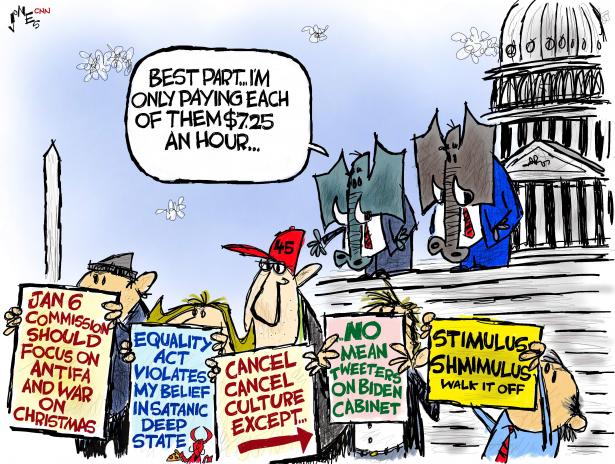 Credit,Clay Jones, CNN
Who's Behind School Board Attacks
By Mark Wing-field
Baptist News Global
At least 165 organizations are operating across the nation to coalesce parents and other concerned citizens into action. Some of those are authentically grassroots groups launched by one or two parents. But others are well-oiled and well-funded political machines — almost always with ties to Trumpism.
The Industry Trends Behind the Death of Halyna Hutchins
By Cynthia Littleton
Variety
As production veterans grappled with the tragic news that cinematographer Halyna Hutchins was killed Oct. 21 in a gun accident on the set involving star Alec Baldwin, knowledgeable sources pointed to a number of concerning industry trends that are reflected in the behind-the-scenes story of the low-budget independent Western.
By Lucian K. Truscott IV
Salon
Democrats may or may not "win" in 2022 and 2024, but the elections are already over. Republicans have declared that only their votes count. Unless we get together and stay together and use our numbers to protect our democracy, we will end up living in their fascist country ruled by their dictator. 
By Caroline Reilly
Rewire News Group
The legal fights in Texas and Mississippi aren't the only major abortion cases in the pipeline right now. There are a number of potentially critical lawsuits making their way through the lower courts—and one at the Supreme Court—and we're here to track them all.
White Nationalism and Anti-Semitism
By Shane Burley
Waging Nonviolence
By centering their resistance within the wider anti-racism struggle, progressive Jewish organizers are following a new model for confronting the growing threat of antisemitism.
Religion and LGBTQ Justice
Mormons By Ty Mansfield, Deseret News
Reformed Church By Kathryn Post, Religion News Service
Lutherans  By Taylor DeVille, The Baltimore Sun
Howard University Closes Its Classics Department
By Rebecca Futo Kennedy and Jackie Murray
The Undefeated
The administration's decision – an about-face from Howard's historical position – buys into white supremacist narratives over what kind of education Black people should have. And it denies the crucial role the Black-centered study of classics has played in the Black experience in America.
Climate Fight Needs to Link Generations
By Wen Stephenson
The Baffler
A narrative has emerged in which older generations, the parents and grandparents, are the "guilty" ones. Expected to play our role as written for us, we must accept our collective generational guilt. But let's be clear about who's actually guilty: the politicians and their corporate profit-seeking paymasters who lied to, misled, manipulated, conned, and betrayed the rest of us.
Saving the Children From Toni Morrison
By Zoe Richards
The Daily Beast
Victoria Manning admitted she hadn't read "The Bluest Eye" but thought it was too racy for 12th graders. The school district is reviewing the book and has pulled several others.
Softboys Dominate the Pop World
By Derek Robertson
Politico
The term "softboy" first appeared in the mid-2010s to describe a new kind of male star, not just willowy and tousle-haired like previous generations of pop icons, but overtly, almost confrontationally sensitive in his public persona.