Global Left Midweek - Elections in Latin America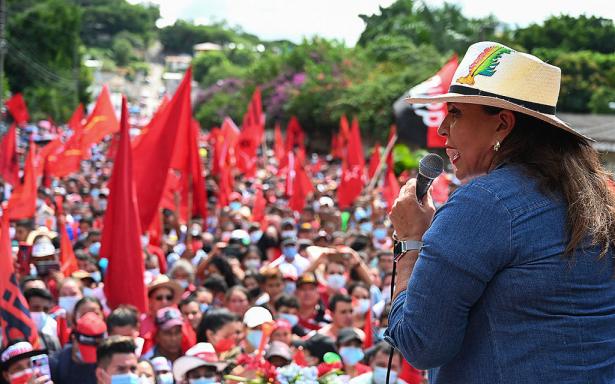 Honduran presidential candidate for the Libertad y Refundacion (LIBRE) party Xiomara Castro de Zelaya delivers a speech during a rally in Santa Barbara, Honduras, on November 14, 2021. Credit,Orlando Sierra—AFP/Getty Images
__________
Women Worldwide: No More Silence
Aarti Narsee / Women's Media Center (Washington DC)
Women have been fighting back against an increase in domestic violence and femicide during the COVID-19 pandemic, restrictions on sexual and reproductive health and rights, and the withdrawal of key protection mechanisms; and called for the right to work and education.
__________
Honduran Voters Conquer
Xiomara Castro Claims Victory  Cassandra Garrison / US News and World Report (Washington DC)
Who is Xiomara?  Brendan O'Boyle / Americas Quarterly (New York)
The Libre Party  Dick and Miriam Emanuelsson-Huezo / Tortilla con Sal (Managua)
__________
Other Elections in Latin America
Venezuela  Paul Dobson / Venezuelanalysis (Caracas)
Nicaragua  Jonah Walters / New Left Review (London) 
Brazil  Forrest Hylton / London Review of Books
Chile  Nicolás Donoso Álvarez / LatinAmerican Post (Bogotá)
Colombia  Diana Delgado / Argus (London)
__________
Strikers Show Their Power
Hungary  Bogatin Bence / Progressive International (London)
India  Sukanya Shantha / The Wire (New Delhi)
Spain  Dick Nichols / Green Left (Sydney) 
Amazon International  Kelvin Chan / Manufacturing Business Technology (Madison)
__________
Defend PKK From 'Terrorist' Smear
Hawar News Agency (Al-Hasakah, Syria)
A group of Arab politicians, intellectuals and writers affirmed that the PKK is one of the real global revolutionary movements. They stressed the need to remove the PKK from terrorist lists, and that Arab intellectuals should unite to make this happen.
__________
The Saga of South Korean Labor
International Strategy Center (Seoul)
"Power comes only from the organized workers," Oh Sang-taek of Together Labor says. "So our tasks are twofold: increasing the organizational coherence of the KCTU [South Korea's largest union federation], and using that trade union power to strengthen the political party of the working class."
__________
Podcast: Hard Looks at ANC and SWAPO
Gwen Lister and Imraan Buccus / New Frame (Johannesburg)
What does the future hold for the ANC after the hiding it got at the polls? SWAPO's experience in Namibia gives some answers. And, a party of the proper Left is what the ANC should fear.
__________
Basque Left on ETA
Dick Nichols / Links (Sydney)
Over 40 years, ETA's military-terrorist tactics transformed it from being perceived — in Euskadi, Spain and internationally — as a resistance movement conducting a popular anti-dictatorship struggle into an armed extortionist gang with a shrinking social base.
__________
Left Intellectuals Who Made a Mark
Joan Robinson  Carolina Alves / Developing Economics
Rossana Rossanda  Giulia Albanese / Verso (London)
__________
A Deep Left Look at Brexit
Jonas Marvin / Salvage (London)
The working class was not the deus ex machina behind Brexit. Only insofar as its experiences were mediated through race and nation did a section of the working class gravitate toward it.