Global Left Midweek - Hard Takes on Hot Spots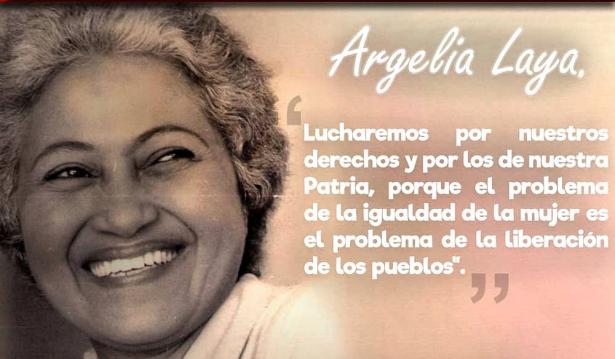 Credit,Latin American Studies Student Organization, San Diego State University
__________
A Plan to Save the Planet
Research Institute Network / Tricontinental (New York)
A Plan to Save the Planet is a draft built out of the analyses and demands of our people's movements and governments. This is a first draft of many drafts to come. This document will eventually advance through our movements and our institutions, building toward a resolution at the United Nations to save the planet.

__________
Philippines: Building a Socialist-Green-Progressive Electoral Slate
Sonny Melencio / Rappler (Manila)
Partido Lakas ng Masa (PLM) fielded almost a complete slate from presidency, vice presidency, senators, and partylist in the 2022 elections. Fielding candidates for top posts is a bold and daring move for Left groups. It has never been done before. 
__________
South Africa
A Wake-Up Call for the ANC  Siegfried Schröder and Rebone Tau / Rosa Luxemburg Stiftung (Berlin)
Labor in Peril  Anna Majavu / New Frame (Johannesburg)
Next Stage for Shack-Dwellers Movement  Pavan Kulkarni / Peoples Dispatch (New Delhi)
Environmentalists vs Shell  Brett Wilkins / Common Dreams (Portland ME)
Countrywide Roadblocks  Kareem Chehayeb / Al Jazeera (Doha)
Where's the Left? (from March 2020)  Rita Bassil, Julie Kebbi, and Soulayma Mardam Bey / L'Orient Today (Beirut)
__________
Cuba: Antinomies and Conflict
Rafael Hernández / On Cuba News (Miami)
A viable and sustainable republic based on the coexistence of old and new opponents with veteran communists and the new left, militants of the anti-communist youth and possible socialism, the Americans Díaz-Balart and Marco Rubio and the deputies to the National Assembly, the voters of Coral Gables and those of Mantilla, is unlikely.
__________
West Papua: Solidarity From Parti Sosialis Malaysia
Choo Chon Kai and Amanda Shweeta Louis / Think Left (Kuala Lumpur)
Numerous Papuans and Indonesians who backed West Papua's fight for self-determination have been subjected to arbitrary arrests, detentions, and prosecutions under Indonesia's oppressive laws throughout the years. 
__________
Serbia: Eco Uprising
Nenad Glišić / LeftEast
Beneath a propaganda narrative of job creation and progress, a lot of historical frustrations and hard-learned lessons have accumulated. Until recently, the masses expected politicians to fight for their interests, but it seems that this illusion has been largely shattered.
__________
From Mobilization to Solidarity: Feminist Power in Latin America
Erika Guevara Rosas / openDemocracy (London)
With a woman murdered every hour in the region, women are determined to be agents of change and resistance – and are protesting for their lives.
__________
The French Left: Cautious Prospective Reflections
Roger Martelli / Regards (Paris)
(Moderator's note: The following is excerpted from «La gauche en quête de sens [The Left in Search of Meaning].» Translation by Portside. Read the whole article in French here.)
1. In 2017, the French left entered low tide, both at the presidential and legislative levels. Over the course of the elections, since 1981, it has lost the sociological base that had made it strong in previous decades. Workers and employees voted mostly to the left in 1981; in April 2017, 70 to 75% of workers who vote went to the far right and less than a third to the left. As a result, in the fall of 2021, polls locked the left in a modest range of a quarter to less than a third of the vote.
2. Contrary to some superficial observations, it is not that society has massively turned right. In many ways, society has turned neither to the right nor to the left. Different representations and behaviors are distributed in many different connections: acceptance or refusal of the social order, class status, high/low, trustful/mistrustful, opening up or shutting out, etc. In the political space, it was the confrontation of the right and left around equality and freedom that set the dynamics of conflicts. Today, the division of left and right is contested; it nevertheless continues to be the strongest determinant of voting and non-voting. So It is clear that, while the left and right have both lost their meaning, the left has been the most weakened. In the eyes of many of its supporters, it has massively lost its bearings over the decades, too often confusing loyalty and immobility or mobility and renunciation. Over the course of the conjunctures, left-wing currents have ended up forgetting that sovereignism [opposition to international federations like the EU] only caricatures the desire for sovereignty, that protectionism ends up contradicting concern for protection, and that hardening identity is the worst enemy of freedom of association.
French Communism, which has long set the tone, was weakened and then marginalized. The Mitterrandian PS [Parti Socialiste] took over for a while, but deteriorated, in the turning points of 1982-1984, then in the European deadlocks of social liberalism [Social Democratic acquiescence to neoliberalism]. La France Insoumise slipped into the clothes of yesterday's socialism-communism in 2017, but did not understand what was driving the Mélenchon vote and eroded the unifying virtues of its presidential campaign. As for ecologists, in principle boosted by the rise of climatic anxieties, they have not managed to get out of the swing between realism and rupture since the mid-1980s.
3. In the long term, how the world and societies are seen are more or less structured by familiar political tendencies. Today, the powers that be and the extreme right are based on a clear consistency. On the one hand, an economically liberal, authoritarian and external project (in Europe and the world); on the other hand, a project that is both "illiberal", protectionist and exclusionary. What's new is that the emergence of [arch-racist] Eric Zemmour disrupts the realization of the second project, hitherto entrusted to the persona of Marine Le Pen.
It is not certain, however, that the scattered left and the parliamentary right torn between Macronism and the extreme right can benefit from Zemmour's intrusion. On the left, in any case, the scattering and exacerbation of competition are only symptoms of a lack of planned campaigns.
4. However, neither accumulation of proposals nor even their gathering into programs can serve as a substitute for a project that gives the left meaning. Only a coherent narrative can restore the left's power of attraction, by linking a goal, a method and the complex political process that gives them life in the long run. It is therefore not enough to claim the inevitable "paradigm change" around which everything should be reorganized. Society is a whole and no rupture, whether social or civilizational, derives from action on a single link, even if it is marked by a sign of urgency, ecological or social.
No subversive and realistic project can dispense with reasoning continuously in terms of processes and contradictions. Nothing changes without the concrete and immediate mobilization of individuals; but this mobilization is fragile if it remains confined by the logics that govern the distribution of assets, knowledge and powers. There is no humanly sustainable change if the predatory accumulation of goods always takes precedence over the sober development of human capacities; but no profound and lasting change is conceivable without a majority that wants and drives it, and no majority is possible without long-term work to build and maintain it. In short, we cannot hope to improve things without tangible and immediately perceptible rupture; but there is no point in evoking rupture without its protracted collective construction. Social contradictions cannot be denied: they are assumed. It is the function of the project to set the stage for this goal.
5. A strategy of radical change is not based on unlikely coalitions of left-wing parties or on the constitution of illusory social blocs. It presupposes bringing together a majority of the dominated population, around a coherent aim serving as a pivot for the construction of a pole whose key word is emancipation. Politically, it is a question of articulating in a new way the reassembling of the "people", that is, of the left, and the promotion of a left on the left. No need to dream of returning to a fantasy past. The world and society are still governed by the logic of dispossession, but they are no longer what they were. Inequality can no longer be analyzed without recognizing the discrimination that shapes and legitimizes it. The summing-up does not come from merely juxtaposing communities, or appealing to abstract universalism, or counterposing the public and the state. We can challenge globalization and think globally, concern ourselves with the nation while being wary of sovereignism. It is no longer a question of constantly balancing between the individual and the collective, but of radically rethinking the contours and articulation of the balance.
The historic left had finally reconciled the Republic and the workers worldwide. It was able to do this by connecting social dynamics, political construction and intellectual and cultural work. However, history has dissociated these spheres, for better or worse; we find that understanding what has undone previous ties, and imagining what can reweave them, is just as strategic as finding a common language among the parties. This will not be pulled into shape either by the concoction of new words ("intersectionality", for instance) or by an assembly of learned model-makers.
In short, if rallying the left remains a necessary objective, it is futile to underestimate the profound contradictions that this implies. Seeking to achieve this as quickly as possible is a reasonable state of mind. It is equally relevant to measure what it entails: patience, tolerance and desire for radical innovation. The future of the left depends above all on its refoundation, intellectual, symbolic, practical and organizational. This should be a project of construction, not proclamation.
__________
Argelia Laya's Legacy
Andreína Chávez Alava / Venezuelanalysis (Caracas) 
Argelia Laya is the most important feminist figure in the history of Venezuela. A black woman, teacher, social activist, guerrilla soldier, communist militant and prominent politician, she fought tirelessly for women's rights and against all forms of discrimination.