Dispatches From the Culture Wars - January 18, 2022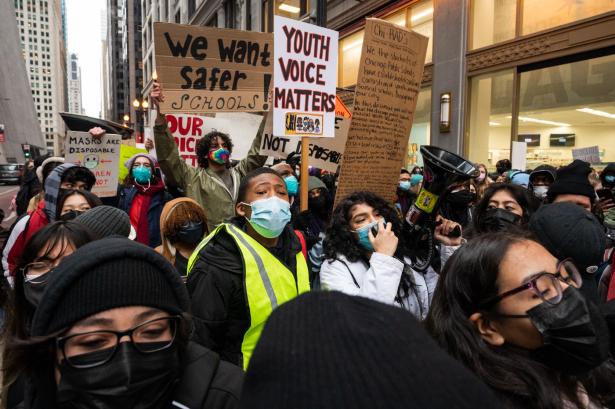 Hundreds of Chicago Public Schools students gathered outside of CPS headquarters on Jan. 14, 2022 during the district-wide walkout to voice their demands of safety amid COVID-19, and for their voices to be heard. Credit,Colin Boyle/Block Club Chicago
By Frances Moore Lappé
Common Dreams
Fed up, everyday citizens are stepping up to reverse a whole slew of assaults on our democracy—from voting rights to gerrymandering to removing money's grip.
By Amelia Thomson-DeVeaux
FiveThirtyEight
The conservative justices could impede government agencies' ability to act independently of Congress by giving more power over their decisions to the conservative-leaning federal judiciary.
The Triumph of Toxic Masculinity
Everytown's research details how male supremacy ideologies pose an increased threat to public safety because certain online communities often promote gun purchases and encourage acts of violence.
Papa Was a California Hate Cultist
By Caira Conner
Vox
My mother's oldest sister met my father at an Ásatrú Free Assembly gathering in Berkeley, California, in the early 1980s. Though it was whites-only, its founder, Stephen McNallen, claimed the group was "folkish," and it took my aunt a while to understand the significance of the term.
Joss Whedon's Fall From Nerd Grace
Buffy the Vampire Slayer's creator Joss Whedon was once master of all things nerdy, ushered in by a devoted fanbase. He leaves behind a tainted legacy.
Maxwell, Money and Child Trafficking
By Nancy Jo Sales
The Guardian
Maxwell had reason to believe she would get away with her crimes – she was a rich, well-connected member of the elite.
The Dregs of Cold War Liberalism
By Daniel Steinmetz-Jenkins
The Baffler
To the embattled liberal, the United States is experiencing a prolonged post-imperial decline—that the "American century" is over. A loosely affiliated school of thought calls for a new Cold War liberalism, instead of confronting growing wealth inequality brought on by neoliberalism.
Pivot Point for Abortion Rights
By Devin Dwyer
ABC News
A dozen states have so-called trigger laws set to ban all or nearly all abortions the moment the Supreme Court delivers a favorable decision. Ten more have similar laws that could quickly follow suit. To counter the momentum, abortion providers and women's health advocates have been scrambling to advance new initiatives.
By Lila Seidman
Los Angeles Times
Antisemitic fliers that appear to link Jewish people with the anti-vaccine movement were discovered at several elementary and middle schools in Santa Monica on Thursday morning, the latest in a spate of similar incidents across Los Angeles County, authorities said.
Chicago Students Walk Out Over Covid
By Colin Boyle
Chicago Block Club
Though the district and teachers reached a deal for classes to resume, students say they felt left out of the decision making process. They want more remote learning options and access to testing and masks.