Global Left Midweek - International Women's Day 2022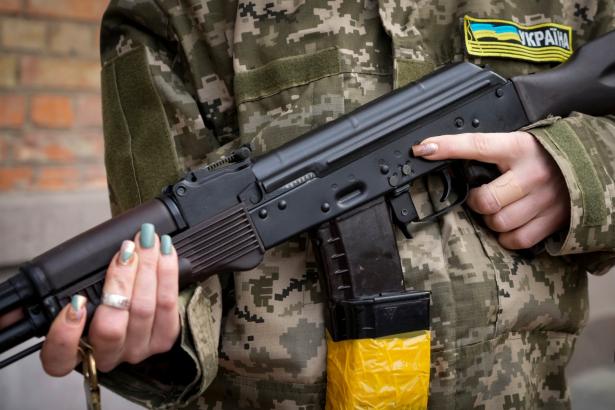 An armed civil defense woman holds a Kalashnikov assault rifle while patrolling an empty street due to a curfew in Kyiv, Ukraine, Sunday, Feb. 27, 2022. Credit,AP Photo/Efrem Lukatsky
__________
International Women's Day 2022
Pakistan   Saman Rizwan / South China Morning Post (Hong Kong)
Colombia   Julie Turkewitz / The New York Times [possible paywall]
South Korea   Min Joo Kim and Michelle Ye Hee Lee / The Washington Post [possible paywall]
Kuwait   Isabel Debre and Malak Harb / Associated Press (New York)
India   Haseena Khan / NewsClick (New Delhi)
Ghana   Akosua Hanson / openDemocracy (London)
Jordan   Hanna Davis / Al Jazeera (Doha)
__________
Unity Across Old Divides
Dmitri Makarov and Mary Kaldor / Red Pepper (London)
What is needed now is for peace and human rights activists in the West to organise an intensive dialogue with peace activists across Russia, Belarus and Ukraine in order to develop a common transnational strategy. We need a shared understanding of the war in terms of democracy and human rights. 
__________
Shack Dwellers' Leader Ayanda Ngila Assassinated
Chris Makhaye / Daily Maverick (Johannesburg)
News of the murder of Ayanda Ngila, a 30-year-old land activist and leader of Abahlali baseMjondolo in the volatile eKhenana Commune in the Cato Crest informal settlement just west of Durban, has been received with shock by civil society and community activists in South Africa and abroad.
__________
More Perspectives on Putin's War
Transnational Institute (Amsterdam)
Unions Aid Ukrainians   Radu Stochita / Jacobin (New York)
Cuban View   Julio César Guanche / On Cuba (Miami/La Habana)
African View   Khatondi Soita Wepukhulu / openDemocracy
Richard Seymour  / The New Statesman (London)
David Harvey  / FocaalBlog (Amsterdam)
Response to Harvey   Elizabeth Cullen Dunn / FocaalBlog
Lenin's Ukraine and Putin's Ukraine   Cihan Tuğal / LeftEast
Stand With All Refugees   Elena Liber / African Arguments (London)
__________
Videos: Resistance in Ukraine and Russia
Street Combat   / VICE News (New York)
Peace Protest   / Al Jazeera
__________
Latin America Defies Climate Wreckers
John Feffer / Foreign Policy in Focus (Washington DC)
Cutting across countries and issue areas, Pacto Ecosocial del Sur is resistant to the notion of separating the environmental from the social, and committed to the idea that a just transition in Latin America will come from the margins. The Pact has launched national chapters, produced reports and dialogues, and sponsored campaigns and public events.
__________
Sweating Out the Philippines Election
Can a Lesser Evil Beat Marcos?   Jay Hilotin / Gulf News (Dubai)
Can a Greater Good Win?  Maria Khristine Alvarez, Joshua Makalintal and Herbert Docena, PhD / Jacobin  
__________
UK: New Tech Workers Union
Liam Kennedy / Red Pepper (London)
John Chadfield and Eran Cohen of the new United Tech and Allied Workers (UTAW) branch talk about their plans for the sector, democratic workplaces and big tech's pollution problem.
__________
Workers in Myanmar Resistance
Ko Maung and Stephen Campbell / Frontier Myanmar (Singapore)
Unscrupulous factory owners have used the coup to cut wages and harass workplace unions, but successful strikes at two plants late last year have highlighted the determination of workers to resist exploitation and abuse.
__________
Rosa's Birthday: Gifts to Us
Writing Against Barbarism   Hjalmar Jorge Joffre-Eichhorn / Review of African Political Economy (London)
RL and Decolonial Theory   Hamid Dabashi / Al Jazeera (Doha)
Speaking to Feminism   Zhou Shangwen and Zhang Zhiyao / Chuo University (Tokyo)