Jazz Speaks for Life – Martin Luther King at the Berlin Jazz Fest in 1964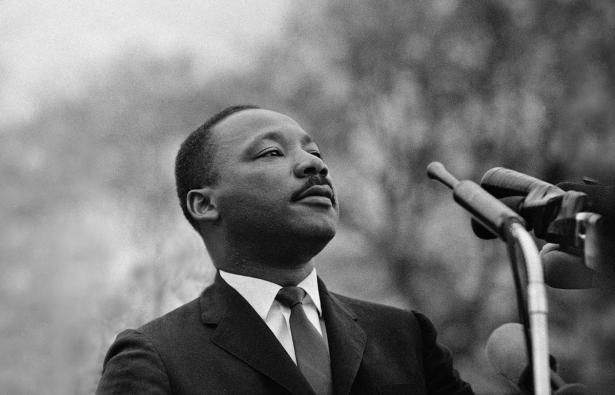 [To celebrate Martin Luther King day we've decided to republish this article first published in commemoration of the 50th anniversary of the assassination of MLK on the 4th of April 1968. The article re-publishes Dr King's speech at the Berlin Jazz Festival in 1964. Given the current state of global affairs, his words are just as relevant today as they were in 1964.]
Today marks the 50th anniversary of the tragic assassination of Martin Luther King. In 1964 Dr King was asked to give the opening speech at a new Jazz Festival in Berlin called the "Berliner Jazztage". This festival later became known as 'JazzFest Berlin" or as it's known in English, the Berlin Jazz Festival. At the time of Dr King's speech Berlin was a city divided by a wall separating east and west. Now in 2018, our society is again divided however, this time it's not east and west but right and left. Unfortunately once again talk of wall building has raised its ugly head. Unlike Berlin, these walls are designed to keep people out – not to keep people in, as was the case with the DDR.

50 years on Dr Kings message is more relevant than ever.
On this day, our dream would be to see Dr Kings Dream that "..our children will one day live in a nation where they will not be judged by the color of their skin but by the content of their character" will come to pass within our lifetime.
Below is the text of Mr Kings speech given at the 1964 edition Berlin Jazz Festival.
"God has wrought many things out of oppression. He has endowed his creatures with the capacity to create-and from this capacity has flowed the sweet songs of sorrow and joy that have allowed man to cope with his environment and many different situations."

"Jazz speaks for life. The Blues tell the story of life's difficulties, and if you think for a moment, you will realize that they take the hardest realities of life and put them into music, only to come out with some new hope or sense of triumph. This is triumphant music."

"Modern Jazz has continued in this tradition, singing the songs of a more complicated urban existence. When life itself offers no order and meaning, the musician creates an order and meaning from the sounds of the earth which flow through his instrument."

"It is no wonder that so much of the search for identity among American Negroes was championed by Jazz musicians. Long before the modern essayists and scholars wrote of racial identity as a problem for a multiracial world, musicians were returning to their roots to affirm that which was stirring within their souls. Much of the power of our Freedom Movement in the United States has come from this music. It has strengthened us with its sweet rhythms when courage began to fail. It has calmed us with its rich harmonies when spirits were down. And now, Jazz is exported to the world. For in the particular struggle of the Negro in America there is something akin to the universal struggle of modern man. Everybody has the Blues. Everybody longs for meaning. Everybody needs to love and be loved. Everybody needs to clap hands and be happy. Everybody longs for faith."

"In music, especially this broad category called Jazz, there is a stepping stone towards all of these."
The "Berliner Jazztage" was founded in 1964 in West Berlin by the Berliner Festspiele. Venues where concerts took place included among others: Berliner Philharmonie, Haus der Kulturen derTWelt, Volksbühne, Haus der Berliner Festspiele and the Jazzclubs Quasimodo and A-Trane.
The festival's artistic concept has long been "to document, support, and validate trends in jazz, and to mirror the diversity of creative musical activity." Diversity and social comment has always played a roll in the programming of the festival. In his last year as the festivals Artistic Director, Richard Williams stated in his forward to the festival that "In 2017,  Jazzfest Berlin will demonstrate that this music, while retaining its precious African American core, welcomes all those, whatever their origins, who respond to a spirit that celebrates the right to be different, to challenge orthodoxies and to find ways of working with others."
The 1964 edition of the Berlin Jazz Festival included performances by Miles Davis Quintet, George Russell Sextet, Coleman Hawkins – Harry Edison Swing All-stars and the Dave Brubeck Quartet to name just a few.
Below is the poster from the 1st edition on the festival where Dr King gave his speech.