Global Left Midweek – April 27, 2022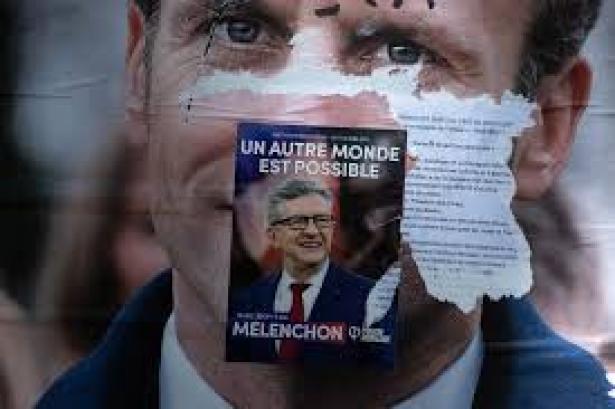 A campaign poster of France's President and La Republique en Marche party candidate Emmanuel Macron covered with a sticker showing leftist party La France Insoumise presidential candidate Jean-Luc Melenchon. Credit,AFP/file photo
___________
The French Election
__________
Global Letter to Biden: End Fossil Fuel Era
Climate Action Network International, et al. / Center for Biological Diversity (Tucson)
Humanity now faces a cascade of emergencies. These crises may seem entirely independent, but they share the same dangerous thread: dependence on fossil fuels. Fossil fuels fund not only Putin's war crimes but other conflicts around the world, provoke war and militarism for fossil fuel resources, and drive the climate emergency.
__________
When Left Turns Right
John Feffer / Foreign Policy in Focus (Washington DC)
The wholesale rejection of liberalism has also led some elements of the left to gravitate toward Vladimir Putin, who loves to defy the liberal international order. Thumbing one's nose at NATO expansion and complaining about the isolation of Iran are expressions of that defiance. Unfortunately, so is his invasion of Ukraine.
__________
Globalization in Transition
__________
Resisting the War
__________
Sri Lanka's Protest Movement
Jayadeva Uyangoda / Polity (Colombo)
The 'direct democratic' action of the group of citizens who protested in front of President Gotabaya Rajapaksa's residence in Pengiriwatte, Mirihana, has given rise to outcomes even they would not have quite anticipated. It has shaken the very foundations of an autocratic-authoritarian regime that was, up until now, perceived to be as strong as an immovable rock.
__________
Roundtable: Sudan's Revolutionary Committees
Magdi el Gizouli, Muzan Alneel and Abdelsalam Mindas / Spectre (Brooklyn)
What role will the resistance committees play in the revolutionary process going forward? Are they likely to transform into political parties, form the seed of local governing councils, or might they fade away once the military has been unseated and the current demands have been met? 
__________
The Great Inflation Debate
Michael Roberts / Canadian Dimension (Winnipeg)
There is an alternative to monetary or wage restraint, mainstream policy proposals acting in the interests of bankers and corporations to preserve profitability. It is to boost investment and production through public investment. But that would require significant control of the major sectors of the economy, particularly energy and agriculture; and coordinated action globally. 
__________
Venezuela's Communard Union
Chris Gilbert / Venezuelanalysis (Caracas)
Sown across the country and without much support, Venezuela's functioning communes – grassroots spaces of self-managed production and substantive democracy – are embattled outposts, weakened by their isolation. However, there have been attempts to build unity and coordinate these efforts. The most important of these is the Communard Union (Unión Comunera).
__________
Doña Rosario Ybarra de la Garza
Kent Paterson / CounterPunch
A giant in Mexican political life, civil society and human rights advocacy passed away on Easter weekend. The founder of Comité Eureka in 1977, Rosario Ibarra de Piedra was the trailblazing mother of family-led movements demanding answers about loved ones who were forcibly disappeared by government agents. She was 95 years old.