Flight Attendants Fighting Back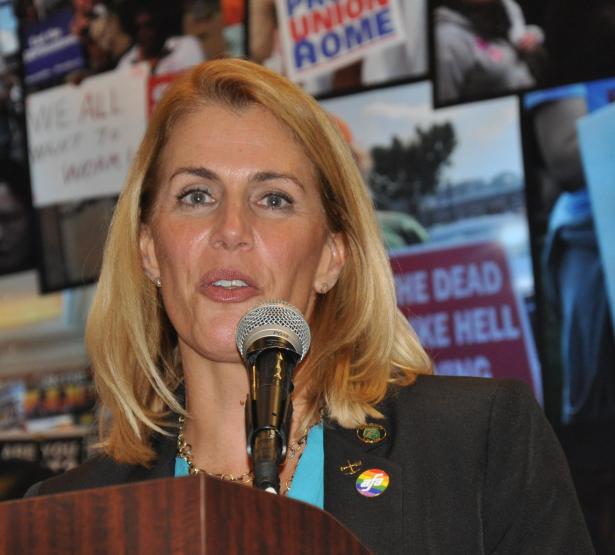 Sara Nelson, international president of the Association of Flight Attendants-CWA, AFL–CIO, speaking on the infrastructure bill last year.,Kentucky AFL-CIO
At the beginning of 1996, Sara Nelson was twenty-two years old, living in St. Louis, and working as a waitress at a California Pizza Kitchen. A recent college graduate, she had a job lined up for the fall as a high-school English teacher, and in the meantime she was juggling three part-time gigs in addition to her restaurant job. Then, one day in February, she got a call from Chloe Caviness, her best friend from college. "Guess where I am," Caviness said. "The beach in Miami!" After graduating, Caviness had started working as a flight attendant for United Airlines. Now, on the phone, she went on and on about the job's perks, which included layovers in warm locales, and Nelson wondered if she ought to apply.
She recalled thinking, "I'm freezing my ass off, working four jobs, and life is hell. O.K., all right, I'll check this out." As it happened, United was holding a recruitment event the next day in Chicago, a five-hour drive from St. Louis. Nelson gave away her restaurant shifts, then got in her car and began heading north. She slid a mixtape into the deck—she loved Barbra Streisand—and sang loudly as she drove. Later, when she arrived at the event, "there were applicants in line crying," she said. "They would start to talk about how much they wanted this job, and they would get emotional." United called the event an open house, but there were so many people that Nelson referred to it as a "cattle call."

She made it to the second round of interviews, at which point the airline administered a test to make sure that she could speak a second language—a desired qualification for flight attendants at the time. Nelson, who had taken German in college, was "barely conversational," but somehow she passed, and, after enduring a physical and making it through six weeks of training, she was hired.
United assigned her to its base in Boston, and she moved to the city that fall, living in an apartment with seven other rookie flight attendants. She spent the first few months working on call, filling in whenever the airline was short a flight attendant, but soon she had enough seniority to get a monthly schedule, and eventually she was able to work the most desirable trips, like the non-stop flights to San Diego. She'd pack her swimsuit, depart at 8:30 a.m., and land before noon Pacific time. "We'd have all day where we could go to the beach," she recalled. "If you went on a Tuesday or a Wednesday, the only other people on the beach were likely airline employees."
After working at a restaurant, Nelson appreciated the autonomy that came with being a flight attendant. "We don't have managers watching us," she said. "When we get up there, we control the workspace." Once the plane took off, she and her co-workers would "read the room," and, if the passengers seemed to be in a "festive mood," the flight attendants might hold a trivia contest, awarding a bottle of champagne to the winner. Even on her days off, Nelson spent time in the sky; she could fly for free, and on one of her first vacations she flew to Honolulu. She got used to the life style, and whenever she thought about the possibility of one day having to work a different job she panicked. "I was just horrified by the idea of being an earthling," she said.
United employed some twenty-five thousand flight attendants at the time, but its base in Boston was relatively small—only about three hundred flight attendants. It was also a union shop: United flight attendants are members of the Association of Flight Attendants. (The A.F.A., founded in 1945 by a group of United stewardesses, is the largest flight attendants' union, representing workers at eighteen airlines.) At United, nearly all the flight attendants wore their union pins, and at the Boston base Nelson soon discovered that there was a "group of very, very senior flight attendants who were, I would say, quite militant." In 1985, United pilots had gone on strike, and the flight attendants had struck in solidarity. More than a decade later, some flight attendants still carried around a "scab list." Nelson recalled hearing stories about the punishments doled out to the workers who had crossed the picket line, "like somebody is doing a trip to Des Moines, and they find out, Oh, no, their bag is in Hong Kong."
Nelson's knowledge of unions was minimal. "I didn't really know anything about labor at the time," she said. But her first few weeks on the job taught her about the benefits of union membership. When she arrived in Boston, the leaders of the local union council were some of the first people she met, taking her and the other new hires on a trolley tour of the city. Not long after, when one of Nelson's first paychecks was late to arrive, a co-worker offered to loan her eight hundred dollars, and then advised her to call the union for assistance. The union helped her get paid, and it also helped alleviate the sense of alienation that she felt as an employee of a huge corporation. ("It was the first time in my life that I knew what it meant to be a number," she said.) "The idea that you would have each other's backs, that you would be welcoming—it felt right," she told me. "I identified with that right away." Within a few months, she was volunteering with her local union council.
Today, at age forty-nine, Nelson is the international president of the A.F.A., which represents fifty thousand flight attendants in the U.S., or about half the flight attendants in the industry. She frequently testifies at congressional hearings, where at times she is the lone woman seated alongside the C.E.O.s of the nation's largest airlines. During the government shutdown that began in late 2018, when hundreds of thousands of federal employees—including T.S.A. workers—went unpaid for weeks, she gave a speech calling for a general strike. (The speech got national attention, and later, when a CBS interviewer suggested that Nelson was threatening to "shut down the whole economy," she calmly responded, "Yes.") Nelson was credited with helping to end the shutdown, prompting the Times to describe her as "America's Most Powerful Flight Attendant."
Producers at CNN, MSNBC, CNBC, and Fox Business often invite her on air. She lives in a town house in Maryland with her husband and their twelve-year-old son, and during the pandemic a spare room on their second floor has doubled as a television studio. (When her son comes home from school and finds his mother staring at a screen, he whispers, "Are you on TV?") On air, she comes across as incisive and unflappable, and, like any flight attendant, she is well coiffed, her shoulder-length blond hair blown dry. She usually sits in front of bookshelves lined with a few trinkets, including a miniature Bernie Sanders doll, and with books about organized labor, such as "Mother Jones: The Most Dangerous Woman in America"—Elliott J. Gorn's biography of the legendary union organizer—and a fiftieth-anniversary edition of "Strike!," by Jeremy Brecher, for which Nelson wrote the preface.
Before the pandemic, Nelson was already one of the most visible leaders in the U.S. labor movement—a surprising achievement, considering that her union is relatively small. (The American Federation of Teachers, with 1.7 million members, is nearly thirty-five times the size of the A.F.A.; the Teamsters, with 1.2 million, is about twenty-five times the size.) The pandemic raised Nelson's profile, bringing new attention to her and the A.F.A., as the working conditions of her union's members worsened. According to the Federal Aviation Administration, a record seven thousand-plus "unruly passenger" incidents have occurred on airplanes since the start of 2021, although the term "unruly" doesn't begin to capture the severity of some of this behavior, which has led to headlines like "Video Shows Assault of Southwest Flight Attendant Who Lost 2 Teeth."
Nelson has spoken out forcefully against passengers "using flight attendants as punching bags." She has urged Congress to pass a bill that would put passengers convicted of assault on a no-fly list, and she has advocated for ending the sale of to-go drinks at airport bars, since unruly passengers are often intoxicated. These efforts mark the latest chapter in her union's eight-decade battle to improve the working conditions of its members. By now, however, the promise that drew Nelson and her colleagues to this profession years ago—the idea that it offered autonomy and a chance to see the world—has been overshadowed by the reality that airplanes have become an increasingly stressful place to work.
In the nineteen-sixties, flight attendants were known as stewardesses—the title changed in the seventies—and when they pushed the beverage cart down the aisle they could barely see where they were going. "From the seat level to the ceiling was just pure smoke," Diane Tucker, a flight attendant who has worked for United since 1968, recalled. After the plane took off, the sound of passengers lighting up filled the cabin. And the airlines encouraged the smoking. "We actually put little packets of cigarettes on the trays when we served people," Tucker said. "Right next to the coffee cup." Flying was different in other ways, too. There were virtually no female passengers in first class, Tucker said, and the menu was better. "We would slice roast beef for the people in first class," she said. "We had gourmet food in the back as well."
In those years, nobody could make a career out of being a stewardess. Airlines had age limits: Tucker, who was hired at the age of twenty, had to agree to quit when she turned thirty-two. Stewardesses were prohibited from marrying, and there were strict rules dictating how they could look, which included bans on braces and hair dye, and a requirement that stewardesses wear nail polish. Tucker started every workday by hiking her skirt so that an older woman, known as an "appearance supervisor," could peer underneath. "We lifted our skirt and showed our girdle," Tucker said. "They didn't ask me whether I had my manual or my flashlight, or whether I had enough money to get a taxi if I needed it—they just wanted to know if I had my girdle on."
Airlines often exploited the looks of their stewardesses as a marketing strategy. One of the most egregious examples was a National Airlines ad campaign that featured a young stewardess and a not so subtle tagline: "I'm Cheryl. Fly Me." Many airlines limited how much stewardesses could weigh, and some women took diet pills or starved themselves to avoid losing their jobs. "If there was any suspicion that you didn't look exactly the way the appearance supervisor thought you should look, she would have you hop on the scale in front of everybody," Tucker said. "If you were ten pounds over what your maximum was, they would remove you from your flight."
In 1972, Sandie Hendrix, a stewardess at United, was fired after weighing in at a hundred and twenty-seven pounds. (Hendrix was five feet two, and the limit for her height was a hundred and eighteen pounds.) Her story made the national news, but not everyone was on her side: one nationally syndicated columnist, writing about the possible end of the airlines' weight rules, bemoaned a future in which "human hippos start handing out the trays." Stewardesses fought against the weight limits, but they stayed in place at many airlines for years; at United, they were phased out in the early nineties—not long before Sara Nelson was hired.
Nelson grew up in Corvallis, a small town in Oregon's Willamette Valley, where she was raised in a family of Christian Scientists. Her father worked for a lumber mill; her mother was a music teacher in the local public schools, and she also had a successful singing-telegram business on the side. (When Nelson first told me about this, she paused in the middle of the story and began singing: "Valentine, with a little kiss / You fill me with so much bliss . . .") Nelson remembers telegram customers calling at all hours and belly dancers—who were hired to deliver telegrams known as Belly Tellys—stopping by the family's house to pick up their paychecks.
After high school, Nelson went to Principia College, a small liberal-arts school founded by a Christian Scientist, in southwestern Illinois. Nelson was "so bubbly" and "very, very passionate about everything," Caviness, her best friend, recalled. Nelson had grown up singing in a children's choir that her mother founded, and at Principia she starred as Maria in a production of "West Side Story." "Everyone was drawn to her," Caviness said. "She had that vibrant, acting kind of personality, where she's just onstage, but in the best of ways." At sports events, she would always emphatically root for the school's team. "Everyone would turn and smile because they could hear her—this little person, and she would have this super-booming voice," Caviness said.
By the time Nelson began working for United, the workplace culture had improved. There were no more age limits or bans on getting married. But United did measure Nelson's height—five feet five, which the airline deemed acceptable—and during her training, she said, there was a "makeup day," when "men got the day off and women had to go learn how to put makeup on." Meanwhile, sexism in the cabin had persisted. One day, not long after Nelson started the job, a male passenger approached her from behind while she was standing alone in the galley. "He ran his hand along the outside of my hip and right down almost around my rear end and said, 'What, no girdle?' " she recalled. " 'How can you look this good in your uniform without a girdle?' " She was stunned. "No one had ever warned me something like that might happen." At the time, flight attendants had little recourse in such situations. "So you try to just protect yourself and then tell the rest of your crew, 'Hey, watch out for Handsy in 5-F,' " she said.
There were other downsides to the job, like the pay. Nelson recalls earning about twenty-one thousand dollars in her first year; to feed herself, she sometimes relied on airplane food. The job was also physically exhausting. Nelson's workplace was often a Boeing 757, though sometimes a 727 or a 737, and she soon learned the distinctions between each aircraft. The 757 held so many passengers that a flight attendant could easily run out of room in her cart for all the garbage when picking up trays after a meal. The 727, however, did not have carts at all. "You had to hand-deliver every single meal," she said, adding that some of her co-workers, who wore pedometers, reported walking ten miles during a single shift. Nelson's least favorite plane was the 737-200, an early version of the 737. Flight attendants referred to it as the Nasty, Nelson remembered, because the galley was so tiny that the trash piled up and the stench lingered.
Initially, Nelson wasn't sure how long she would remain a flight attendant. But, once she started working for United, her social life became defined largely by the job. This was in part a matter of scheduling. "It's hard to relate to other people with nine-to-five jobs," she said. There was also the free air travel, which broadened the list of possible excursions. "You would say, 'Hey, want to fly to L.A. tonight? "Titanic" is playing. Let's go have dinner and a movie,' " Nelson said. In 1998, she married a fellow flight attendant, and for a time went by her married name, Sara Dela Cruz. (They divorced a few years later, and she has since remarried.)
She also devoted a lot of time to union work. By 2001, she was the vice-president of her local council, and on September 11th she was scheduled to attend a union training event in Chicago. She took an overnight flight from the West Coast, landing at around 5:30 a.m. that day at O'Hare Airport, and then went straight to the nearby Hilton Hotel. She was a regular at the hotel's fitness center—she ran on a treadmill and lifted weights whenever she had a layover in Chicago—and that morning she asked a worker she knew if she could use a massage table to take a nap.
She dozed until shortly before 8 a.m. Chicago time, when a hotel employee woke her to tell her the news: an airplane had just flown into one of the Twin Towers. Nelson, still groggy, left the room and found a TV—and watched as another plane crashed into the second tower. She didn't know it at the time, but that second plane was United Flight 175, which had taken off about an hour earlier from Boston. It was a flight that she had worked in the past, and she knew all the crew members on board.
Recently, I spoke with Nelson on the phone about that day. She is known for being open with her emotions, occasionally getting choked up during public appearances, and soon I could hear her sobbing on the other end of the line. I thought that she might try to change the subject or cut the call short, but instead she cried and talked for the next four minutes. She told me about Amy King and Michael Tarrou, two flight attendants who had been dating for more than two years and who were working together that day. She recalled Robert Fangman, a rookie whom she had met on his first day when she did a union presentation for new hires. And she mentioned two gate agents who happened to take Flight 175: Marianne MacFarlane and Jesus Sanchez. "They were two of the gate agents who would pick up all the overtime. They were there all the time. They were so much fun," she said. "I used to joke that every gate leads to Jesus, because he would see me off and close the door, and when I would come back to Boston he would be there to open it."
Of the four planes hijacked that morning, two belonged to United; the second was Flight 93, which crashed in a field in Pennsylvania. Prior to 9/11, United had been the second-largest airline in the country, with a hundred thousand employees. Eight days after the attacks, as customer demand for airline tickets plunged, United announced plans to let go of twenty per cent of its workers. "We were mourning our friends and trying to pick up the pieces of our lives," Nelson said. "And the furloughs started immediately."
She managed to hold on to her job, and in the spring of 2002, when she was twenty-nine, she became the national spokesperson for the United chapter of the A.F.A. She worked out of the union's field office in Chicago, where every day felt like an emergency, with union officials fighting to preserve their members' jobs. There was so much work to do that Nelson often did not leave the office until after midnight. Then, near the end of 2002, United declared bankruptcy, becoming, as the Times put it, "one of the largest American companies ever to seek bankruptcy protection from its creditors."
A few months later, United decided to furlough another twenty-three hundred flight attendants. Nelson still remembers her boss at the union calling her into his office to tell her the news. "In that moment, it was just, like, 'You know, I can't take any more,' " Nelson said. "So I told him, 'I just need a minute to cry.' And I did. I really cried. Then, after about a minute, something clicked in me. And I just thought, 'O.K., well, this is it. This is the moment that I'm committing. We have to fight like hell every single day to hang on to everything we possibly can.' "
The bankruptcy proceedings dragged on for an exceptionally long period of time—thirty-eight months—and among the union's most protracted battles was one to save its members' pensions. That effort lasted a year, with flight attendants lobbying Congress, fighting in court, and preparing for a possible strike. Since United's headquarters were in Illinois, the union targeted the state's two senators, one of whom was Barack Obama. One morning, Nelson and a group of flight attendants, all wearing their uniforms, showed up in Washington, D.C., at Obama's regular breakfast for constituents. Afterward, he took a serious interest in their situation, meeting with union officials and United's C.E.O., and pressing both sides to reach an agreement. In the end, the flight attendants got a retirement plan that, according to Nelson, was "more than double the amount that United wanted to pay."
The victory, though, was bittersweet. The union had sustained a long series of losses, including a nine-per-cent cut to hourly pay in 2003 and a 9.5-per-cent cut in 2005, as well as large reductions in health-insurance coverage. When United, faced with high attrition rates, called six hundred flight attendants back to work in mid-2005, some did not return. "They're leaving because this isn't the same job it once was," Nelson told the Chicago Tribune. By 2006, she said, pay for new flight attendants had fallen to about seventeen thousand dollars a year.
Nelson still gets upset when she thinks back on what she and her co-workers endured after 9/11: the furloughs, the pay cuts, the years of uncertainty. Flight attendants "lost their homes," she told me. "Many of them lost their marriages over financial stress." She went on, "In some cases, they had to move in with family members to make ends meet. Those were lives that were dramatically changed, and some of those people are still flying right now. And we don't forget that. You can't just redefine the value of a person like that. So we've got long memories—and a lot of anger."
he air-transportation industry has one of the highest rates of unionization of any private-sector industry in the U.S. At three of the four major carriers—United, American, and Southwest—more than eighty per cent of workers belong to a union. (The outlier is Delta, where only about twenty per cent of full-time workers, mainly pilots, are unionized.) When the A.F.A. was founded, in 1945, its ranks were all white and all female. According to a recent census, about a quarter of the union's members are male, and nearly forty per cent are nonwhite.
The union comprises flight attendants who work for mainline carriers (like United), niche carriers (like Hawaiian), regional carriers (like Piedmont), and ultra-low-cost airlines (like Spirit). Pay at mainline carriers is much higher than at regional carriers, and on a single flight the amount that flight attendants earn can range significantly. (At United, a flight attendant in her first six months on the job receives a base pay of about twenty-nine dollars an hour, while a co-worker with thirty years of experience gets sixty-seven dollars an hour.)
September 11th changed the work lives of every flight attendant in the industry. Cockpit doors were reinforced, and if a pilot needed to use the bathroom the flight attendants had to set up a barrier, often blocking off the front of the aisle with their cart. To save money, airlines reduced the number of flight attendants on each flight, which in turn increased each employee's workload. Airlines later crammed more seats onto each plane, and flight attendants were the ones who had to listen to passengers' angry complaints. "All day long, you're absorbing that energy," one flight attendant told me.
Adding to some flight attendants' sense of aggravation is the long-standing issue of "boarding pay." The hardest part of the job may be the thirty or forty minutes before an airplane takes off, when passengers are trying to stuff their carry-ons into overhead bins and change their seating arrangements. Nevertheless, this time is typically not covered by a flight attendant's hourly wage. The clock starts when the pilot releases the brake on the plane, and it stops when the plane reaches the gate and the pilot sets the brake. (This means that the hourly wage also does not encompass the time after the plane lands when a flight attendant helps passengers gather their belongings and exit.)
Nelson held her spokesperson job for almost a decade. In 2010, she was elected international vice-president of the A.F.A., and in 2014 she became the union's international president. Politico later reported that Nelson had secured the role after she "participated in a coup" against her predecessor. When I asked Nelson about this, she balked at the word "coup," insisting that the A.F.A. was not fighting hard enough for its members at the time. "Our union was being given away," she said. "I don't know how you call that a coup. Flight attendants—both line flight attendants and leaders—asked me to run." Not everyone was happy about her ascent, however. "I took personal attacks, and it was horrible," she said. But by the end of her first term she seemed to have won over many of her critics; at the union's convention in 2018, she had enough support to be reëlected by a voice vote.
Throughout the years, Nelson has forged strong relationships with powerful figures, including Representative Peter DeFazio, the chair of the House Committee on Transportation and Infrastructure, which oversees the aviation industry. DeFazio, a Democrat, is from Oregon, and, coincidentally, Nelson grew up in his district, which he has represented since 1987. Nelson remembers serving him meals as a flight attendant in the late nineties, although he recalls that the first time he worked closely with her was about seven years ago. In 2015, the A.F.A.'s board of directors made him an honorary member of the union, and he carries an A.F.A. pin in his briefcase. When he's flying, he sometimes puts it on. "I get good service," he told me.
At the end of 2019, Nelson was five years into her presidency and feeling optimistic. The U.S. passenger-airline industry was thriving—its total profits in 2019 were nearly fifteen billion dollars, twenty-five per cent more than the year before—and, as it happened, many of the contracts that the A.F.A. had with airlines were up for renegotiation starting in 2020. "We had only just caught up with where we were before September 11th, 2001, adjusted for inflation," Nelson said. "We were finally in a place where we were going to go back to the negotiating table and get some of the billions that the airlines were pulling in."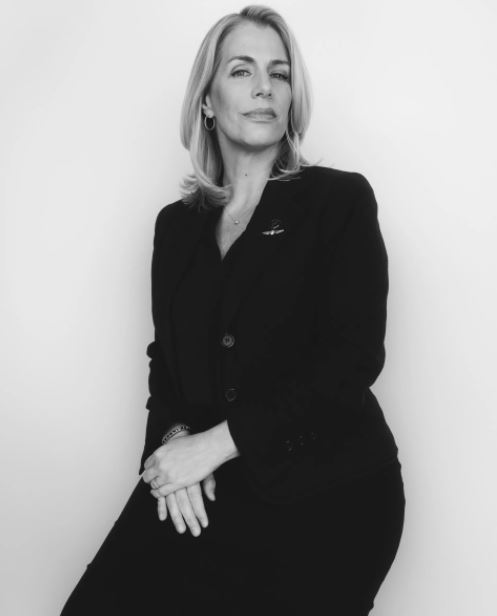 But in early March of 2020, while at a transport workers' convention in Orlando, Nelson realized that the year would not unfold the way she had hoped. covid-19 was starting to spread in the U.S., and the fallout for the aviation industry was immediate: conference attendees were fleeing, travellers were cancelling flights, and airline C.E.O.s were going to Washington to beg for financial help. "I kept flashing back," Nelson said. "I knew exactly what was going to happen if we didn't stop the bankruptcies this time."
On March 13th, she flew home and convened a virtual meeting with policy experts hired by the A.F.A. Her goal: to devise a plan to help save airline workers' jobs—and the airlines themselves. In the aviation industry, many workers—including flight attendants—need to be certified in order to work, and if they are furloughed and their certifications lapse the process to get recertified can take months. The plan that the A.F.A. came up with called on Congress to give "payroll subsidies" to the airlines so that they could keep workers on the payroll and prevent employees' certifications from lapsing. This way, the airlines would be able to scale up their operations quickly once customer demand returned.
On March 16th, the A.F.A. released a video of Nelson outlining the plan, which included a list of "spending conditions" for the airlines. "Any stimulus funds for the aviation industry must come with strict rules," she said, including "no taxpayer money for C.E.O. bonuses" and "no breaking contracts through bankruptcy." The union sent its proposal to DeFazio. At that moment, the airlines were, as DeFazio put it, "staring bankruptcy in the face." But, he recalled thinking, "it's not going to be like '01," when airlines "got bailed out but then went on to declare bankruptcy, take away the employee pensions, and then emerge later from bankruptcy having devastated their workforce economically."
In a rare moment of unity, airline executives and union leaders worked together to get government funding, and the following week Congress allocated fifty billion dollars for the airline industry as part of the cares Act. The money was divided into two parts: twenty-five billion dollars in loans for the airlines and twenty-five billion dollars for the Payroll Support Program, which would help keep aviation workers employed. Jobs were saved—at least in the first few months of the pandemic. But by October of 2020 funding for the payroll program expired, and some airlines began furloughing workers; at American Airlines alone, nearly twenty thousand employees lost their paychecks. "I turned in my badge today & I cried because I don't know how I will pay the bills," one flight attendant tweeted. Another wrote, "I'm unemployed uninsured & barely can keep food on the table." Nelson worked with airline executives and other union leaders to lobby for more money. In December of 2020, Congress allotted another fifteen billion dollars in funding for the payroll program, and the furloughed workers got their jobs back.
Even for flight attendants who were never furloughed, covid-19 added tremendous new stresses to their work lives. "I worked in that first year of the pandemic, before the vaccinations, where it really was kind of scary—when people were pulling down their mask and yelling at you for a Diet Coke," one flight attendant told me. Many flight attendants commute by plane—they might work out of, say, New York but live in another city with a lower cost of living—and those commutes became much more onerous when the number of flights fell. At work, flight attendants were required to enforce mask-wearing among passengers, and they themselves had to wear masks all day. One employee described working twelve-to-fourteen-hour days in the summer, sweat collecting beneath her mask. "I'm so grateful people can't see that part," she said.
In 2021, there were still fewer business travellers than there had been pre-pandemic, and flight attendants noticed an increase in the number of intoxicated passengers. Reports of passenger disruptions flooded into the union. In August, three passengers became incensed when their flight landed early and they were forced to wait on the tarmac; one banged on a window, another threatened to open a door, and one "would shout things at me and then start videotaping my reaction," a flight attendant reported. After exiting the plane, the flight attendant and her co-workers stuck together as they made their way through the airport because "we didn't know where these passengers were in the terminal or what they might do," she explained. In November, a flight attendant reported that, before takeoff, a "visibly discombobulated" male passenger tried to use the bathroom but became "confused with the doorknob." The man was escorted off the plane before it departed, but he left something behind on his tray table: vomit. The flight attendant had to clean it up.
One morning this past March, Sara Nelson walked into Concourse A at Hartsfield-Jackson Atlanta International Airport, wearing an A.F.A. T-shirt, a black skirt, and black knee-high leather boots. Her pace was slower than usual; she'd had hip surgery recently—her second in five months—and she was using a forearm crutch on her right side. The waiting area by Gate A16 was nearly empty—the next flight wasn't leaving for several hours—but Nelson sat down, and was soon joined by six flight attendants from Delta. One had just flown in from Oklahoma; another was heading to New York and then on to Rome. Everyone greeted each other with hugs. "Nice to finally meet you!" one told Nelson.
These flight attendants are not members of Nelson's union, but they hope to be. In the fall of 2019, the A.F.A. announced that it was launching a campaign to organize flight attendants at Delta, the only major airline where flight attendants are not unionized. Delta is based in the South, where organized labor has historically struggled to gain a foothold, and the company has long resisted unionization efforts. The A.F.A. has tried three times before to unionize these workers, but the union has lost every election. (Following the most recent defeat, in 2010, the A.F.A. accused Delta of intimidating workers and interfering in the election, by, among other things, having managers call employees at home. After investigating, the National Mediation Board found that the election conditions were "not tainted" and let the results stand.)
The flight attendants whom Nelson met in Atlanta are trying to break this losing streak. On the lapel of their gray uniforms, they all wore their Delta wings, as well as a second pin with three lowercase letters: afa. Passengers were unlikely to notice it, but their co-workers knew what it meant. Throughout the country—at Delta's bases in Salt Lake City, Detroit, Boston, and elsewhere—groups of flight attendants, known as "base activists," are trying to persuade their co-workers to join the A.F.A.
At the airport in Atlanta, the base activists settled into seats around Nelson. "Sara, I have some really good news," one said, launching into a story about a businessman she had met on a flight. "On landing, my jump seat is right next to him, and he leans over and he's, like, 'So how does Delta treat the employees?' "
The other flight attendants chuckled.
"He said, 'Well, you know, I fly Delta a lot, but I also have United and American as options. . . . I really like to support companies that take good care of their employees.' I said, 'Wow! It's really interesting that you're asking me this question.' And so I pointed to my pin. I said, 'Do you see this? Are you familiar with A.F.A.?' "
He wasn't. She told him about the Delta flight attendants' unionization effort, and, when he asked how he could support them, she said that their organizing campaign needed "a lot more traction on social media," and mentioned their Twitter and Instagram accounts. "And he logged in right there. He goes, 'O.K., help me find the pages!' " At first, she was worried that he might be a manager from the airline—"that Delta planted him to see what I would say"—but she looked him up afterward and concluded, "He's legit." She added, "It definitely warmed my heart."
This was the sort of news that Nelson loved to hear. "Don't get me crying!" she said.
"We know you will!" one of the flight attendants replied.
In their off-hours, these base activists have been doing "visibility," as they call it: working at a table in their crew lounge, where they hand out A.F.A. literature and pins and, most important, union-authorization cards for their co-workers to sign. (Under the Railway Labor Act, which governs union organizing in the airline industry, workers must collect signed cards from at least fifty per cent of eligible employees in order to qualify for an election.) Obtaining signed cards can be a challenge in any workplace, but pulling this off at Delta is especially difficult: the cards must be signed by hand—not electronically—and the company's more than twenty thousand flight attendants are scattered across the world.
Unlike in many union-organizing drives, wages are not the dominant issue in this campaign, since Delta pays a higher hourly rate than most other airlines. For some flight attendants, a higher priority is gaining more control over their schedules. "The flight-attendant life style isn't about money," one Delta flight attendant said. "It's about quality of life. Flexibility is a big thing." She explained that she signed a card after she started dating a Delta pilot and saw firsthand the benefits he received as a union member, such as increased clarity about work rules. "I felt like we worked for two different companies," she said.
Nelson's announcement of her union's campaign, a few months before the pandemic, riled leaders at another union, the International Association of Machinists and Aerospace Workers (I.A.M.). The I.A.M. had been trying to organize Delta's flight attendants since 2012, but had never collected enough valid cards to hold an election. The A.F.L.-C.I.O., with which both unions are affiliated, had determined that the I.A.M.'s ability to unionize Delta flight attendants without competition was over. But after Nelson announced the A.F.A.'s campaign the I.A.M. issued a statement saying that it was "deeply concerned and disappointed." (The two unions have since patched up relations, and the I.A.M. is now supporting the A.F.A.'s campaign.)
Four months later, with covid-19 threatening to decimate the airline industry, the A.F.A.'s campaign slowed down. Then, between March and October of 2020, some four thousand Delta flight attendants left their jobs. The campaign lost some of its supporters, but, at the same time, the pandemic seemed to galvanize others, giving them new reasons to join a union. At the end of 2021, as the Omicron variant was spreading throughout the country, airline operations were severely disrupted: workers were getting sick, thousands of flights were cancelled, and employees' holiday plans were upended. Afterward, the A.F.A. saw a surge in the number of Delta flight attendants signing up to join. "It went bonkers," Nelson told me. "We had a thousand flight attendants requesting cards overnight."
At the Atlanta airport, the flight attendants chatted with Nelson at Gate A16 for about twenty minutes, and then a few of them left to do visibility. The rest stuck with Nelson as she stood up and started to make her way through the concourse. They passed throngs of travellers and one gate after another, with signs announcing Delta flights to Fort Myers, Greensboro, Las Vegas, Jacksonville, New York City. One flight attendant walked ahead of the group for a few minutes, then returned. "I've found us a friend," she told Nelson. "She wants to meet you."
She led Nelson over to a woman standing in front of a Chinese-takeout restaurant. Nobody knew her; she was based in New York City and was in Atlanta between flights. Nelson spoke to her for a few minutes, conferring quietly one on one, and then reported back. "She's, like, 'It's happening right now. Everybody is signing it!' " Nelson recounted, adding that the woman told her, "If we went to a vote right now, it would pass no doubt." She went on, "I said, 'O.K., but technically we have to go through this process.' She's, like, 'Oh, so we need more cards?' It was hilarious. I was, like, 'Yes!' "
Base activists are encouraged to collect signed cards from their co-workers, but persuading employees to sign a card can be challenging. Some fear that their managers will find out they support the union. Another complication is that the cards are valid for only a year, so flight attendants who signed at the beginning of the drive have had to sign and send in new cards. Also, flight attendants travel so much that sometimes base activists may leave cards in their luggage for weeks before remembering to mail them in.
Nelson and two of the base activists continued to the end of the concourse, reaching Gates A1 and A2. The area was desolate, but they thought that they might find a few more flight attendants waiting for their flights. Soon, they happened to run into someone they all knew: a base activist from Los Angeles. He was a frequent participant on the union campaign's Zoom calls, and he had recently mailed a batch of signed cards to the union's headquarters. Now he opened up his bag and reached inside. "I've got more cards for you!" he said.
Nelson would not reveal how many cards the A.F.A. has collected so far, but she insisted, "I believe that Delta flight attendants are going to file for an election this year." Not long after her visit to the Atlanta airport, though, other obstacles emerged: Delta unveiled a new Web site for its flight attendants that praises the "direct relationship" the company has with its workers. The site also notes that the A.F.A.'s membership dues are fifty dollars a month. "If you do not want to gamble your future and do not want union representation, do not sign an A-card," the site reads.
Then, in April, Delta told its flight attendants that they would start receiving boarding pay—to cover the time when the airplane door is open and passengers are filing on. Nelson said that Delta's decision was a "surefire sign that the company knows we're winning." Morgan Durrant, a spokesperson for Delta, disagreed. "A.F.A. has attempted to claim credit for the decision but has not negotiated boarding pay into flight attendant contracts at any airline they represent," he said in a statement, noting that Delta is "the first airline to announce it would provide boarding pay for all flights."
One perhaps unexpected consequence of Delta's decision is that the airline has drawn attention to the fact that it wasn't previously giving its flight attendants boarding pay when the airplane door was open. This was news to Trevor Noah, of "The Daily Show," who riffed on it during a recent segment: "Just think about it. You're at work, doing work, but your boss is like, 'Nah, this is your free time. I only pay you when the doors are closed.' That's wild! By the way, did you notice how Delta suddenly said it was going to change this rule only after they learned that flight attendants are trying to form a union? Yeah, interesting timing, huh?"
At the airport, after the base activists had dispersed, Nelson and I sat down for lunch at Cat Cora's Kitchen, a restaurant across from Gate A26. Although she rarely works as a flight attendant anymore, she still spends a significant amount of her time on airplanes. In the weeks ahead, she would appear at union events around the country: at a rally for striking mine workers in Alabama; on a makeshift stage with Christian Smalls, the president of the Amazon Labor Union, at a rally on Staten Island, shortly after he had helped lead the first successful unionization effort at an Amazon warehouse. At the Staten Island event, Nelson stood before the crowd, hollering into a microphone, "I have to tell you, after twenty-five years of doing this work, praying like hell that people would wake up to their power, this union is the answer to my prayers!"
Nelson's relentless efforts to build alliances with other unions—and her willingness to show up in person to support their battles—have set her apart from many labor leaders, and in the past she considered running for president of the A.F.L.-C.I.O. There was a time when it seemed like she had a chance of winning, but after Richard Trumka, the federation's longtime president, died in August of 2021 and then his second-in-command, Liz Shuler, took over, the odds shifted, given that Nelson would have to defeat an incumbent. The election is in June, and when I asked Nelson recently about her plans she replied that the job is "not a position that I want." She said, "I've been listening really, really hard to where we need to be to move the next generation forward, and it's not under the current structure and operation of the A.F.L.-C.I.O. Perhaps that can change and we can move in a different direction, but it's really going to be by inspiring the rank and file to take over their unions." She also said that her own union was "not ready" for her to go. (Earlier this month, she won reëlection for a third term.)
After a few hours of walking around Concourse A, Nelson looked relieved to be seated as she sipped water and peered at a menu. I had already interviewed her several times, but I wanted to learn more about what had happened behind the scenes before Congress gave the airline industry fifty billion dollars, toward the beginning of the pandemic. She ordered a burger and sweet-potato fries, then told the story of how Doug Parker, then the C.E.O. of American Airlines, had called her on the evening of March 18, 2020. It was shortly after 8 p.m., and Nelson was at home, in sweatpants, working on her laptop.
Parker and Nelson knew each other from back when he ran U.S. Airways, whose flight attendants had been represented by the A.F.A. That night, on the phone, he explained that he was calling from the office of Airlines for America, the airline industry's trade group, where he was meeting with other airline C.E.O.s. The group had been lobbying Congress, asking for fifty billion dollars to help the airlines survive the pandemic, but it seemed that if Congress agreed to give the airlines funding it would be only in the form of loans, not grants. "He started saying, 'Sara, you know we're in trouble here,' " she recalled. "I'm, like, 'Doug, I know.' " He told her about the group's unsuccessful attempts to sway Congress, and he mentioned that the other C.E.O.s were unhappy, too, about a list of conditions that labor unions and other groups were pushing to include in the federal legislation.
"I said, 'There's no reason we can't work this out,' " Nelson recalled. "So he started saying, 'Well, people here are skeptical, blah blah blah,' and I said, 'You know what? Why don't I just come down there?' " She pulled her hair into a ponytail, put on a pair of jeans, and drove into downtown D.C.
Once she arrived at the offices of Airlines for America, she stepped into a conference room with about twenty people, mostly men in suits. The group included Parker and the heads of United, JetBlue, and Alaska Airlines. "The C.E.O.s were sitting at the conference table, and their staff was sitting behind," she said. There were wine bottles, popcorn, Starbursts; restaurants had shut down, so food wasn't easy to find. The executives seemed weary and frustrated. "Some of them were still kind of in shock, had never been through bankruptcies, couldn't even take in how bad it was going to be," Nelson recalled.
"I said, 'Listen, here's the deal. You guys are having a hard time because the public hates you. There's no way that you are going to get anything in this political environment. But if we construct this in a way that it's about the workers—it's about the frontline people, and people can identify with that—then you're going to get something.' " She stayed until past 11 p.m., by which point she and the C.E.O.s had finally agreed on a framework for the federal aid—that the money for workers should go directly to them—as well as a rough list of conditions, including a cap on airline executives' pay and a ban on stock buybacks.
After my lunch with Nelson, I called Parker to see what he remembered from that night. "It doesn't sound historic," he said. "But having a labor leader sit around with five C.E.O.s and work through how we're going to stop airlines from shutting down was a pretty big deal." In the days before their meeting with Nelson, he said, he and the other airline executives had been focussed on one person: Representative DeFazio. Parker recalled that the C.E.O.s kept tossing out ideas and saying variations of the same line: "I wonder if DeFazio will accept this."
That night, when Nelson met with the executives, Parker at one point overheard her make a phone call to try to secure an updated list of the conditions that unions and other groups were seeking. "She's talking on the phone, and she's saying, 'No, that's not it. That's not it. You sent me the wrong one,' " Parker told me. "She's not being rude, but I thought she was talking to someone who worked for her. And then I hear her say 'O.K., thanks, Peter' and hang up. And I'm, like, 'Oh, my God, that's the guy we keep talking about, and she's talking to him!' That was the direct line we didn't have."
Seven days later, Congress passed the legislation that awarded fifty billion dollars to the airline industry. Many people had worked to make this happen, including members of Congress, their staff, White House officials, airline executives, and union leaders. But, as Parker saw it, Nelson was the one who deserved the most recognition. In a hotel ballroom in Manhattan in October of 2021, Parker stood onstage in front of more than a thousand aviation professionals at a gala organized by the Wings Club Foundation. He had just received the group's distinguished-achievement award, and in his acceptance speech he mentioned Nelson, who was in the audience.
"If it weren't for Sara Nelson and her leadership, we would have shut down back in April of 2020, furloughed virtually everyone, and then waited for demand to return until we started bringing people back and flying," he said. "That probably would have been this summer at the earliest." He went on, "If keeping several hundred thousand aviation professionals employed and the U.S. airline industry flying over the past year and a half was important to you, please join me in thanking Sara Nelson." Then the crowd rose and applauded.
Published in the print edition of the May 30, 2022, issue, with the headline "Highflier."
[Jennifer Gonnerman joined The New Yorker as a staff writer in 2015. She is the author of "Life on the Outside: The Prison Odyssey of Elaine Bartlett."]