Without Mark Meadows, January 6th Might Never Have Happened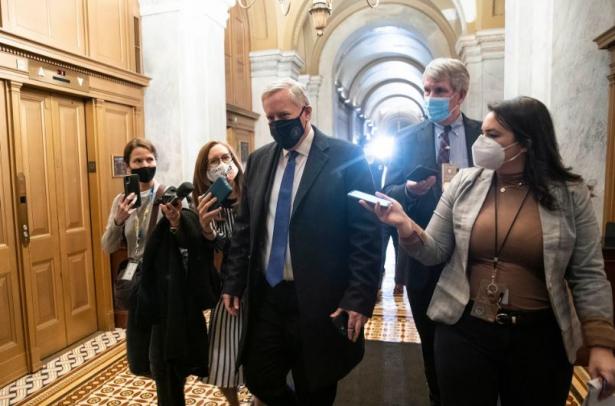 Amid the tumult that followed Donald Trump's election loss, Meadows played a double game the likes of which has rarely been seen, even in the swamps of Washington,Photograph by Sarah Silbiger // The New Yorker
When the House select committee investigating the January 6, 2021, attack on the Capitol begins its long-awaited hearings, on Thursday night, no witness will have been more helpful—and more confounding—to investigators than Mark Meadows.
In recent months, Donald Trump's fourth and final chief of staff has emerged as the source of damning revelations that have enabled the committee to piece together the extraordinary events which unfolded after Trump lost the 2020 election and, rather than conceding defeat, orchestrated an unprecedented attempt to subvert the results in order to remain in power. Before Meadows abruptly stopped coöperating with the panel, last year, he handed over thousands of text messages, which show Trump at the center of the far-reaching plot to take his election challenge beyond where any previous President had before.
At the same time, there has remained a question about just where Meadows actually stood. Was he seeking to get the country to Joe Biden's Inauguration, despite the efforts of an increasingly unhinged President, or was he a charter member of the plot? Was he one of the responsible adults around Trump trying to land the plane safely, as General Mark Milley had put it, or was he one of the hijackers?

Many times over the past few months, while writing a book with my husband, Peter Baker, about Trump's Presidency and contemplating its violent, hardly-to-be-believed end, I got stuck on this question. There is no doubt that Trump himself bears responsibility for his reckless pursuit of the "rigged election" fever dream—an assault on the most important foundation of American democracy, which Trump personally began laying the groundwork for months before the election had even taken place. But the record is equally clear that Meadows never shut down Trump's inflammatory claims. And Meadows still refuses to disavow them, creating a sharp contrast with several other important Trump advisers: Pat Cipollone, the White House counsel who reportedly served as an important internal challenge to the false election claims; William Barr, the staunchly pro-Trump Attorney General who finally broke with him over the election lies; or, of course, Mike Pence, the slavishly loyal Vice-President, who did everything that Trump asked him to do for fourteen hundred and forty-seven days before finally reaching the line he could not cross and defying him.
In our new book, "The Divider: Trump in the White House, 2017-2021," which will be published in September, my husband and I write that Meadows played a double game the likes of which has rarely been seen, even in the swamps of Washington. He told both sides what they wanted to hear. He reassured establishment Republicans that he was trying to keep the President from going too far. At the same time, he gave conspirators access to the Oval Office to whisper their "you really won, don't give up" fantasies to the defeated President. (A spokesperson for Meadows declined to comment on the record for this article.)
Meadows acted less as a gatekeeper than as a door opener. "Meadows was basically a matador," a Republican involved in discussions with the White House at the time told us. "He's sort of just let in anybody and everybody who wanted to come in." A White House colleague of his said, "Meadows admitted to people privately . . . 'Trust me, I'm gonna get the President there, he's gonna drop this issue. Just kind of give him time to mourn and grieve, and then he's gonna come around.' " But while he was telling this to Republicans such as the Senate Majority Leader Mitch McConnell, the White House colleague pointed out, he was also facilitating the ongoing plot. "He was bringing crazies into the West Wing."
When Barr expressed alarm to Meadows that Trump was taking "bullshit" fraud claims too far, the chief of staff soothed him. "I think he is becoming more realistic and knows there is a limit on how far he can take things," Meadows replied. The next day, however, Meadows told Ginni Thomas—the far-right activist and wife of the Supreme Court Justice Clarence Thomas—that the battle to keep Trump in power was a messianic struggle. "This is a fight of good versus evil," Meadows texted her. "Evil always looks like the victor until the King of Kings triumphs. Do not grow weary in well doing. The fight continues. I have staked my career on it."
Mark Meadows was a perplexing figure to many in the White House from the minute he became chief of staff, in March of 2020, just as the biggest crisis of Trump's Presidency—the covid-19 pandemic—hit. A sixty-year-old onetime real-estate developer from North Carolina who had spent the previous seven years in Congress, he was beefy and tall, with a winning smile and an easygoing manner. But his affable demeanor disguised a ruthless ambition, and, once he quit Congress and took over Trump's perpetually fractious team, his new colleagues found him to be a cutthroat infighter determined to consolidate power.
Born on an Army base in France to a soldier and a civilian nurse, Meadows grew up mainly in Florida, a self-described "fat nerd" and aspiring weatherman in a family without much money. He lost weight, married his high-school girlfriend, and moved to North Carolina, where he owned a sandwich shop, Aunt D's, for twenty years, homeschooled his children, and eventually got his real-estate license. He sold the restaurant and soon became a developer. In 2012, Meadows entered politics and won a House seat in western North Carolina. He was one of the original nine conservatives to form the House Freedom Caucus, which included Mick Mulvaney, who became Trump's third White House chief of staff. Mulvaney had jokingly proposed calling the group the "Reasonable Nutjob Caucus," likely to distinguish them from even more radical lawmakers, but Meadows and his allies appeared to relish their roles as bomb-throwers. Meadows helped blow up congressional deals over the budget, health care, and immigration which he argued had sold out conservative principles.
On the Hill, Meadows quickly earned a reputation for playing both sides. Soon after arriving in the House, he cast a vote against Speaker John Boehner's reëlection. Not long afterward, Boehner said that Meadows requested a meeting with him in his Capitol office, where, within seconds, he said, the new congressman suddenly slid off the couch onto his knees and put his hands in front of his chest in confessional prostration. "Mr. Speaker, please forgive me," Boehner recalled Meadows saying. Boehner was flabbergasted. He took an extra-long drag on his Camel cigarette before saying, "For what?" Boehner later wrote, "I knew he was carrying a backpack full of knives—and sooner or later he'd try to cut me again with them. Which, of course, he did."
By the fall of 2015, Meadows filed a motion to open debate about ousting Boehner as Speaker, and Boehner soon stepped down, a major victory for the Freedom Caucus. Paul Ryan, Boehner's reluctant successor, had an equally jaundiced view of Meadows. A former Republican leadership aide once told the journalists Anna Palmer and Jake Sherman that Meadows was the most dishonest person he had ever met at the Capitol, "convicted criminals included."
With Trump in office, Meadows reinvented himself as one of the President's most outspoken defenders. He was entranced by access to the Oval Office, and he even showed off the call log on his iPhone to a reporter to prove that he was speaking with "VIP POTUS." Meadows called Trump so often, in fact, that he later claimed to have discovered he was No. 14 on the White House switchboard's list of approved callers to be put through to the President. By late 2018, he claimed to have made it up to No. 7. When Meadows quit Congress and Trump hired him as his fourth chief of staff in as many years, Meadows planned to avoid what he saw as the mistakes of the previous three.
Trump's first chief of staff, the Republican Party operative Reince Priebus, had tried, with little success, to manage Trump before being dumped, via tweet, in the summer of 2017. The second, the retired Marine General John Kelly, had a reputation for trying to block Trump. Mick Mulvaney came to the office as "acting" chief, vowing to let Trump be Trump. Meadows, however, appeared to be more Trump than Trump, not only enabling but actively facilitating and orchestrating the former President's most reckless pursuits—and connecting with Trump's disruptive approach in a way his predecessors did not.
To many of his new colleagues, Meadows quickly came across as duplicitous and untrustworthy. "He would lie to people's faces," a fellow White House official told my husband and me. Stephanie Grisham, whom Meadows ousted from her position as White House press secretary, called him "one of the worst people ever to enter the Trump White House." Grisham said that on a scale of awfulness, with a five being the worst, "I'd give Mark Meadows a twelve." Joe Grogan, the President's top domestic-policy adviser, described Meadows to colleagues as someone who thought he was a genius but, in fact, did not know what he was doing. Meadows was "an absolute disaster," Grogan would tell others, who played to "all the President's worst instincts."
Meadows did not think much of Grisham or Grogan, either, or of many other staffers he inherited. He was particularly disdainful of the doctors, such as Anthony Fauci and Deborah Birx, who advised Trump and the White House's covid task force during the onset of the pandemic. "They're inept, they're idiotic, they're a bunch of scientists," Meadows told people in the White House at one point, referring to the scientists at the Centers for Disease Control and Prevention. "Even the most loved Dr. Fauci," he said, "still has no clue on a whole lot of stuff."
In the days immediately following the 2020 election, before the race was even called for Joe Biden, Meadows began entertaining pitches from Donald Trump, Jr., and various Republicans suggesting a plan to overturn what they saw as Trump's impending defeat. They proposed having Republican-led legislatures in states Biden won set aside the actual election results and substitute in pro-Trump electors. "It's very simple," Don, Jr., texted. "We have multiple paths," he added later. "We control them all." (A lawyer for Don, Jr., said this message likely originated from someone else and was forwarded.)
Trump's eldest son was already looking ahead to January 6th, the day when by law Congress was supposed to formally count and certify the Electoral College results. Don, Jr., suggested that, if they could swing enough states by then, they could prevent Biden from winning a majority of Electoral College votes, thereby sending the decision to the House. The Constitution states that, in such a circumstance, the House would vote by state delegation, and although Republicans did not hold a majority of House seats they did control twenty-six of the fifty state delegations. "We either have a vote WE control and WE win OR it gets kicked to Congress 6 January 2021," Don, Jr., wrote to Meadows.
Meadows apparently did not reply to that text message, but other texts from him suggest that he was encouraging those who wanted Trump to pursue the plot to overturn the election. For instance, Representative Andy Biggs, of Arizona—Meadows's former House colleague—wrote Meadows to propose what he admitted was a "highly controversial" strategy of getting Republican legislatures to appoint alternate electors for Trump in states that he lost. "I love it," Meadows wrote back.
Over the next two months, as Trump pursued his "rigged election" claims, Meadows further consolidated power in the White House, eventually excluding Vice-President Pence from meetings he had once attended as a matter of course. ​​"Meadows really tried to separate Pence from Trump for the last couple months," a White House official noted. Meadows again actively played both sides. He reassured Barr that Trump would leave office while personally pressing to overturn results in key states and pressuring Cabinet officials. On December 21st, he attended a meeting with his former colleagues from the Freedom Caucus at the Oval Office, where the lawmakers strategized with Meadows and Trump over how to block Pence from carrying out his constitutional duty to preside over the counting of the electoral votes that would finalize Trump's defeat.
On January 6th, Meadows was bombarded with text messages and calls urging him to stop the storming of the Capitol—an action that he helped foment. Even Don, Jr., who had also promoted the election lies, frantically urged Meadows to get his father to turn down the temperature. "He's got to condemn this shit Asap," he texted the chief of staff. "The Capitol Police tweet is not enough."
"I'm pushing it hard," Meadows responded. "I agree."
How hard, though, was not clear. Alyssa Farah, the White House communications director who had quit in disgust over the post-election campaign to overturn the results, texted Meadows, who had been her boss for years on Capitol Hill and at the White House: "You guys have to say something. Even if the president's not willing to put out a statement, you should go to the sticks and say, 'We condemn this. Please stand down.' If you don't, people are going to die." Meadows did not reply. Farah then texted Ben Williamson, Meadows's senior adviser. "Is someone getting to POTUS?" she asked. "He has to tell protestors to dissipate. Someone is going to get killed."
Williamson's reply suggested that neither Trump nor Meadows was reacting with urgency: "I've been trying for the last 30 minutes," he wrote. "Literally stormed in outer oval to get him to put out the first one. It's completely insane."
Meadows and his two different personas are at the center of many of the controversies lingering since Trump's tumultuous exit from office. The January 6th committee has discovered this duality. Meadows at first agreed to coöperate with the panel but then abruptly stopped after Trump castigated him for publishing a memoir, "The Chief's Chief," which airbrushed their history—though not sufficiently for Trump. The former President was furious with Meadows for revealing his lies, which Trump dismissed as "Fake News," to the public about the seriousness and timing of his October, 2020, bout with covid.
Meadows's remarkable ability, even for a politician, to do one thing while saying another has also been the subject of running news reports. My colleague Charles Bethea disclosed, in The New Yorker, that Trump's chief of staff was publicly alleging voter fraud in the 2020 election while apparently committing voter fraud himself. Meadows registered to vote by absentee ballot in September, 2020, from a mobile home in North Carolina which he had never visited. North Carolina's authorities have removed Meadows from the state's voter rolls and are investigating his actions.
In many ways, Meadows's skill for obfuscation has delayed an inevitable reckoning about his role in enabling Trump's post-election conduct. But the evidence is now much clearer that Meadows's actions in the White House at this crucial moment not only mattered but might well have been decisive. It's very possible, in fact, that the tragedy of January 6th might never have happened had it not been for Trump's final chief of staff.
One of the most persistent themes my husband and I found in our reporting was the moral struggles of the people around Trump during earlier stages of his destructive Presidency—their justifications and rationales for working for a man whom many of them considered reckless and loathsome. They could make things better, they told themselves. They could stop bad things from happening. They would be replaced by people who would be far worse. There was always a measure of self-aggrandizing or self-justification. But there was also a measure of truth, as well.
There is little doubt that the situation in the White House after the 2020 election would have been different had John Kelly still been chief of staff, instead of Mark Meadows. Kelly might not have been able to persuade Trump to concede, or stop Rudy Giuliani, Sidney Powell, John Eastman, and the MyPillow guy from getting into the Oval Office and feeding Trump wild lies about crooked voting machines and foreign intrigues while urging the imposition of martial law—but it's hard not to think that Kelly would have thrown his body on the grenade in trying.
Not Meadows the Matador. In December of 2020, he e-mailed an "Italygate" conspiracy theory to the Justice Department, suggesting an investigation. The acting Deputy Attorney General called the bizarre claim—that an Italian defense company and an officer at the U.S. Embassy in Rome used satellites to help Biden steal the election—"pure insanity." Meadows even flew to Georgia and met personally with the Deputy Secretary of State, in a bid to flip the state's results. This was not, needless to say, the action of a responsible White House chief of staff. The evidence that Meadows himself provided to the January 6th committee shows that he was focussed on sending fake electors to Congress as early as November 7th, not long after Trump falsely claimed, "Frankly, we did win this election," and set the whole tragic farce in motion.
On the morning of January 6th, Trump's son Don, Jr., filmed a short video of the President's family and inner circle in a V.I.P. tent at the rally at the Ellipse. Trump was about to go onstage and urge the crowd to march on the Capitol in order to stop the counting of the electors. The video shows Don, Jr.,'s girlfriend, Kimberly Guilfoyle, shimmying to the nineteen-eighties hit "Gloria," by Laura Branigan. The video then pans to Mark Meadows, who grins broadly. "An actual fighter," Don, Jr., says, of his father's chief of staff. "One of the few."
[Susan B. Glasser is a staff writer at The New Yorker, where she writes a weekly column on life in Washington. She co-wrote, with Peter Baker, "The Man Who Ran Washington."]
More on the January 6th Attack