As Jan 6. Committee Eyes Ginni Thomas' Role, Fresh Calls for Justice Thomas To Resign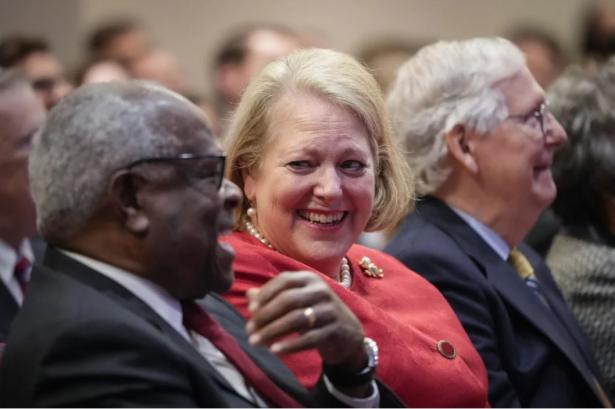 Associate Supreme Court Justice Clarence Thomas sits with his wife and conservative activist Virginia Thomas, next to Mitch McConnell, Minority Leader of the U.S. Senate, while he waits to speak at the Heritage Foundation, October 2021.,Photo: Drew Angerer // Slate
Progressive advocacy groups on Thursday intensified calls for U.S. Supreme Court Justice Clarence Thomas to resign or face impeachment after new reporting revealed that his wife, right-wing activist Ginni Thomas, corresponded with former President Donald Trump's attorney in the weeks between the 2020 election and the January 6, 2021 attack on the U.S. Capitol.
The Washington Post revealed that the House committee investigating the insurrection has received emails between Thomas and John Eastman that were sent around the time that the attorney pushed then-Vice President Mike Pence to block or delay the certification of the election results. 

Eastman also said in an email with Trump campaign officials on December 24, 2020 that he had information about a disagreement among the Supreme Court justices over whether to hear arguments pertaining to the former president's claims of election fraud.
The Post did not reveal exactly what the correspondence between Thomas and Eastman said, but two people involved in the committee's investigation said it showed "that Thomas's efforts to overturn the election were more extensive than previously known."
On Thursday, Rep. Bennie Thompson (D-Miss.), who chairs the January 6 committee, said the panel will "soon" ask Thomas to testify.
"We have discovered in those Eastman [emails] some information that refers to Ginni Thomas," Thompson said. "We think it's time that we, at some point, invite her to come talk to the committee."
Thomas has claimed that her work as a conservative activist is kept separate from her husband's Supreme Court work—for whom Eastman once served as a clerk.
With the news of the correspondence following earlier revelations about Thomas's push to overturn the election, however, Demand Justice issued a new call for Justice Thomas to be held accountable for what Rep. Adam Schiff (D-Calif.) called "a conflict of interest [that] just screams at you."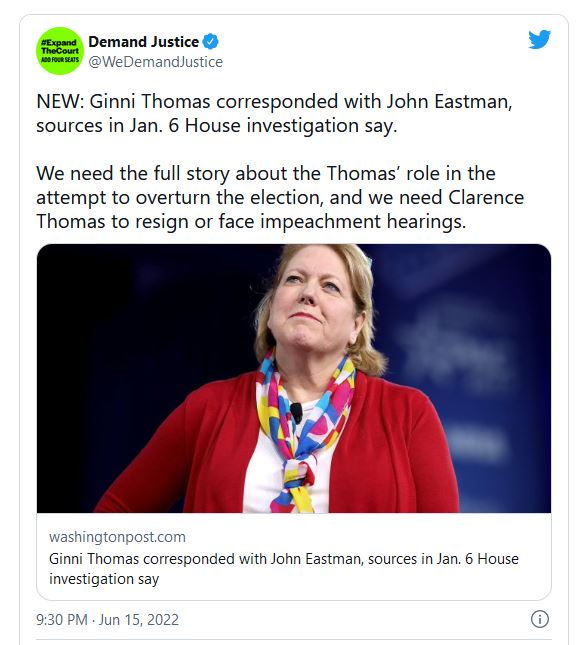 Demand Justice also released a poll Thursday revealing that a large majority of Americans backed an investigation into Justice Thomas "even before new reports showing Ginni Thomas may have leaked confidential information about the Supreme Court to a lawyer attempting to overturn the results of the election."
The poll, conducted by Hart Research Associates on behalf of the court reform group, found that 61% of respondents favored Congress opening an investigation.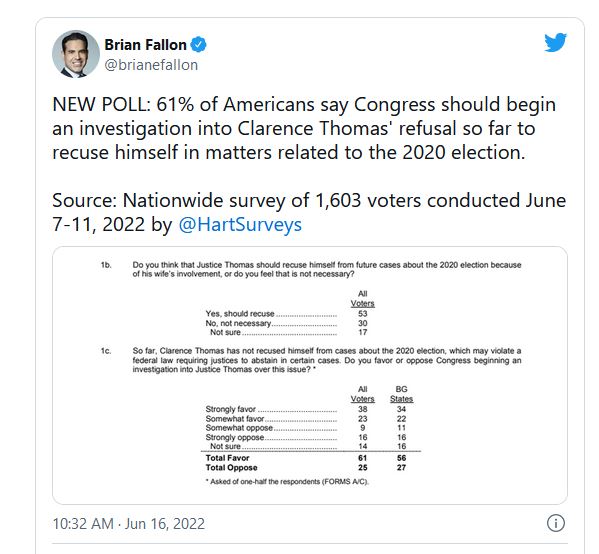 In addition to her correspondence with Eastman, Thomas wrote to at least 29 Arizona lawmakers after the election asking them to "choose" electors who would grant Trump a victory in the state and texted former White House Chief of Staff Mark Meadows dozens of times asking him to "save us from the left taking America down" by helping to reverse the election results.
Thomas has not recused himself from any cases in which his wife's activism could pose a conflict of interest and was the only justice to dissent when the high court rejected Trump's attempt to block the release of White House documents to the January 6 committee.
Democrats in Congress have demanded that Justice Thomas resign or face impeachment proceedings, but the party's leaders have not joined those calls.
It "feels like Democratic leaders are underestimating support for holding this court accountable," tweeted political strategist Sawyer Hackett.
[Julia Conley is a staff writer for Common Dreams.]
Licensed under Creative Commons (CC BY-NC-ND 3.0). Feel free to republish and share widely.