Dodger Stadium Concession Workers Threaten an All-Star Strike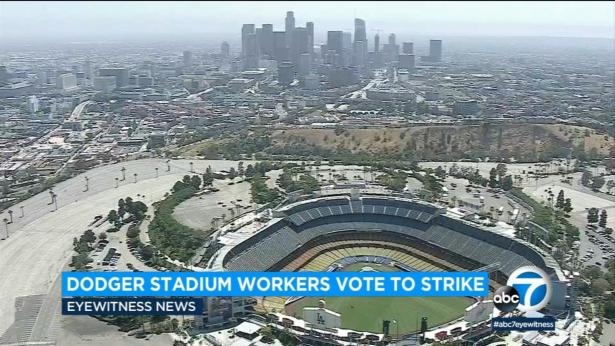 Dodger Stadium workers vote to authorize strike. A week before the All-Star Game at Dodger Stadium, UNITE HERE Local 11, the union representing concession workers at the ballpark has authorized a strike.,credit: ABC7 KABC, July 11, 2022
Among the owners of Major League Baseball's 30 teams, 24 are billionaires. For decades they have complained that labor costs — particularly players' salaries and pensions, but also the stadium workers who park cars; sell hot dogs, beer, peanuts and T-shirts; clean the stadiums; show fans to their seats; and provide security — have undermined baseball's finances. Yet since 2011, the teams' average value has tripled — from $523 million ($680 million in today's dollars) to $2.1 billion.
Mark Walter, the founder and CEO of Guggenheim Partners, a Chicago-based investment company with over $310 billion in assets under management, has a personal net worth of $3.7 billion. In 2012, Walter and his partners purchased the Los Angeles Dodgers for $2.15 billion in cash — a record cash amount for any sports franchise. The team is now valued at $4.1 billion, according to Forbes magazine.
Walter is the chair of the Los Angeles Dodgers and co-owner with partners Peter Guber, Stan Kasten, Todd Boehly, Bobby Patton, Earvin "Magic" Johnson, Billie Jean King and her partner Ilana Kloss, Alan Smolinisky and Robert Plummer.

In 2014 Walter and several partners bought the WNBA's Los Angeles Sparks basketball team. They are also owners of the Los Angeles Lakers, and earlier this year bid to buy the English football club Chelsea. Walter, whose primary residence is a 26,000-square-foot mega-mansion in Chicago, also owns luxury homes in Aspen, Colorado, and Newport, Rhode Island, as well as an $85 million Malibu estate.
Meanwhile, Sabrina Macias, a concession worker at Dodger Stadium for 18 years who earns $23 an hour, is wondering if she can work enough hours to keep the health insurance that covers her daughter's dialysis treatments.
"Right now," Macias said, "I don't know how I'm going to put together enough hours from working at various venues to make sure I qualify for health insurance."
*   *   *
Macias and 1,500 of her fellow Dodger Stadium employees — including food servers, bartenders, suite attendants, cooks and dishwashers — have voted to strike on the eve of the Major League Baseball All-Star game at the stadium on Tuesday, July 19. While the labor battle is focused on Los Angeles — UNITE HERE Local 11 represents Dodger Stadium workers — the outcome of the negotiations will ripple throughout the country.
Like their counterparts at the other 29 Major League ballparks, most of the concession workers at Dodger Stadium are not employed directly by the team but instead by a subcontractor.
The contract is with Levy Restaurants, a $1.5 billion Chicago-based company that provides the food at Dodger Stadium and seven other MLB ballparks, as well as many other professional sporting arenas (including Crypto.com Arena, formerly Staples Center, in Los Angeles), entertainment venues, convention centers and tennis, golf and racing events throughout the country. Levy, in turn, is a subsidiary of the Compass Group, a UK-based corporation operating in 45 countries that made $21 billion in revenues and $962 million in profits last year. Employees like Macias, who are essentially "gig workers" moving from venue to venue to make ends meet, are trying to leverage the high-profile event to secure living wages and healthcare coverage that is more permanent.
When MLB shut down in March 2020 and imposed a Covid-shortened 60-game season after months of haggling with the players union over salaries and health provisions, Levy and other contractors laid off their stadium workers without much advance warning. Many who were lucky enough to have health insurance — and many did not — subsequently lost that as well.
After baseball resumed its full schedule last year, Levy and its counterparts hired back many laid-off workers, but only a small percentage of them work full-time. Most have second jobs or piece together hours by working various events at such venues as the Rose Bowl in Pasadena, Crypto.com Arena, and SoFi Stadium in Inglewood.
Like other big league teams, the Dodgers play only 81 games at home. So even workers who work all 81 games do not earn enough to make ends meet.
The concession workers at some of these venues are represented by a union, but others, like those employed at the Rose Bowl, are not. "Even though the same company [Levy] operates concessions at the Rose Bowl," Macias pointed out, "the hours I work there don't count toward my healthcare."
Frustrated by their pay and working conditions, 99% of the Dodger Stadium workers represented by UNITE HERE Local 11 voted to authorize a strike before the All-Star Game. (Disclosure: UNITE HERE is a financial supporter of Capital & Main.)
*   *   *
The union wants to win the same benefits and wages as workers at SoFi Stadium, the home of the Los Angeles Rams and many concerts and other events. The workers at SoFi are employed by the concessionaire Legends and have a union contract. They accrue hours for their health insurance not only in other union venues (such as Banc of California Stadium, Memorial Coliseum and Angel Stadium in Anaheim), but also in Legends-operated venues that are non-union. Some concession workers at SoFi Stadium will make $30 an hour at the end of their current contract, which Local 11 negotiated in 2020.
The healthcare and wage increases that Local 11 won in its negotiations with Legends are a major victory for concession workers, advances that union spokesperson Maria Hernandez called "life changing."
The Major League Baseball Players Association, which represents the athletes who are participating in the All-Star Game, said in a statement that it "stands in solidarity" with the Dodger Stadium concession workers.
"Like thousands of ballpark workers across the country, Local 11's members are a vital yet underappreciated part of what makes our game great," the players union said. "They deserve to be treated fairly and will continue to have the 1,200 members of the MLBPA behind them."
"Stadium workers are proud of the role they play to bring fans the best game experience possible," said Local 11 co-president Susan Minato. "They are the backbone of our tourism and sports industry, yet many struggle to stay housed and to make ends meet."
Macias hopes that a new contract will help low-wage workers everywhere. "Los Angeles is a city of vast inequality," Macias said, pointing to the wealth of the Dodgers' owners. "Some of the people I work with sleep in their cars," Macias added. "That's just not right."
[Peter Dreier is a professor of politics at Occidental College. His most recent book is The 100 Greatest Americans of the 20th Century: A Social Justice Hall of Fame. Kelly Candaele, a union organizer for 15 years, produced the documentary film A League of Their Own about his mother's years in the All-American Girls Professional Baseball League.]
Thanks to the authors for sending this to Portside.
Reprinted with permission of the publisher. Copyright 2022 Capital & Main