Tidbits – Aug. 4, 2022 – Reader Comments, Kansas Vote Invigorates Abortion Rights, All Rights; Ukraine and the Peace Movement; Comics; Union Workers Win 17% Raise at Alaska Airlines; Cartoons, Resources, Announcements More…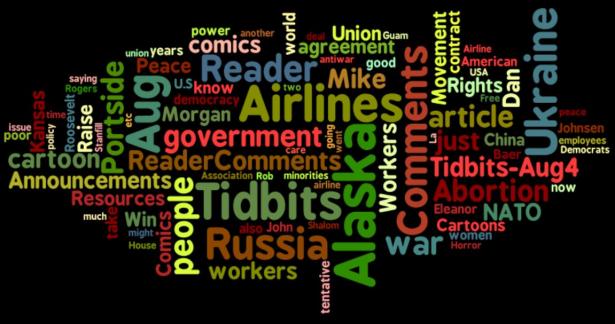 Tidbits - Reader Comments, Shorts, AND cartoons - Aug. 4, 2022,Portside
Resources:
Re: Abortion Decision Demands Disruption
 
Well done, Kansas.
Roberta Schine
Posted on Portside's Facebook page
The Red Wave  --  cartoon by Mike Luckovich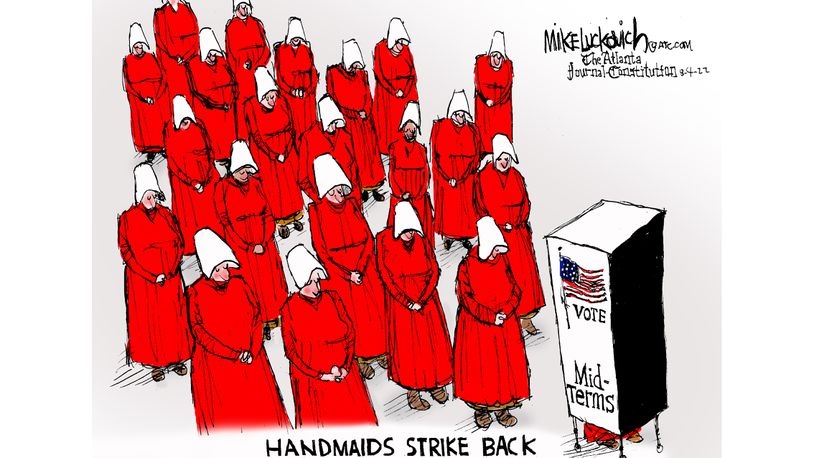 Mike Luckovich
August 4, 2022
Atlanta Journal-Constitution
Re: How the Fight To Ban Abortion Is Rooted in the 'Great Replacement' Theory
 
This is irrational as many Hispanic and African Americans will arguably suffer from the antiabortion laws more than white women . Demographics clearly show that privileged white women can now (and have also historically) been able to access abortions more than minorities . All this means is that abortion is not accessible if you are poor. I see their actions as a way to keep all women and the minorities in particular poor and oppressed . Don't want those poor minorities getting ahead in society now do they?
Eileen Oxendale
Posted on Portside's Facebook page
Re: The Nazification of American Education
DeSantis is the most dangerous man in America. He doesn't have Trump's baggage and he is far smarter than Trump will ever be. If he is elected President in 2024, our democracy is doomed!
David Benton
Posted on Portside's Facebook page
Re: To Avert Election Disaster, Democrats Need To Run a Fiercely Pro-Worker Campaign
 
Agreed, but the Democrats stopped being pro-worker after FDR died. Get rid of the third-wayers, the Blue Dogs, the Clintonites, and the rest of that bunch first.
Eleanor 
Posted on Portside's Facebook page
Secret Service  --  cartoon by Rob Rogers
Rob Rogers
July 27, 2022
robrogers.com
Re: Rebuilding Collective Intelligence
 
Yes, build towards a new deal for people AND planet, otherwise the former will fail.
Eric Arnould
Posted on Portside's Facebook page
Re: Guam: The Sharpening of the Spear's Tip
 
Guam is our staging area for war on China. Never mind what the inhabitants want.
Jennifer Nouri
Posted on Portside's Facebook page
Re: Pelosi Visit to Taiwan Will Increase Tensions Between US and China, Experts Say
 
If the American people were not for the most part  paying attention to this dangerous charade aside from the daily task of trying to live paycheck to paycheck including the use of a multiple credit cards, they might realize just how their demented, most certainly corrupt  gov't is behaving. Anyone sane watching the behavior of the USA these days must most surely be shaking a head in dismay. Imagine  going out of your way for no good reason to poke a super power in the eye and just for good measure, take a pee on their shoes. And this is (not) some dingbat from some hopelessly lost third world American state but the Speaker of the House from San Francisco. Most would shudder, I can't help but laugh. You scary morons! Get on your knees and thank the stars that  the Chinese government is  not as drunk and dangerously deluded as yours, 
Mike Liston
Re: Ukraine and the Peace Movement
 
"Russia out now" is not an antiwar or peace slogan for the U.S.  It is a slogan for fighting the war with Russia. That is actually what the authors of this article argue for - to arm Ukraine in its war with Russia.  While Russia's invasion of Ukraine needs to be denounced, the U.S. proxy war with Russia needs to also be denounced.  That would be a true antiwar position instead of this pro-war statement masquerading as an antiwar statement.
Jonathan Nack
      =====
I was stunned by Portside's publication of the viciously rightwing article which attempts to undermine or debunk everything progressive people have been saying about what is happening in Ukraine and why. For the first time I am not widely sharing your issue to all of my lists and online posts, feeling that you could have called this issue "Starboard" instead of "Portside".
While I think it is worthwhile knowing what the rightwing is thinking and saying, I don't believe that is the case when you put their arguments forth as just another article rather than point out their insidious attempt to oppose everything progressive people (and publications)have been saying. I hope you will be publishing sharp responses to this article.
Karen Lee Wald
      =====
Briefly, ignoring the context of the Gehlen Organization ,  the Maidan Coup and its CIA fascist character , defacto NATO relations, the Minsk Accords, the plans to invade Donbas with NATO support, is dangerous. NATO and Russia out
Ken Parks
      =====
How about NATO out ! or Oppose US Imperialism ! Russia out doesn't deal with the root cause of the coming world war. Its US imperialism ,NATO, etc which are the threats to world peace.
Bernard Sampson
Posted on Portside's Facebook page
      =====
Full of wilful ignorance - no mention of extreme right-wing nationalism, leading to fear and opposition among Russian speakers. No mention then, of long lines to get Russian passports in the East of Ukraine, and support for the return of Crimea to Russia. Above all, no regard for the USA's aim to try and regain world dominance and crush any opposition or competition.
Dan 
Posted on Portside's Facebook page
      =====
I write in response to an article by Stephen Shalom and Dan La Botz from "Foreign Policy in Focus" that Portside reprinted. The article is entitled "Ukraine and the Peace Movement" with the subheading: "It is urgent to end the war in Ukraine. But to achieve this goal, "Russia Out New" is a better slogan than "Diplomacy Now."
With this article, Shalom and La Botz have proven their respectability. I am jealous. I've wanted to agree with my government's foreign policy all my adult life (1962 - ). It would feel so good to be "accepted" by the powerful…to come in from the cold. But I can't—I know, down to the depths of my soul, that the US government and the billionaires who control both the government and the media are liars and low-lives and hypocrites to their core. All they care about is protecting their profits and their power. It isn't that they don't care about democracy; they oppose people's power because real democracy would reduce their power and profits.
I know that I receive distorted and fake news from our monopoly-owned press. That is why I also read the news presented by the enemies of my government: Cuba, China, Iran, South Africa, Venezuela, Russia, etc. If I read many sides, I'll be better able to discern the truth.
Please, someone, tell me a time in your lifetime when the US intervened in another country to actually help the people. I know that every time our government trumpets its intentions to "defend democracy" or "oppose a dictatorship," the results are the same: right-wing, fascistic brutality; inciting racial and religious schisms; breaking unions; destroying public health care systems; privatizing natural resources, etc.
I deeply admire and respect the Cuban government. When it says NATO wanted war with Russia and provoked the Russia vs. Ukraine/NATO war, I believe it. I also respect the South African government, whose president Ramaphosa recently wrote: "The war could have been avoided if NATO had heeded the warnings from amongst its own leaders and officials over the years that its eastward expansion would lead to greater, not less, instability in the region." And, "There are those who are insisting that we should take a very adversarial stance against Russia," Ramaphosa added. "The approach we are going to take [instead] is … insisting that there should be dialogue."
I'll take my leadership on imperialism's actions from the Cuban and South African and other developing countries, including China, who know much more about the real world and imperialist aggression than Shalom and La Botz do.
Joe Harris
Power Flower  --  cartoon by Mike Stanfill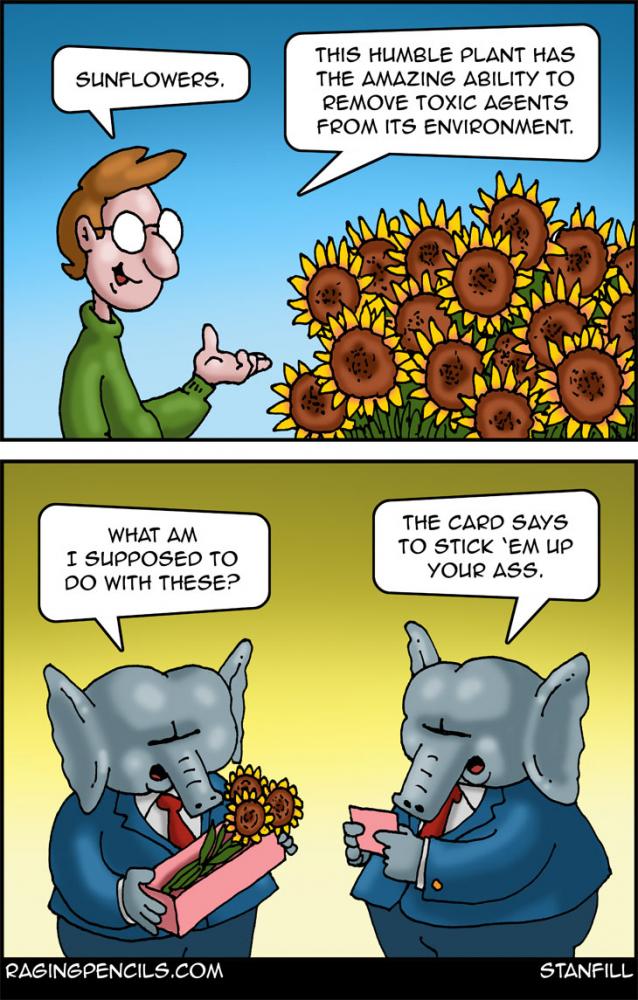 Mike Stanfill
July 28, 2022
Raging Pencils
Re: Gun-Makers Made Over $1.7 Billion in Assault Weapon Sales in Past Decade: House Probe
 
It's not surprising. Outside of traditional long guns used for hunting the entire industry is built on stoking feelings of fear and paranoia to drive sales.
Robert Laite
Posted on Portside's Facebook page
Re: Lev Gleason: Crime Comics' Communist Czar
 
"Friday" wasn't so much a tabloid newspaper as it was a slick picture magazine that went straight for the market dominated by Life and Look. There was nothing timorous or subtle about it, either -- it went straight for the jugular in going after people like Henry Ford, Lindbergh, Hamilton Fish, the National Association of Manufacturers, and other fascist-leaning forces in public life. While it did follow the CPUSA's 1940-41 line deeming the war in Europe an imperialist conflict, it was consistently and forcefully anti-Hitler thru out its run. It received no support at all, however, from advertisers -- and distributors were generally unwilling to carry or promote it.
Eleanor Roosevelt
Posted on Portside's Facebook page
      =====
A not very scientific analysis. The campaign in Britain (and, I imagine in other places) was not against 'comics'. It was against the gratuitous violence in Horror Comics which, as referred to in the article, brutalized young people. The development of this kind of 'culture' just may have something to do with the abnormal number of violent deaths in the USA compared with many other countries.
Dan Morgan
Posted on Portside's Facebook page
      =====
Or not. Horror comics were brilliantly lurid and sometimes, luridly brilliant. A diet of Father Knows Best drove millions of kids to seek refuge in comics, and the artists who provided the gore and black humor were doing god's work for us.
Ethan Young
Posted on Portside's Facebook page
      =====
kids consume comics of whatever culture they find themselves in. If you could just compare US Horror comics, and all US comics, with those in other cultures, you just might find a trend that just might have something to do with the individualist violence that is killing people in High Schools and Malls in the USA every week now.
Dan Morgan
Posted on Portside's Facebook page
Free Enterprise or "Socialism"  --  John Baer cartoon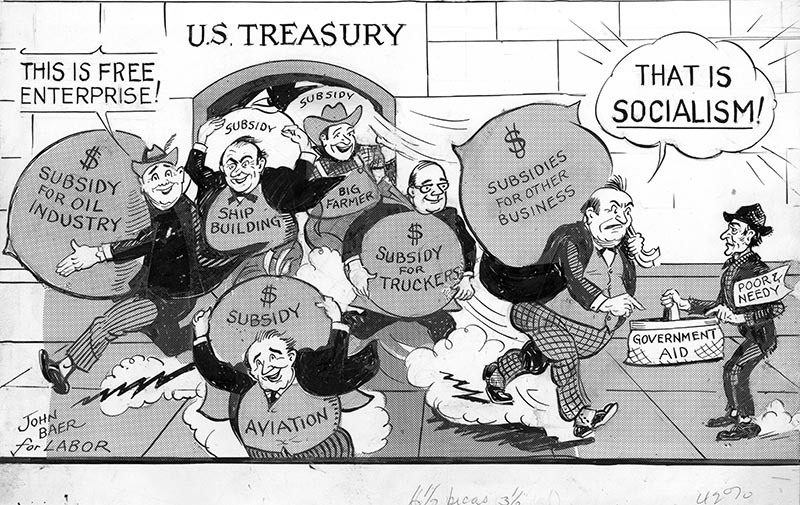 Free enterprise or socialism? Artist John Miller Baer depicts big farmers and the oil, aviation, trucking, and ship building industries collecting subsidies from the US Treasury as part of free enterprise, while the same businessmen decry government aid to the poor and needy as socialism. From the Kheel Center collection of John Baer Cartoons, date unknown, 5693gb10f001_29.
Kheel Center for Labor-Management Documentation and Archives, Cornell University Library
Collection Number:  5693 G
Creator:  Labor Magazine:  Baer, John
Re: Elvis: A Study in Talent Mis-Management
 
A good article.
Thanks for acknowledging Jesse Winchester, who deserves greater recognition.
Gil Leib
By Kavitha George
July 29, 2022
Alaska Public Media - Anchorage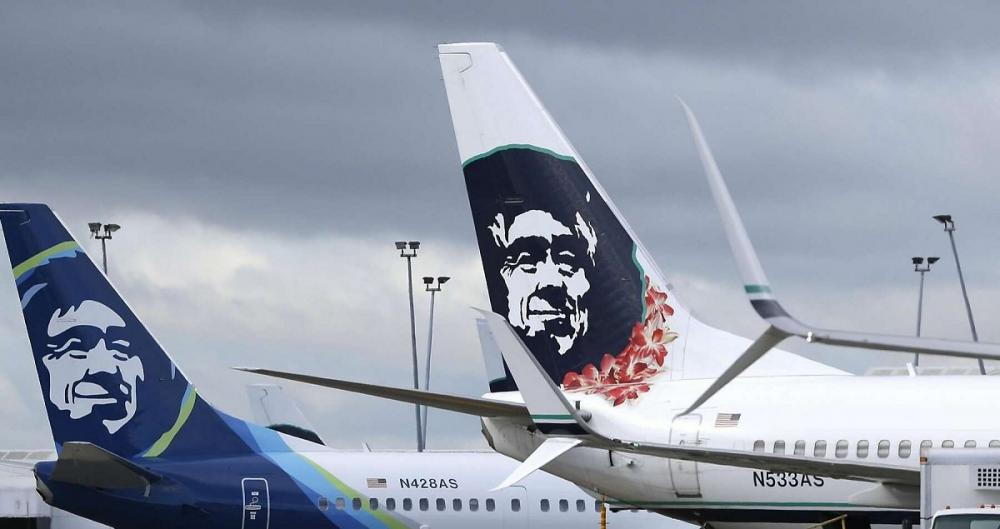 The International Association of Machinists and Aerospace Workers recently negotiated a tentative agreement for Alaska Airlines customer service agents, cargo workers and other employees. Leadership say it would make them the highest paid airline employees in their category in the industry. 
Johnsen is general vice president of Air Transport for IAMAW. He and other union leaders have been making the rounds to check in with members and answer questions about the tentative agreement. On Thursday they met with Anchorage-based workers, following stops in Juneau and Fairbanks. 
The union represents around 5,300 Alaska Airlines reservations and customer service agents, and ramp workers — the people you see sorting baggage and guiding planes on the tarmac. About 900 of those workers are spread out across Alaska.
Their current contract wasn't set to expire for another two years, but Johnsen said both the union and Alaska Airlines were motivated to get to the negotiating table last month to address industry-wide staffing struggles. 
"And so we went into that process and we got a contract extension in two weeks, which under normal circumstances, seems to take two to three years," he said.
The tentative agreement would raise base wages as much as 17.4% starting next month, with more scheduled raises down the line. It includes job security clauses, as well as longevity pay increases. Benefits would stay the same. 
Johnsen said recent staff shortages have caused a "crisis" for airline workers, from burnout and forced overtime to higher injury rates and having to deal with frustrated, unruly passengers. Johnsen hopes higher wages will help attract more workers and push other airlines to address the issue as well.
"It raises the bar," he said. "Everybody has been put on notice. And they know it."
Christopher Smith is a ramp worker in Anchorage who's been with Alaska Airlines for 26 years. He said after a lot of pandemic uncertainty, he's happy with the proposed contract agreement. 
"Layoffs, early outs — this whole period has just been so up in the air and questionable. So it's nice to get some clarity for us, and something that's stable," Smith said.
Smith added that he's already voted yes on the agreement.
Alaska Airlines spokesperson Tim Thompson said in an email the company is "thrilled to make a meaningful investment" in its employees. 
Voting for the tentative agreement ends August 2. If it is approved, the new contract will go into effect August 10. 
Meanwhile, Alaska Airlines pilots are still negotiating a contract with the airline after voting to authorize a strike in May, according to a spokesperson from the Air Line Pilots Association.