labor
Kaiser Strike Begins: California Behavioral Health Staff Walk Out Over Pay, Workload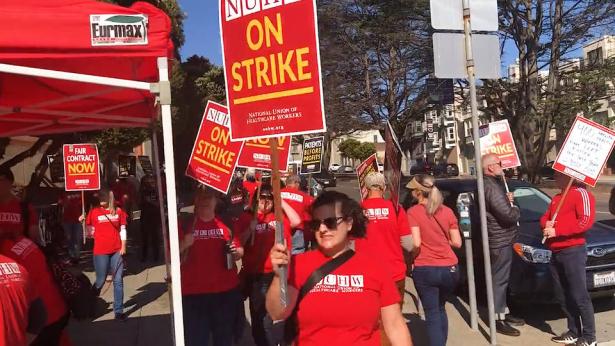 Striking members of the National Union of Healthcare Workers who work for Kaiser Permanente in California picket on Monday. ,National Union of Healthcare Workers
Early Monday morning, hundreds of mental health clinicians kicked off what they predicted could be a lengthy strike against Kaiser Permanente, setting up picket lines at the Sacramento Medical Center on Morse Avenue and other hospitals around Northern California.
These workers, all members of the National Union of Healthcare Workers, say Kaiser is not leaving them enough time outside direct sessions with patients to do the work needed to assess a patient's condition and find the resources needed to assist them.
Clinicians are leaving the company because of burnout, they say, and patients are consequently having to wait as long as three months to get regular weekly or bi-weekly appointments after an initial intake session.

Kenneth Rogers, a Kaiser psychologist and union representative, said members in his unit were so fed up that they came to him and told him they would get no where without a strike.
"What's really different about this time, versus the last strike versus all the other strikes is that this is really meant to be the final time. We don't want to be out here again," said Kenneth Rogers, a Kaiser psychologist who serves on the bargaining team. "What's going to help with hiring is changing our relationship with the employer. This ... is a way to get maybe to that point, but ultimately, who wants to work in a company that is constantly on strike, where there's constantly a labor issue, where there's constantly not enough access to care?"
Deb Catsavas, senior vice president of human resources at Kaiser Permanente Northern California, said two key issues have been the subject of negotiation: wage increases and the union's demand to increase the time therapists spend on tasks other than seeing patients.
"The primary role — and essential need — for our therapists is to provide mental health care and treat our patients," Catsavas said. "The remaining issue being negotiated with NUHW is the amount of time therapists spend on administrative tasks such as documentation, planning and other office activities rather than directly treating patients."
As an example, Catsavas said, therapists work a 40-hour week under the current collective bargaining agreement, seeing patients for 34 hours doing administrative tasks for six hours.
"We have proposed increasing the time for administrative tasks in this example to 7.2 hours, leaving 32.8 hours to see patients, Catsavas said. "The union is demanding nine hours for administrative work, which would leave only 31 hours to see patients."
KAISER SEES INCREASE IN DEMAND
Rogers said he's heard news reports where Catsavas and other company executives refer to this as administrative duties. That only shows, he said, that they have no idea what their mental health clinicians are doing. The time that Catsavas considers "administrative," he said, is actually an integral part of patient care that benefits the company, patients and any providers the patient may need in future.
"The way that they're treating us," Rogers said, "it's like the only real care is when we're face to face with a patient. That would be like only paying a surgeon when they use the knife or only paying a journalist when the recorder is on. Our jobs are comprehensive. Everything we do is because there are things we've been required to do that relate to patient care — everything."
Catsavas of Kaiser said the union is actually exploiting current challenges as a bargaining tactic. The company has experienced a 30% increase in demand for these services, she noted. "This strike is an unnecessary tactic to increase the union's leverage at the bargaining table making it harder, not easier, to deliver mental health care," Catsavas said.
LONG WAITS FOR MENTAL HEALTH VISITS
Kaiser clinicians have provided internal documents showing that Kaiser members are waiting as long as three months for follow-up visits. A law that went into effect in July requires health plans to provide follow-up visits within 10 business days of an intake visit if a therapist recommends it.
In May, regulators in the California Department of Managed Health Care announced that they had launched an investigation into Kaiser's behavioral health services after document a 20% increase in patient complaints. On Monday, that same department sent a news release to media to stress that it is continuing to monitor access to services for Kaiser members, especially those who may be affected by the strike.
"Ensuring California health plans provide timely access to care is a top priority for the DMHC," said the agency's director, Mary Watanabe. "The law requires health plans provide enrollees with medically necessary care within timely access and clinical standards at all times, which includes during an employee strike."
Watanabe noted that Kaiser enrollees experiencing issues with access to care can go directly to Kaiser for assistance or contact the DMHC Help Center at (888) 466-2219 or www.HealthHelp.ca.gov.