Tidbits – Aug. 25, 2022 – Reader Comments: Trumpism; Teaching, History, White Privilege; Labor Films; Resources: Inflation Reduction Act; Long COVID; Who Got Rich off Student Debt Crisis; Letelier-Moffitt Human Rights Awards; Cartoons, More…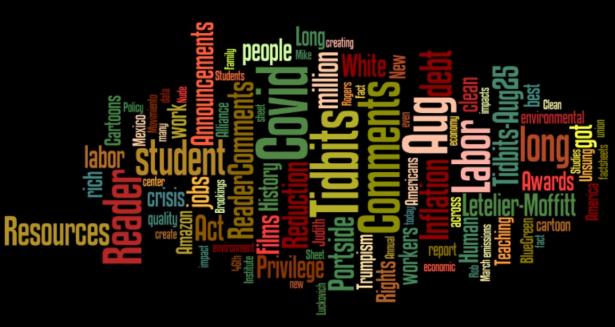 Tidbits - Reader Comments, Resources, Announcements, AND cartoons - Aug. 25, 2022,Portside
Resources:
Announcements:
Dictionary Definition of Trumpery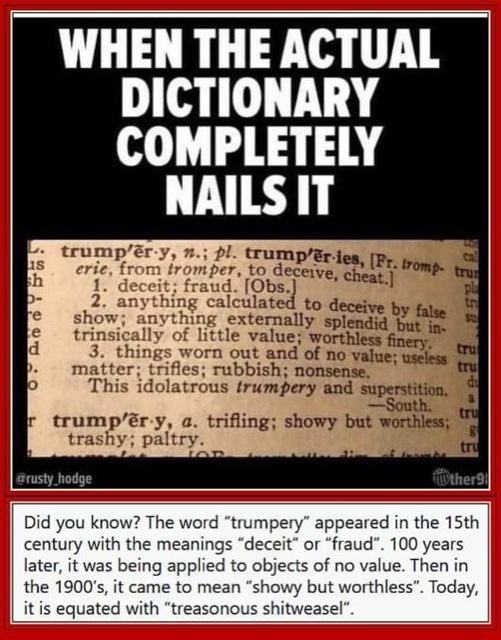 Re: The March Towards Us Fascism Began With the Corporate Hijacking of Democracy
 
If people understood that fascism is the corporate takeover of govt, maybe we would praise the power of govt to work harder as a regulator of corporate power. Neoliberalism is the enemy.
Jennifer Nouri
Posted on Portside's Facebook page
Declassified indeed  --  cartoon by Mike Luckovich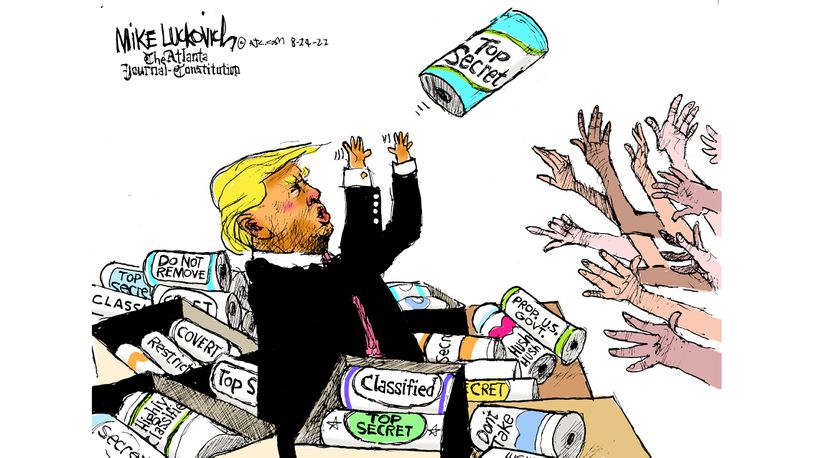 Mike Luckovich
August 24, 2022
Atlanta Journal-Constitution
Re: Israel Raids Offices of 7 Palestinian Organizations
 
creating the protestors they will call terrorists for generations to come
Judith Halprin
Posted on Portside's Facebook page
Re: Independent Unions Can Help Break Through the Economic Crisis and Labor's Paralysis
(posting on Portside Labor)
 
But before they could do that, they needed a sharpened sense of class consciousness, not bourgeois false consciousness.
Eleanor Roosevelt
Posted on Portside's Facebook page
Re: I Taught My 4th Grade Class About White Privilege and Their Response Was Eye-Opening
 
"… Students learned about the Greensboro Four, Bloody Sunday and the Birmingham Children's March during our study of the civil rights movement. They empathized with Ruby Bridges and drew inspiration from the Little Rock Nine. They compared old photos of segregated Black and white schools, wondering how anyone could claim they were "separate, but equal." Students even tackled the Louisiana literacy test, which was given to would-be Black voters in the 1960s. Every student failed. The ensuing conversation led them to draw parallels between past and present, comparing literacy tests and poll taxes to current voter-ID laws and the disenfranchisement of people convicted of felonies in certain states.…"
George Lessard
Posted on Portside's Facebook page
Re: Russia-Ukraine: Five Lessons From the 19th-Century Crimean War
 
Europe would be under the rule of the Reich if Russians didn't stop the Nazis. America had a lot of Nazi sympathizers and pearl harbor was the only reason they acted. If Russia wasn't there, the US would've probably gone to talks with the Nazis rather than the world seeing the complete dismantling of the Axis powers.
SB Loveless
Posted on Portside's Facebook page
      =====
"Russia's best war", was it? I would say it was usofa's best war, carried, sponsored and kept far from its territories, the perfect scenario pentagon is repeating over and over again using its stooges implemented in many so called 'governments' and Ukrainian neonazis with Zelensky are the best examples how that works, who makes money on it and who pays the price.
Phetrus Xavhad
Posted on Portside's Facebook page
Liz Cheney  --  cartoon by Rob Rogers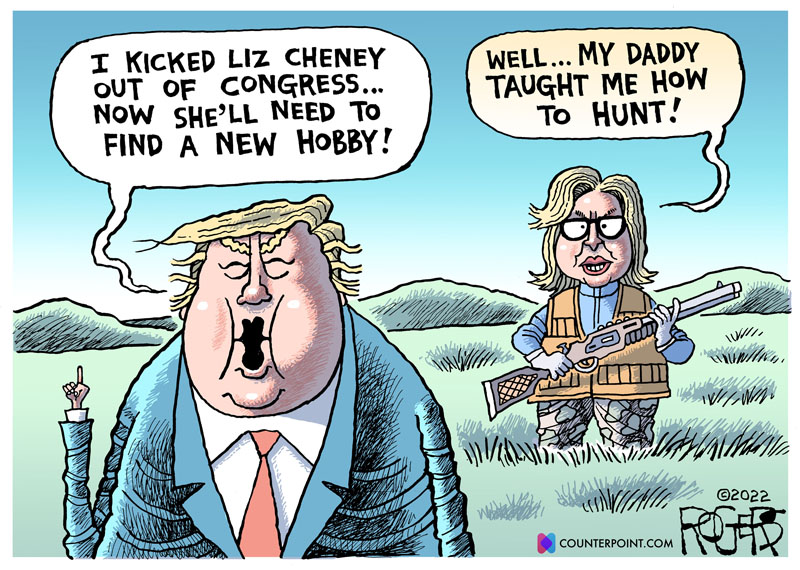 Rob Rogers
August 22, 2022
robrogers.com
Re: 5 Unsung Films That Dramatize America's Rich Labor History
 
Matewan.
Jean Brown
Posted on Portside's Facebook page
Re: 5 Unsung Movies and "The Family Nude"
 
This is probably stupid and maybe ungrateful, but I think you never collected my mini-epic of American left-wing life across six decades, "The Family Nude," .Given the subject matter,  I'd have thought it belonged on Portside even more than did my anti-Zionism pieces, "Nine Stops on a Long Road," which you did collect and the poem "Goliath" along with a comment on an earlier piece about Salt of the Earth noting the movie's staggering beauty.
Am I wrong? Did you post the story, and did I just miss it? And if not, is it too late to get it in?
best in any case—you folks do great work,
Judith Mahoney Pasternak
New factsheets on the Inflation Reduction Act (BlueGreen Alliance)

If you're looking for further analysis of the investments in the Inflation Reduction Act, here are three new factsheets from BlueGreen Alliance that might be of use:
Clean Manufacturing Fact Sheet: This fact sheet offers a synopsis of the IRA's investments to expand clean energy manufacturing, transform the industrial sector to reduce emissions, and decouple climate action from dependency on exploitative imports.
Clean Energy Tax Credit Fact Sheet: This fact sheet describes the IRA's new and expanded tax credits for clean energy and the likely impacts for reducing emissions and creating high-quality jobs.
Clean Vehicles Fact Sheet: This fact sheet details the IRA's clean vehicle policies and the implications for cutting emissions, creating good jobs, and supporting mobility and air quality in our neighborhoods.
The BlueGreen Alliance unites labor unions and environmental organizations to solve today's environmental challenges in ways that create and maintain quality jobs and build a clean, thriving, and equitable economy.
We are guided by the principle that we can no longer choose between good jobs and a clean environment—that the actions we take to create quality jobs and to protect working people and the environment must go hand-in-hand, and that together, we will build clean, thriving and fair economy.
Our efforts center on the immediate need to develop commonsense solutions that protect the environment and create and maintain quality, family-sustaining jobs across the economy. Our staff and supporters:
design public policies, perform research, and run public education and advocacy campaigns to advocate for practical solutions;
facilitate dialogue between environmentalists, union members and other stakeholders;
and educate America's labor union members and environmentalists about the economic and environmental impacts of climate change and the job-creating opportunities of environmental protections.
info@bluegreenalliance.org
https://www.bluegreenalliance.org/
New data shows long Covid is keeping as many as 4 million people out of work (The Brookings Institution)
By Katie Bach 
August 24, 2022
Brookings
 
Since the depths of the COVID-19 pandemic through today, news about labor shortages and missing workers has dominated headlines. The question everyone still seems to be asking is: Why? 
In January 2022, Brookings Metro published a report that assessed the impact of long Covid on the labor market. Data on the condition's prevalence was limited, so the report used various studies to make a conservative estimate: 1.6 million full-time equivalent workers could be out of work due to long Covid. With 10.6 million unfilled jobs at the time, long Covid potentially accounted for 15% of the labor shortage. 
This June, the Census Bureau finally added four questions about long Covid to its Household Pulse Survey (HPS), giving researchers a better understanding of the condition's prevalence. This report uses the new data to assess the labor market impact and economic burden of long Covid, and finds that: 
Around 16 million working-age Americans (those aged 18 to 65) have long Covid today. 
Of those, 2 to 4 million are out of work due to long Covid. 
The annual cost of those lost wages alone is around $170 billion a year (and potentially as high as $230 billion). 
AROUND 16 MILLION WORKING-AGE AMERICANS LIKELY HAVE LONG COVID TODAY 
The Census Bureau's June to July 2022 HPS survey found that 16.3 million people (around 8%) of working-age Americans currently have long Covid.
Who got rich off the student debt crisis? (Reveal - Center for Investigative Reporting)
42 million people owe $1.3 trillion in student debt. It's a profit center for Wall Street and the government. Here's how we got into this mess.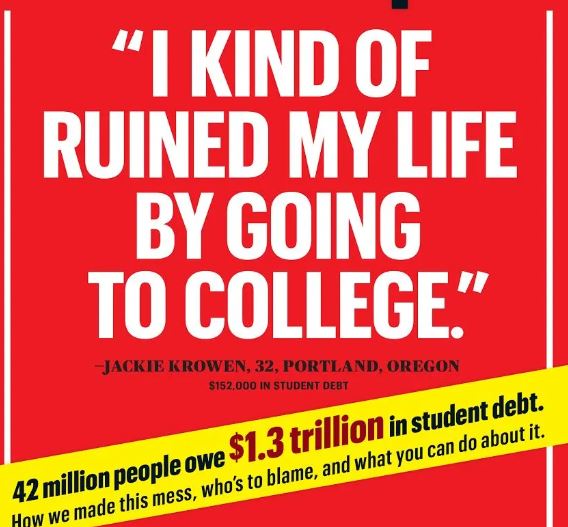 by James B. Steele and Lance Williams
June 28, 2016
Reveal
A generation ago, Congress privatized a student loan program intended to give more Americans access to higher education.
In its place, lawmakers created another profit center for Wall Street and a system of college finance that has fed the nation's cycle of inequality. Step by step, Congress has enacted one law after another to make student debt the worst kind of debt for Americans – and the best kind for banks and debt collectors.
Today, just about everyone involved in the student loan industry makes money off students – the banks, private investors, even the federal government.
Read the full report here (and this is from 2016 - six years ago!)
1400 65th St., Suite 200
Emeryville, CA 94608
510-809-3160
46th Annual Letelier-Moffitt Human Rights Awards - October 13 (Institute for Policy Studies)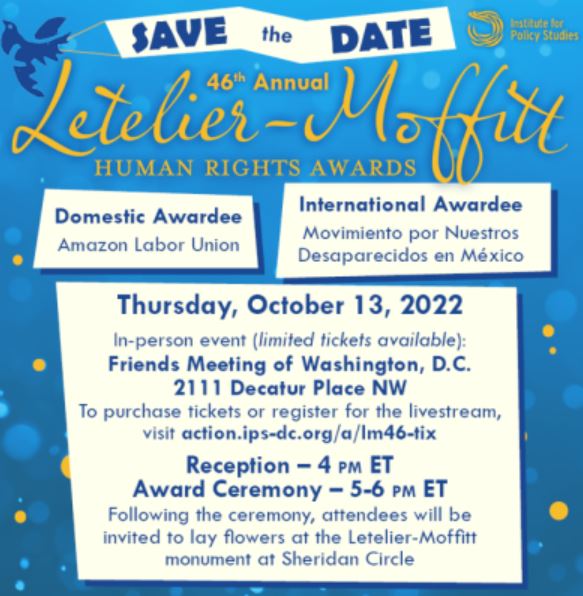 The 46th Annual Letelier-Moffitt Human Rights Awards will be held in-person on Thursday, October 13 at the Friends Meeting of Washington, DC located at 2111 Decatur Place NW Washington, DC 20008-1912. The event will start with a reception at 4:00 pm, followed by the awards ceremony at 5:00 pm. Following the ceremony, attendees will be invited to lay flowers at the Letelier-Moffitt monument at Sheridan Circle. Flowers will be provided. This year, we are hosting a hybrid event with an option to join us either in-person or virtually via live stream.
Domestic Awardee:
Amazon Labor Union – Officially formed on April 1, 2022 by the workers at the Amazon warehouse in Staten Island, New York, Amazon Labor Union is the first labor union exclusively representing Amazon workers. Through grassroots organizing catalyzed by the treatment of Amazon workers during the Covid-19 pandemic, the ALU achieved a landmark victory, showing what is possible for workers attempting to organize and collectively bargain.
International Awardee:
Movimiento por Nuestros Desaparecidos en Mexico – Beginning in 2015, the Movimiento por Nuestros Desaparecidos en Mexico is a movement of families across Mexico searching for truth and justice for their disappeared loved ones. Made up of over 80 groups from 24 Mexican states, the Movimiento has led extraordinary efforts to excavate mass graves across the country and pass the first piece of legislation in Mexico on the issue while facing drug cartels, corrupt officials, and an indifferent bureaucracy.
October 13 
4:00 pm - 7:00 pm
 
Friends Meeting of Washington, DC
2111 Decatur Place NW
Washington, DC 20008-1912
 
1301 Connecticut Avenue NW
Washington, DC 20036
202-234-9382