Chile Votes Overwhelmingly To Reject New, Progressive Constitution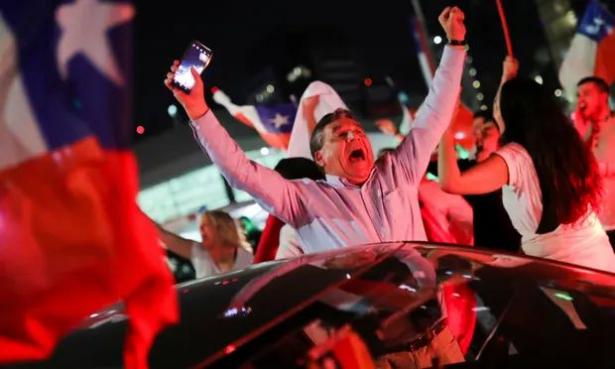 Campaigners opposed to the new constitution celebrate victory in Santiago, Chile.,Pablo Sanhueza/Reuters
Chileans have voted comprehensively against a new, progressive constitution that had been drafted to replace the 1980 document written under Gen Augusto Pinochet's dictatorship.
With 99.9% of the votes counted in Sunday's plebiscite, the rejection camp had 61.9% support compared with 38.1% for approval amid what appeared to be a heavy turnout with long lines at polling states. Voting was mandatory.
Senator Ximena Rincón, one of the leaders of the reject campaign, described the victory as "clear and emphatic", and called for a new constitutional convention to be convened.
The "approve" campaign has accepted defeat and the country's 36-year-old president, Gabriel Boric, has already called a meeting of party leaders for Monday morning at La Moneda, the presidential palace.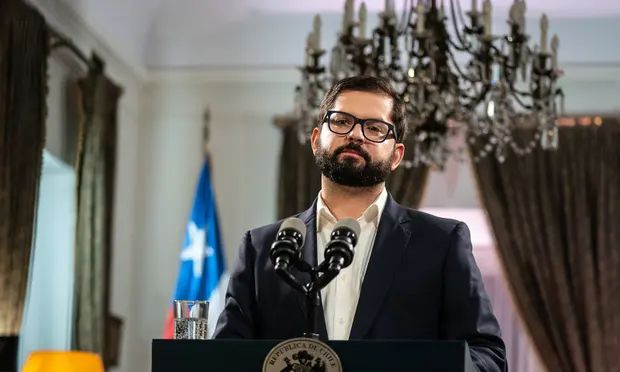 "I commit to put my all into building a new constitutional itinerary alongside congress and civil society," said Boric in a televised address to the nation, confirming that he would meet with the heads of political parties and both chambers of congresson Monday morning.
The 1980 document drawn up under Pinochet will now remain in force and Chile's future looks decidedly uncertain.
In 2020, an initial plebiscite saw nearly 80% of voters opt to draft a new constitution, but after an arduous year of negotiations, people appear to have expressed their dissatisfaction with the end product.
As results trickled in and the reject camp's lead grew, groups of jubilant reject supporters crowded street corners and filled squares up and down the country to celebrate their victory.
There were concerns that disgruntled approve supporters could stage a repeat of the 2019 demonstrations that started the constitutional reform process. But a crowd of no more than several hundred gathered in the main square in Santiago and they were quickly dispersed by police using water cannons and tear gas.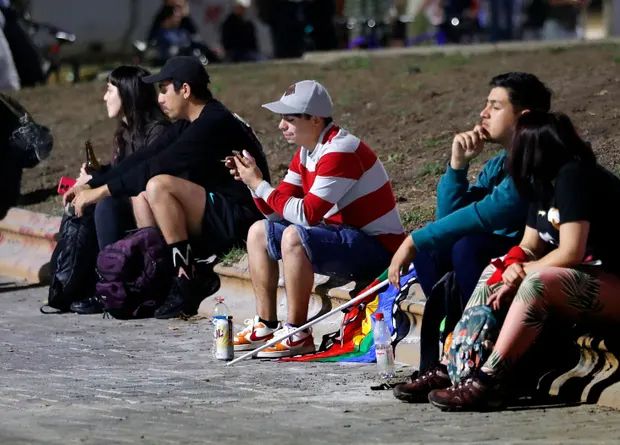 The proposed constitution included a long list of social rights and guarantees that had appeared to respond to the demands of that vast social movement.
It enshrined gender parity across government and other organs of the state – for the first time anywhere in the world – prioritised environmental protection and recognised Chile's Indigenous peoples for the first time in the country's history.
The decision to reject a constitution that guaranteed women's rights and gender parity was made 70 years to the day since women were first given the vote in Chile.
"This is a badly written constitution," said Carmen Fuentes, 61, who cast her vote in a wealthy north-eastern suburb of Santiago. "There's been a division in this country for a long time, and this plebiscite won't change that."
Many criticised the document's guarantees for Indigenous people, which they said would divide Chile. Others warned that the shakeup of the political system was unnecessary and experimental.
In the centre of the city, others were more optimistic that a change could be possible, citing the need to shed Chile of the Pinochet-era constitution and the model it enshrined, moving on to a more egalitarian, democratic future.
But that future now looks distant. Boric has expressed a willingness to repeat the constitutional process, but the basis for reform is still very much up for debate.
Some of the constitution's most prominent critics have mooted allowing congress to reform the 1980 document or including experts in a new process, but details were light from both sides, with neither willing to commit to a possible way forward.
---
I am John Bartlett, a British multimedia journalist covering the politics, cultures and histories of Latin America from Santiago, Chile.
My writing has been featured with The Guardian, The New York Times, The Economist, BBC News, The Times, The Washington Post, The Telegraph, Foreign Policy, Americas Quarterly, Thomson Reuters Foundation, PRI's The World, NBC Latino and PBS.
I have given live analysis and comment on television in both English and Spanish for CNN Chile, ChileVisión, France24, DW English, TRT World and i24News; on radio for KCBS, LBC, TalkRADIO, RTE, Global News Toronto and several regional outlets in Chile; and given podcast interviews including for AS/COA's Latin America in Focus.
I launched Miradas in July 2019, a podcast that focuses on the politics, current affairs and cultures of Latin America.
I have worked as an analyst of economic and political affairs in Latin America and beyond for the Economist Intelligence Unit, Oxford Business Group, Latin News, the International Institute for Strategic Studies and Critical Resource.
The Guardian has a small favour to ask. Tens of millions have placed their trust in the Guardian's fearless journalism since we started publishing 200 years ago, turning to us in moments of crisis, uncertainty, solidarity and hope. More than 1.5 million supporters, from 180 countries, now power us financially – keeping us open to all, and fiercely independent.
Unlike many others, the Guardian has no shareholders and no billionaire owner. Just the determination and passion to deliver high-impact global reporting, always free from commercial or political influence. Reporting like this is vital for democracy, for fairness and to demand better from the powerful.
And we provide all this for free, for everyone to read. We do this because we believe in information equality. Greater numbers of people can keep track of the events shaping our world, understand their impact on people and communities, and become inspired to take meaningful action. Millions can benefit from open access to quality, truthful news, regardless of their ability to pay for it.
Every contribution, however big or small, powers our journalism and sustains our future. Support the Guardian from as little as $1 – it only takes a minute. If you can, please consider supporting us with a regular amount each month. Thank you.