Dispatches From the Culture Wars – October 25, 2022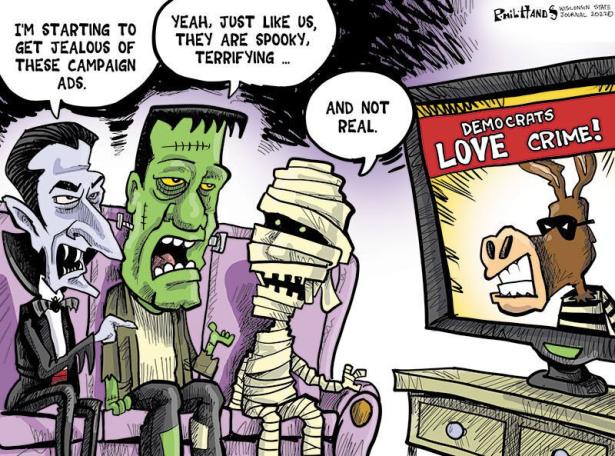 Credit, Phil Hands, Wisconsin State Journal
Maggie Haberman's Trump Exposé
By Deborah Friedell
London Review of Books
Haberman's Trump is a man who'll say whatever he thinks will get him through the next ten minutes. He has no sense of humour and can't be shamed. The best she can say about him is that he doesn't enjoy giving people bad news; he'd rather someone else do it. 
Democracy Anxieties
By Anthony DiMaggio
CounterPunch
The latest New York Times-Siena poll provides a window into the bizarre combination of national delusion and anxiety that permeates the United States in an era of rising neofascist politics. It's becoming more and more difficult for Americans to ignore the intensifying assault on electoral democracy.
Early Voting Blues
Anti-Woke Laws Enforce "Don't Say Gay"
By Jamie Hare
Rosa Luxemburg Stiftung - NYC Office
Anti-woke laws have targeted an apparently disparate array of societal issues, but they all seek to return the United States to an imagined 1950s, before social movements expanded the rights of Black people, women, queer people, and other minorities. These laws seek to restore the authority of white, cisgender, straight father figures in the face of challenges from the "woke mob."
Oakland Tenants Strike
By Zack Saber
Medium
Tenants who have been on rent strike since September 1 say they have been facing "harassment" while management said they hired guards due to "threats."
Local Prosecutors Take Center Stage
By David J. Toscana
Salon
The Supreme Court's effort to consign Roe v. Wade to the dustbin of history has opened yet another front in the culture wars, but this fissure engages new participants: locally elected prosecutors, some of whom argue that their decisions to decline abortion prosecutions are consistent with a long-established legal principle of "prosecutorial discretion."
A Win for Workers in West Hollywood
By Frances Nguyen
Prism
It's a modern retelling of David and Goliath, set against one of Hollywood's most iconic—and infamous—institutions: after years of reported abuse and corresponding attempts to organize, employees at the famed West Hollywood hotel Chateau Marmont, represented by trade organization Unite Here Local 11, reached an agreement with its management to allow them to unionize. 
Pirates in Workers' History
By Thom Dunn
Boing Boing
Under The Banner of King Death, a new graphic novel adaptation of Villains of All Nations: Atlantic Pirates in the Golden Age, a non-fiction pirate history book by acclaimed historian Marcus Rediker, smartly transforms a lesson on the class roots of piracy into a tightly-focused, character-driven adventure. 
#MeToo Movies
By Dana Stevens
Slate
The social change wrought by the ongoing #MeToo movement may not be as universal or far-reaching as those who support it might wish, but as attested by three new movies coming out this fall, it is profound. We now live in a world transformed by the simple act of women talking, which could be the title of any one of these thoughtful, artful, often wrenching films.
The People's Drag Queen
By Abby Zimet
Common Dreams
Lil Miss Hot Mess, a well-known drag queen, argues that drag invites a sense of wonder, activates creativity and play, and encourages children to challenge "traditional ways of thinking," so no wonder it's anathema to the right - and, clearly, Marco Rubio.