If the GOP Retakes the House, Blame New York's Bumbling, Democrats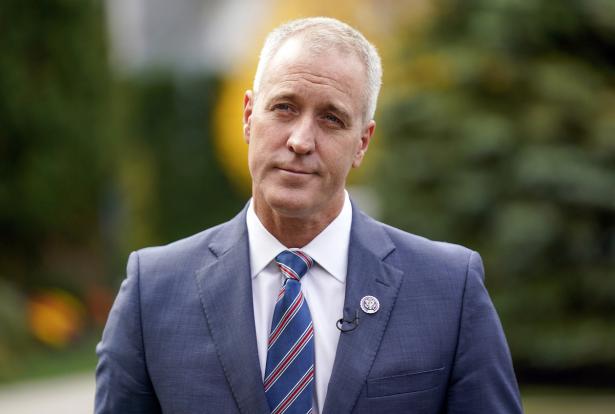 Democratic Congressional Campaign Committee Chair Representative Sean Patrick Maloney, in photo last month, lost election to MAGA Republican Mike Lawler.,(Seth Wenig/AP Photo // Politico)
For the third election cycle in a row, Democrats around the country woke up happy on Wednesday morning. The red wave that had been predicted to wash across the shores of this midterm election failed to materialize, and many of Trump's handpicked candidates fell across the country—Doug Mastriano and Dr. Mehmet Oz lost in Pennsylvania, Don Bolduc flopped in New Hampshire, and Herschel Walker failed to avoid a runoff in Georgia. But while pundits love appearing on Wednesday morning to announce that the elections were proof of some sort of referendum, there are always caveats to that blanket statement. And on the morning after an otherwise sweet election night, some Democrats woke up with a bitter taste in their mouths.
One jagged little pill came early in the evening on Tuesday. Florida's Governor Ron DeSantis and Senator Marco Rubio both carried wide margins and alerted political watchers to what should have been standard knowledge—Florida is no longer a swing state. But an even more worrisome result emerged as the dawn broke: While Democrats in New York could take some satisfaction in the fact that Trump-backed gubernatorial candidate Lee Zeldin shared the poor fortune of the former president's other faves in his loss to Democratic incumbent Kathy Hochul, the Empire State's Republicans outperformed expectations up and down the ballot. In a state where there are twice as many registered Democrats as Republicans, that shouldn't happen.
The most notable loss for Democrats came in the suburbs north of New York City, where DCCC Chairman Sean Patrick Maloney lost by a few thousand votes. Maloney's opponent, Mike Lawler, campaigned on crime and inflation—messaging strategies that the national GOP pushed hard but which resonated particularly outside of New York City. Maloney's loss shone a savage light on the Democrats' struggle to redraw their district maps to claim the same sort of partisan advantage that Republicans have taken in recent years.

The powerful Democrat somehow managed to end up as both the biggest victim and the biggest villain of the redistricting snafu. Rather than run for the seat he represented for five terms, he instead switched to another district after New York Democrats' deep blue congressional map was thrown out by New York's highest court. Maloney reportedly warned his party at the time that the new Republican-leaning map portended "an extinction-level event" for Democrats, but he only aided in the calamity by jumping into a new district, pushing out Mondaire Jones—a popular Democratic incumbent—and then failing to win.
Maloney's travails are but a slice of the carnage that Democrats endured as a result of the redistricting chaos. The final map was drawn by a Carnegie Mellon postdoctoral fellow named Jonathan Cervas, who was appointed as a special master by the state's Supreme Court. What Cervas produced was immediately viewed as disastrous for Democrats and set the stage for an intense round of unexpected party infighting, as top Democrats—House Judiciary Chair Jerry Nadler and Oversight Chair Carolyn Maloney—were pitted against each other in a primary election. (Nadler prevailed.) Former New York Congressman Steve Israel told The New Republic at the time, "This was the most calamitous and least predictable outcome for New York. Nobody thought we'd go from an initial map where we'd pick up as many as six seats to a map where we lose as many as two, and maybe more."
In the end, that map gave New York Republicans a slew of unexpected down-ballot victories on Tuesday night. It was perhaps the only part of the country where Republicans plucked surprise victories—most of last night's shock results ran in a decidedly leftward direction.
One New York–based Democratic strategist, who requested anonymity to speak candidly, argued that blame for much of the drubbing could be laid at the feet of a dysfunctional state Democratic Party: If the state party had encouraged the strongest candidates to stay in their respective districts, the outcome could have been different, the strategist said. On Long Island, Representative Tom Suozzi ran for governor and Representative Kathleen Rice retired because of their concerns over winning their redrawn districts, and in the Hudson Valley, Representative Mondaire Jones was pushed out by Maloney.
Meanwhile, Representative Antonio Delgado was selected as lieutenant governor by Hochul, leaving his competitive district wide open. "Frankly, he didn't add anything to that ticket. [Hochul] would have had the same exact performance as she did with or without Antonio Delgado, and I bet you Antonio Delgado would have retained that congressional seat, even after redistricting," the strategist said. "I think the Democrats really suffered from a real vacuum of party leadership that could have adjudicated some of these musical chairs."
For many Democratic operatives, that vacuum of leadership goes all the way to the governor's mansion, where Kathy Hochul is on pace to carry the state by only five points. By comparison, Joe Biden won New York by 23 points in 2020. Hochul essentially allowed the Democratic legislature to draw its own overly optimistic (and, it turns out, unconstitutional) map. And while Hochul was a hit on the fundraising circuit, she was something of a nonentity on the campaign trail, offering an empty narrative as Zeldin pushed with his aggressive one on crime and inflation. By summer's end, the Republican had built substantial inroads around the state and was all but setting the agenda. As the campaign entered the home stretch, Hochul was forced to play the game by Zeldin's terms, abandoning her well-worn attacks on his anti-abortion stances and responding instead to his broadsides about inflation and crime—two topics that, by then, had become avoid-at-all-costs issues for most Democrats.
The incumbent's blitheness was nevertheless persistent. Only a few days before the election, Hochul put in an appearance on MSNBC where, after she parroted some well-polished but unconvincing talking points, she seemed genuinely surprised when host Stephanie Ruhle told her that New Yorkers "aren't feeling good." Hochul eventually caught on and brought in Joe Biden to make a last-minute campaign appearance in Yonkers.
Another longtime New York Democratic strategist told The New Republic, "It all really just comes down to the fact that she just didn't campaign, didn't do anything to energize voters until the final five minutes of this thing. I don't think enough blame can be laid at her feet for how she handled this."
In short, New York Democrats fell victim to a mess of their own making and may have cost their party a majority in the House of Representatives as a result. But if there is a positive spin on New York's rough election night for Democrats, it's that this isn't an ironclad future—there aren't real signs that New York is becoming a true "swing state," despite the gains by Republicans. The reasons for the underperformance are clear: Democrats got greedy and attempted to overplay their hand on the congressional map, the New York political machine campaigned poorly, and the Republicans battered them on issues that resonate uniquely in the suburbs. These are all problems that can be repaired in the next election cycle. But all that is certainly little comfort on Wednesday morning as the red wave that missed the rest of the country came crashing down in the Empire State.
Grace Segers contributed reporting to this story.
[Alex Thomas is based in Washington, D.C., and has written for Playboy, Air Mail, and LitHub. @AlexThomas ]