Tidbits – Nov. 10, 2022 – Reader Comments: Elections – No Red Wave; Dangerous Turn in Israel; No Black Players in World Series; Enola Holmes; Resistance Revival Chorus With Rhiannon Giddens "All You Fascists Bound To Lose"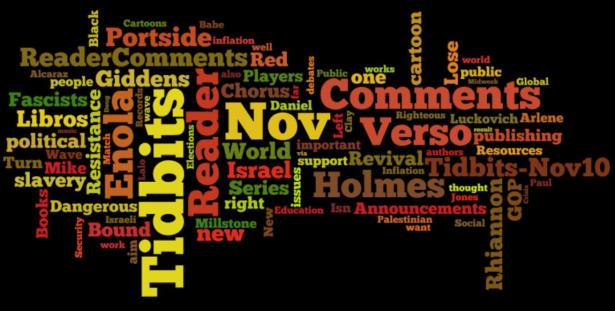 Tidbits - Reader Comments, Resources, AND cartoons - Nov. 10, 2022,Portside
Resources:
Dear GOP, MSM: Take Out the Trash  --  cartoon by Lalo Alcaraz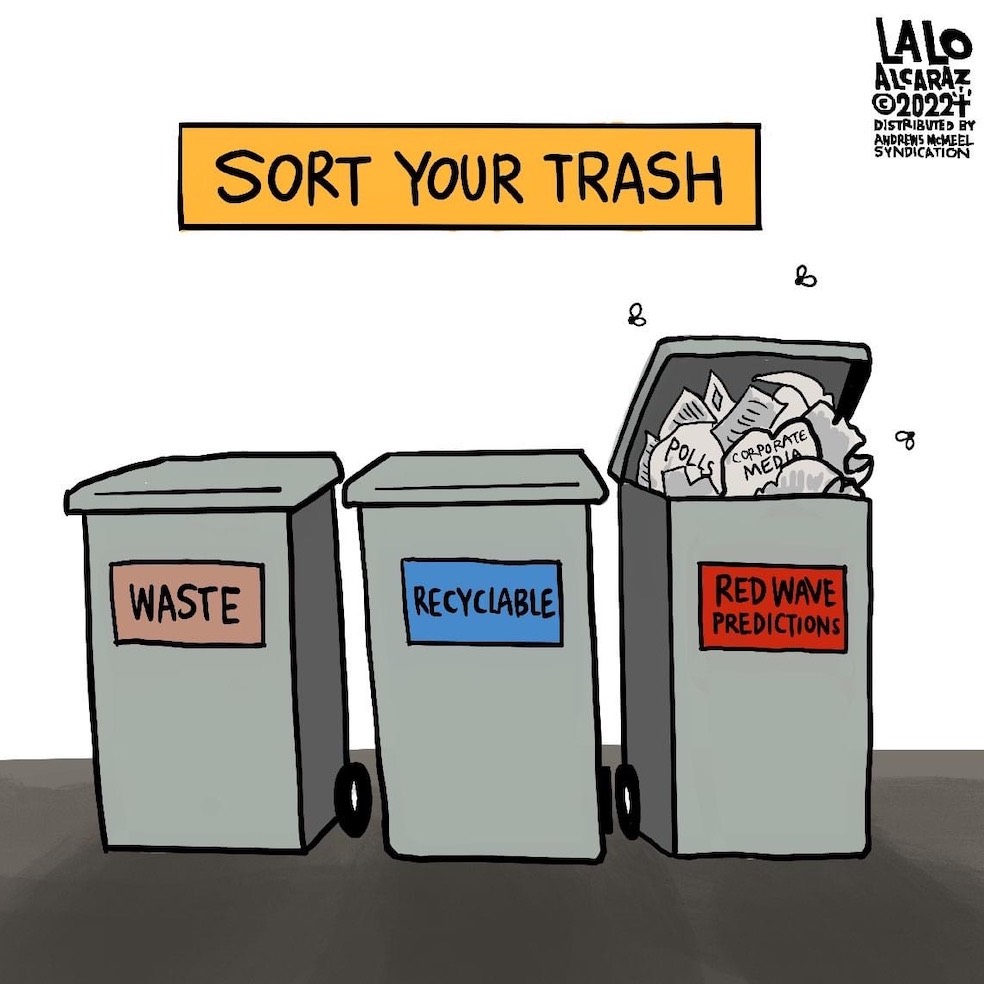 Lalo Alcaraz
November 9, 2022
Pocho Magazine
Re: How Serious Is the Authoritarian Threat in the US? What Can We Do About It?
 
Depends on how the GOP does. If they win the house, governorships and Secy of state positions in swing states- fascism is the likely outcome.
Arlene Geiger
Posted on Portside's Facebook page
      =====
Very important message for us all.
Courtney Childs
Posted on Portside's Facebook page
GOP Campaign Against Social Security (Tidbits - Nov. 3)
 
Mike Luckovich in the Atlanta Journal Constitution via Portside. In the comments, Paul Krugman explains.
The G.O.P. Plot Against Medicare and Social Security
Daniel Millstone
Posted on Portside's Facebook page
DeSantis Wins, With a Little Help From His Friends  --  cartoon by Clay Jones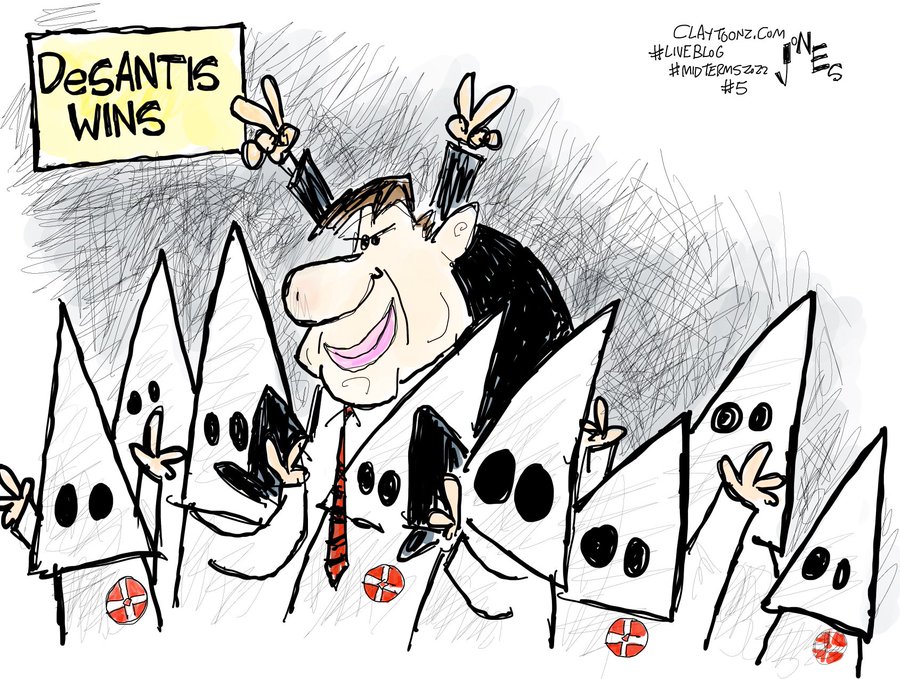 Clay Jones
November 8, 2022
#Liveblog #Midterms2022 #claytoonz #cartoon #RonDeSantis #Florida
Claytoonz
 
Re: Our Economic Crisis Isn't Inflation
 
As usual, THANK YOU BERNIE, for spelling it out.
Not just "inflation" but all issues generally described with one word, are absurd, especially when people are asked which issue will be most important to them in the next election.
If one of my neighbors says "inflation" when they don't really want to sell some stock at a bad time for the stock market, to buy a yacht, are they talking about the same thing as a parent in a nearby Homeless Encampment who can no longer afford rent that competes with properties being turned into AirBnBs to be used by those visiting my neighbors?
The greatest "competing" question right now appears to be "abortion" But I see it as one of the many issues that make up "slavery": the Thirteenth Amendment talks about "Involuntary Servitude".. I can't check "abortion" when I'm equally concerned about other forms of slavery: e.g.,."Military Conscription," AND "slavery" that can be answered with some other option, like "Jobs." When people "volunteer" to kill others in other countries in order to support their families, that's also slavery. When people "choose" to work on dangerous meat-packing assembly lines during a pandemic, that's "slavery." When those same people die or become sick and "burdens" to the rest of us as a result of "slavery", is that "inflation?"
What box do you check in a survey of "issues?" This conversation needs to gain more followers. We can't get at reality with single-word issues.
Arlene Halfon
Red wave goodbye  --  cartoon by Mike Luckovich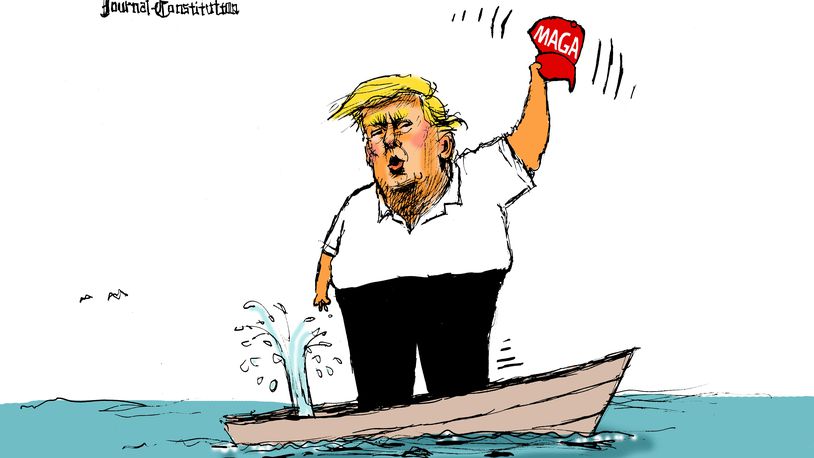 Mike Luckovich
November 10, 2022
Atlanta Journal-Constitution
Re: Phyllis Bennis on Progressive Dems Retracting Letter Urging Diplomacy To End Ukraine War
 
our savant on US overreach and its consequences.
Paul Buhle
Posted on Portside's Facebook page
Re: The Week Corporate Power Started To Dissipate
 
Has now our winter of corporate dominance of our political scene been made glorious summer of people's power? Here, via Portside, David Dayen looks at some actions by state and federal law enforcement to resist private equity's onslaught. IMO obviously, this modest but refreshing ripple will dry right up if the GOP does well tomorrow. Vote. 
Daniel Millstone
Posted on Portside's Facebook page
Re: Election Result Marks Dangerous New Turn in Israel's Rightward Shift
 
The recent wave of Palestinian terrorism has achieved its desired result. The relationship between the armed Palestinian activists and the Israeli far right is one of mutual support.  The murdering of Israeli civilians drives the Israeli electorate into the arms of the far right, and the actions of the far right in Israel and the Territories increases support for the Palestinian terrorists--while those on both sides who seek peace get increasingly marginalized.
Stan Nadel
      =====
I am not sure that it is really a "turn" or "shift", which the article kind of hints at near the end 
Brandon Mouser
Posted on Portside's Facebook page
Re: How Did MLB Get to Point Where No African American Players on a World Series Roster Isn't a Surprise to Many?
 
You left out the real # 1 cause disinvestment in public schooling. The ballplayers of yore had ballfields and baseball leagues in the public schools of all major cities, not to mention smaller ones.
John Woodford
      =====
It's always about the money.
Gina Klein
Posted on Portside's Facebook page
Re: Global Left Midweek – November 9, 2022
 
Please take a look at some of these detailed, incisive reports. The Therborn essay, "The World and the Left," addresses questions that are plaguing us in this dizzying moment. The reports from Russia, Afghanistan and Sudan give a real feel for the ongoing resistance movements in most difficult situations.
Ethan Young
Posted on Portside's Facebook page
Re: Doug Ford's Attack on Workers
 
I'm a nurse in Ontario and I have two kids in public school and I support the education workers. We all need to band together and fight this legislation every way possible or the rights of every worker in the province will be stripped away.
Robert Laite
Posted on Portside's Facebook page
Re: Enola Holmes 2 and the Real Life History of the Match Girls' Strike
 
Enola Holmes and Enola Holmes 2 are thoroughly enjoyable screen adaptations of the Enola Holmes mysteries written by Nancy Springer. Millie Bobby Brown is Enola, the younger sister of Sherlock Holmes, trained to be tough, resourceful, and independent by their militant suffragist mother. Enola is going to become a private detective, regardless of tight-arsed Victorian society's expectations.
In Enola Holmes 2, the stubborn teen agrees to search for a missing Match Girl. And so we find ourselves enmeshed not only in adventure and intrigue but in the origins of one of the most significant events in 19th-century British labor history.
Peter Gilmore
Posted on Portside's Facebook page
Resistance Revival Chorus with Rhiannon Giddens "All You Fascists Bound To Lose" (Righteous Babe Records)
Watch here
Introducing the official music video for "All You Fascists Bound to Lose," the newest single off our debut album, out on Righteous Babe Records on Oct. 16! 
Grammy Award-winning singer-songwriter Rhiannon Giddens performs lead vocals and plays banjo and fiddle on our cover of folk legend Woody Guthrie's anthem, a rallying cry as potent and galvanizing today as when he wrote it in 1942. 
Let this single and the rest of our album be your soundtrack to defeating fascism at the polls on Nov. 8 — and marching in the streets afterwards if the white nationalists in the White House don't like the results. They're bound to lose because we are many, and they are few.
**Download or stream the single HERE: https://righteousbabe.ffm.to/allyoufascists
**And order the digital album or reserve a limited edition copy on vinyl HERE: 
https://www.righteousbabe.com/collections/resistance-revival-chorus/products/resistance-revival-chorus-this-joy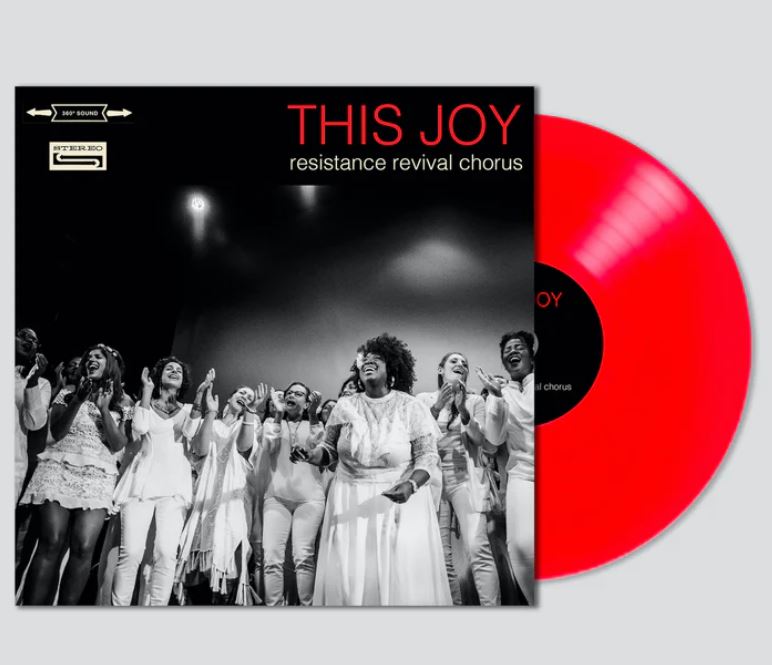 **Follow the Resistance Revival Chorus! 
Twitter @resistancerev 
Facebook facebook.com/resistancerevivalchorus
Sign up for our newsletter at www.resistancerevivalchorus.com
Video Credits:
Directed and edited by Annie Bailey and Maximilla Luckas
Animation by Sabrina Strausbaugh
Song Credits: 
"All You Fascists" Words and Music by Woody Guthrie
© Woody Guthrie Publications, Inc.
Images and video of Woody Guthrie, courtesy of Woody Guthrie Publications, Inc. All rights reserved.
Produced by Tiffany Gouché
Lead vocals, Rhiannon Giddens
Vocal arrangement, Nilusha Dassenaike
Additional arrangements, Lee Taylor, Michaela Gomez 
Fiddle, Rhiannon Giddens
Banjo, Rhiannon Giddens
Upright bass, Joanna Sternberg
Drums, Rachel Housle 
Guitar, Michaela Gomez
Vocals, Resistance Revival Chorus
Rhiannon Giddens appears courtesy of Nonesuch Records
https://www.patreon.com/rhiannongiddens
https://www.instagram.com/rhiannongiddens/
https://twitter.com/RhiannonGiddens
https://www.facebook.com/RhiannonGiddensMusic
Rhiannon Giddens' latest album is 'there is no Other' with Francesco Turrisi: http://smarturl.it/thereisnoother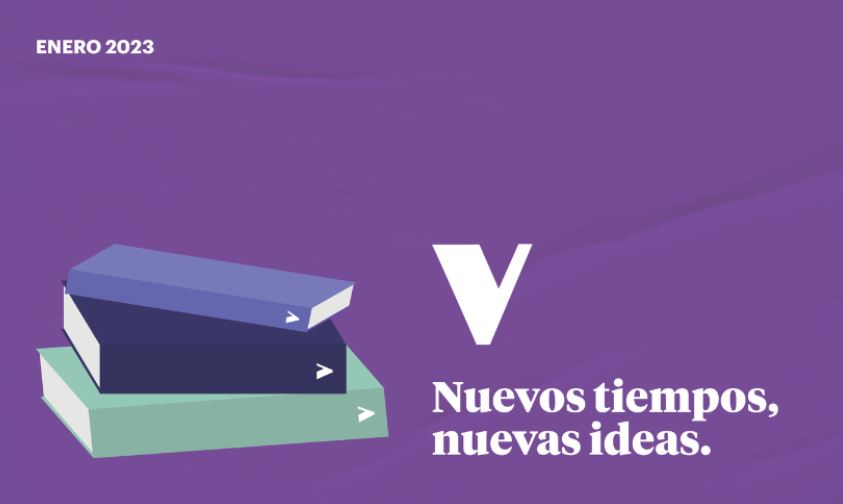 We are pleased to announce the launch of Verso Libros – Verso Books' new Spanish-language publishing partnership in Latin America and Spain.
For over 50 years, Verso Books has been a radical and anti-imperialist publisher working out of London and New York. In January 2023, Verso Libros will be born in the outskirts of Barcelona, aiming to publish titles throughout the Spanish-speaking world.
Our aim is to create an intellectual space for the production and dissemination of major political debates. We are committed to a systematic intervention in the intellectual training of a new political layer and social movements who have risen against the latest phase of neoliberalism. We want to arm ourselves with the best cultural tools to confront contemporary capitalism.
Verso Books, founded in 1970, itself initially focused on translating works of European political and social theory, economics and philosophy, from Theodor Adorno, Louis Althusser to Jean-Paul Sartre, as well as important original works by writers around the New Left Review. Following a long emancipatory tradition, Verso Libros will be publishing texts both for urgent political interventions and the long term, and be the articulation of networks capable of imagining new worlds. In this sense, Verso Libros will also work on the recovery of modern classic authors to help us understand old and new debates, such as Giovanni Arrighi, Régis Debray, Mike Davis, Christine Delphy, Alexandra Kollontai, Fredric Jameson, Juliet Mitchell, Ellen Meiksins Wood, Raymond Williams, and Erik Olin Wright.
We also believe in the power of young authors, eager to renew critical thought. In this sense, we promote emerging voices, whose talents are yet to be recognized. We refer to a new generation that understands the world as well as or better than the previous one, but who are blocked and frustrated by the commodification of the public and academic sphere. We aim to break the generation gap. Our aim is to unite all possible forces around a common goal: to come together in an editorial project dedicated to thinking emancipation.
Among the most important of the project's lines is the renewal of socialist ideas, with new contributions from feminist, anti-colonial and anti-imperialist thought, Marxist theoretical debates, and works that seek to understand the digital and green transformations of capitalist accumulation. In the same way, our publishing house seeks to advance the decolonisation of thought, opening the door to knowledge of the Global South. Verso reprints classics and features authors from different places and realities, shifting the gaze from Europe and the West.
Verso Libros is an imprint of Radical Books Coop, a worker-owned publishing cooperative that encourages critical thinking, promotes eco-publishing, the automation of work processes and a working environment that emulates the society we want to build. By publishing a curated list of forty to fifty titles a year, we aim to contribute to the Hispanophone world as a whole in order to facilitate the exchange of ideas, and help its living forces face the new political cycles and to reinforce the best of the previous ones.
 
Follow us online
https://twitter.com/versolibros
https://www.instagram.com/versolibros/