Global Left Midweek – Mass Action in World Centers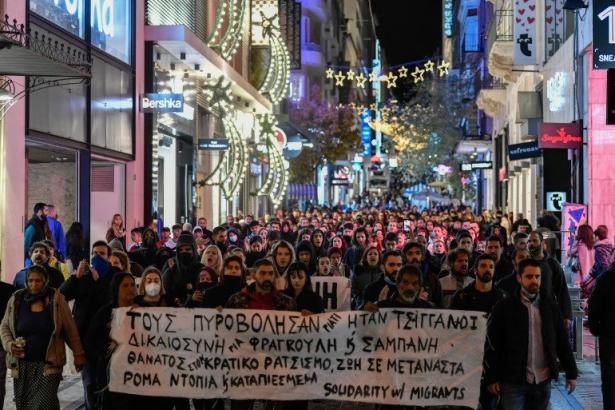 Athens: 'They shot them because they were Roma'. Credit, Michael Varaklas/AP
__________
Iran: The Tipping Point
Lou Romeo / France 24 (Paris)
As the protest movement in Iran continues to grow in intensity following fresh calls for another three-day strike, the prosecutor general made the surprise announcement that the country's morality police, the group responsible for the death of Mahsa Amini, had been abolished. The declaration was initially seen as a retreat by the regime but has done little to pacify dissent. 
__________
China Citizens Are Furious
__________
UK: Happy Xmas and To All a Good Strike
Ethan Evans / ManchesterWorld
Railway staff from The National Union of Rail, Maritime and Transport (RMT) recently confirmed additional strike dates over the festive season. It joins a growing list of professions that will walk out over the course of the month and in some cases into 2023. Including NHS nurses, ambulance personnel, Royal Mail postal workers, bus drivers and many more.
__________
South Korean Truckers
Anish R / Peoples Dispatch (New Delhi)
Trade unions in South Korea staged a massive march to the National Assembly in Seoul to protest against strike-busting by the conservative government. The protest march was organized by the Korean Confederation of Trade Unions (KCTU), one of the largest trade union confederations in the country, to coincide with the completion of 10 days of a nationwide truckers' strike.
__________
Confronting Amazon in Japan
Chie Matsumoto / Socialist Project (Toronto)
Delivery workers in Japan are fed up with Amazon Japan's practices that make accidents and injuries more likely by increasing delivery volume and speed. They are now organising unions to take on Amazon.
__________
Brazil: Generational Formation in Troubled Waters
GiovannaI Henrique Marcelino / New Left Review (London)
There is a promising intersection of militant and intellectual activity in contemporary Brazil. Its practitioners are not just 'radicals of occasion', but members of the subaltern classes as well. 
__________
Tunisia: Union Resistance to New Regime
Al Jazeera (Doha)
"We no longer accept the current path because of its ambiguity and individual rule, and the unpleasant surprises it hides for the fate of the country and democracy," Noureddine Taboubi, leader of the Tunisian General Labour Union (UGTT), said in a speech to thousands of supporters on Saturday.
__________
Greece: Protest Over Police Shooting of Roma Youth
Costas Kantouris / Associated Press (New York)
Violent protests broke out in Greece's second-largest city over the police shooting Monday of a Roma teenager. About 1,500 people took part in a protest march organized by left-wing and anarchist groups in central Thessaloniki on Monday night. Some smashed shops and threw Molotov cocktails at police, who responded with tear gas and stun grenades.
__________
Negotiation vs Resistance in Sudan
Dabanga (Khartoum)
The Forces for Freedom and Change-Central Council (FFC-CC) confirmed on Sunday that it has agreed to sign the first phase of a political framework agreement at the Republican Palace in Khartoum, while demonstrations against the deal are set to take place in the Sudanese capital.
__________
Reconnect the Left!
Federico Fuentes and Pablo Stefanoni / Links (Sydney)
Pablo Stefanoni is editor of the progressive Latin American magazine Nueva Sociedad, associate researcher at Fundación Carolina (Spain) and author of La rebeldía se volvió de derechas? (Has Rebellion Become a Thing of the Right?).