Global Left Midweek – December 14, 2022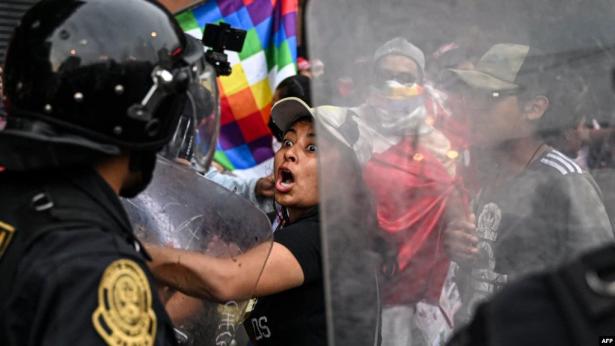 Supporters of former President Pedro Castillo clash with riot police during a demonstration demanding his release and the closure of the Peruvian Congress in Lima, on Dec. 11, 2022. Credit, AFP
__________
The World Women's Movement Takes Many Forms
__________
Iran on Strike
Juan Cole / Informed Comment (Ann Arbor)
Although major Persian cities saw strikes and rallies, the strike seems to have been especially effective in Iranian Kurdistan, where Hengaw reported that 29 cities in four Kurdish provinces were on strike. Mahsa "Zhina" Amini, the young woman whose death in the custody of the morals police provoked this fall's demonstrations, was a Kurdish Iranian.
__________
Fury Follows Castillo's Ouster in Peru
__________
Hungary: The Education Front
Imre G. Szabó / LeftEast
Despite the crushing defeat of the opposition at the elections in Spring this year, not all is quiet in Orbán's Hungary. Teachers, students, and parents have organized a series of protest across the country, calling on the government to increase teachers' salaries, restore teaching autonomy and create a more democratic education governance.
__________
Big Picture Perspectives
__________
Ukraine: Can Negotiations Be Made to Work?
Denys Bondar and Zakhar Popovych / Sotsіalniy Rukh (Kyiv)
Lately, in the West, the sentiment on the prospects of a peaceful end to the war imposed on the Ukrainian people is heard more and more often. But are such negotiations possible, and who will benefit from them? And does Putin actually want peace?
__________
Empowering Communes in Venezuela
Ricardo Vaz / Venezuelanalysis (Caracas)
The Venezuelan National Assembly (AN) has opened a process to review and reform a set of laws concerning popular power. A consultation process will now begin to collect input from the country's 49 thousand officially registered communal councils, as well as over 3 thousand communes and other social movements.
__________
Denmark's Red-Green Alliance
Duroyan Fertl / Rosa Luxemburg Stiftung (Brussels)
Denmark's radical left party is in a spin. At the November 1 general election, it lost a quarter of its support, a third of its seats, and its influence with government. Alongside the immediate financial and political ramifications, the result has opened up both internal and public debate – exposing strategic disagreements over the party's direction.
__________
Israel: Uniting Against Fascism is the Order of the Day
Israel Frey / Haaretz (Tel Aviv)
It's time to wake up. It's over. This is no longer our state. It has been occupied by fascist forces. Now it's time to think like opponents of the regime. And the new regime's opponents don't fight for "sanity" and good government. They fearlessly represent the bloc of full equality, which will likely undermine the foundations of Jewish supremacy.
__________
Europe: Climate Occupations
Clare Hymer and Sam Knights / Novara Media (London)
Tents were erected last month at the University of Barcelona. A banner was strung up in a stone archway. For seven days, students led workshops on movement-building and political struggle. The students had two clear demands of their university: that it cut ties with fossil fuel companies, and that it introduce a compulsory module on the climate crisis.