Dispatches From the Culture Wars – December 20, 2022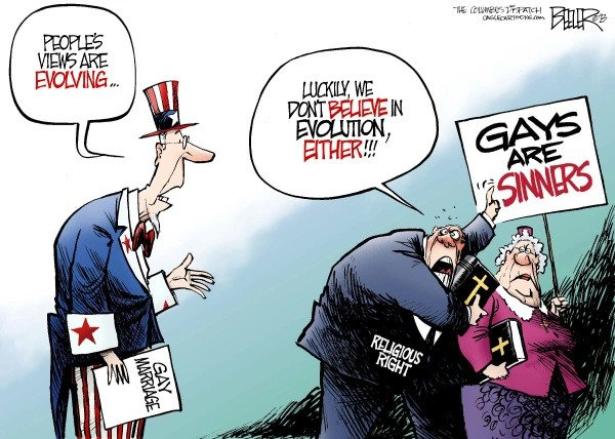 Credit, Nate Beeler
Fighting the Right in a School Board
By Jennifer Job
The Progressive
Board meetings in North Carolina's largest school district, like others around the country, have been dominated by hostile rightwing 'activists.' Then local progressives stepped in.
Running for President as an Anti-Vaxxer
By Eric Bradner and Kit Maher
CNN
Florida Gov. Ron DeSantis has made Covid-19 vaccine skepticism his calling card ahead of a potential run for the 2024 Republican presidential nomination. The governor, who cruised to victory in his bid for a second term in November, is positioning himself to the right of former President Donald Trump, a potential rival who who was in office when the vaccine was developed.
Vatican Defrocks Priests for Life Leader 
By Christopher White
National Catholic Reporter
Frank Pavone, a right-wing provocateur who for years defied requests from the Vatican and multiple U.S. bishops to stop engaging in partisan political advocacy inconsistent with his role as a member of the Catholic clergy, has been dismissed from the priesthood. 
By Leo Guardado
The Conversation
Liberation theology's approach to living out Christian faith has been both globally influential and bitterly controversial. It has been investigated by the CIA on suspicion of promoting social unrest and inquisitioned by a former pope who accused it of getting too close to Marxist thought. Critics have dismissed it as naive – but also called it a threat to free market capitalism.
BlackRock's Anti-Climate Agenda
By Rebecca Burns
The Lever
BlackRock, the world's largest investment company, has become a top target of the right's crusade against so-called "woke capitalism" because of its rhetoric around climate change and sustainable investing. But when it comes to climate action, the giant asset manager isn't presently all that far apart from its GOP detractors.
By Danya Zituni 
Truthout
Pro-Israel lobby groups have convinced local jurisdictions in several U.S. states to adopt the controversial and overbroad  definition of antisemitism used by the International Holocaust Remembrance Alliance (IHRA), which classifies virtually all expression in support of Palestinian rights as anti-Jewish.
By Noémie Taylor-Rosner
Equal Times
The Alliance for Safety and Justice, an organisation committed to criminal justice reform, won a major political battle. SB731, a law that would allow people convicted of crimes to request that their criminal records be expunged after serving their sentences, was passed in August by the California legislature and signed into law on 27 September.
By Zoë Lourey-Christianson
Bust
In the past decade, especially, horror movies have been a space where women are consistently portrayed as multidimensional beings–not just sexual objects or stepping-stones for male character development. We were blessed with some truly stellar horror/thriller movies featuring strong female leads this past year. 
By Robert David Sullivan 
America
Certainly, a sizeable number of Americans would still prefer not to be reminded of the existence of gay people, but that number is dwindling. Support has also been higher among people who personally know someone who is gay or lesbian, and that group is obviously not going to shrink any time soon.
By Laura Bassett
Jezebel
Rep. Marjorie Taylor Greene (R-Ga.) spent her Saturday night on stage at the New York Young Republicans Club gala, announcing to a room full of people in fancy dresses that butt plugs are now on sale at Target and CVS.