Global Left Midweek – Mideast Focus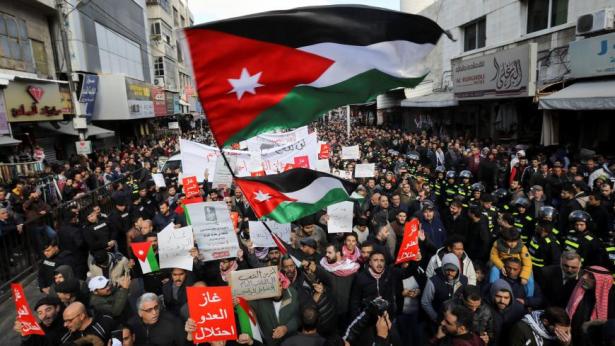 Jordanians show solidarity with occupied Palestinians in 2020. Credit, REUTERS/Muhammad Hamed
__________
Women's Rights in the Gulf in 2022
Jennifer Holleis / NewsClick (New Delhi)
Despite significant gains, women's rights remain curtailed in the United Arab Emirates, Saudi Arabia and Qatar. What was achieved in 2022 and what are the crucial topics for the coming year?
__________
Fighting Resumes in Defense of Western Sahara
Pavan Kulkarni / Peoples Dispatch (New Delhi)
Moroccan forces illegally occupying the Sahrawi Arab Democratic Republic (SADR) have come under repeated bombardment by the Sahrawi People's Liberation Army (SPLA). Moroccan forces currently occupy over 80% of SADR, also known as Western Sahara, which remains classified by the UN as among the last countries still awaiting decolonization.
__________
Iran's Moment of Truth
Christopher de Bellaigue / The Guardian (London)
Iran has entered a period of rolling protest in which the Islamic Republic must defend itself against wave upon wave of public anger. The ability of the opposition to pull together is only beginning to be tested. But already we know that whatever happens in Iran over the next few months, something has changed, something fundamental.
___________
Palestine's Rising Tide
__________
Afghanistan: One Word of Defiance Against Taliban Misogyny
Noor Gul Shafaq / BBC World Service (London)
On Sunday 25 December, a woman stood in front of Kabul University holding up a board with a particularly powerful word written on it - iqra, or 'read'. Muslims believe this was the first word revealed to the Prophet Muhammad by God. "God has given us the right to education. We need to be afraid of God, not the Taliban who want to take away our rights," she told the BBC Afghan service.
__________
Protests Spread in Jordan
Mohammad Ayesh / Middle East Eye
Jordan is witnessing escalating popular protests whose violent turn has ushered in an important, sensitive, and dangerous period in the country's history. But what is happening in Jordan cannot be isolated from current conditions and growing tensions in the entire region, signalling what may be a prelude to a second wave of the Arab Spring.
__________
Lula Launches Reform Government
__________
Nepal Power Shifts
Kallol Bhattacherjee / The Hindu (Mumbai)
Pushpa Kamal Dahal "Prachanda" was sworn in as the Prime Minister of Nepal on December 26, 2022. At the event, both the former Maoist rebel leader Prachanda and the outgoing Prime Minister Sher Bahadur Deuba were dressed in daura-suruwal, the dress of Nepal's traditional power elite. Did the choice of daura-suruwal indicate an evolution in the ex-guerilla's ideological journey?
__________
Ukrainian Voices
Volodymyr Ishchenko / New Left Review (London)
National liberation is no longer understood as intrinsically linked to social revolution, challenging the basis of capitalism and imperialism. Instead, the results under neoliberalism neither achieve the consolidation of liberal democracy nor eradicate corruption, even if authoritarian regimes are overthrown, 'empowering' the ngo representatives of civil society.
__________
Download The Crisis and Future of Democracy
Rosa Luxemburg Stiftung (Brussels)
In 14 chapters, this book tackles a wide range of problems surrounding democracy. The authors bring together a wealth of knowledge, astute insights and forward-looking conclusions about the state of democracy, the potential for democratic change and the actors and strategies that can get us there. We hope it will inspire political action striving for a democratisation of democracy.