Global Left Midweek – April 12, 2023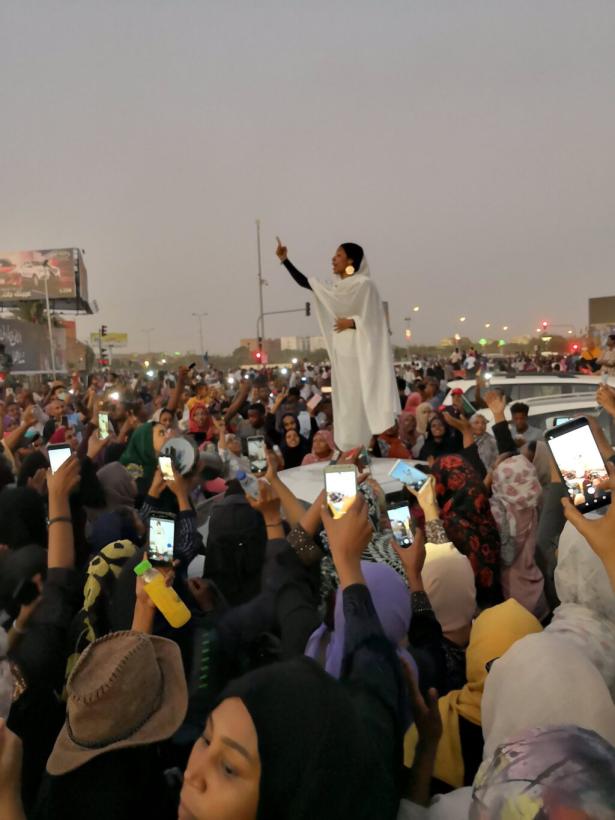 The iconic image of Kandaka Alaa Salah during the revolutionary protests on April 8, 2019, in Khartoum. Credit, Lana H. Haroun
__________
Europe: Electoral Updates
__________
New Pink Tide Goes Green
John Feffer / Foreign Policy in Focus (Washington DC)
The Latin American left has long favored more mining and drilling to boost exports, trade, and government revenues. Progressivism in Latin America, as in many other parts of the world, has long been inextricably linked to raw material extraction designed to distribute more wealth to the poor, while closing the gap with the richer North. Now, Colombia is trying something different.
__________
Socialist Party of Zambia Attacked
Tanupriya Singh / Peoples Dispatch (New Delhi)
On Saturday, April 8, members of the Socialist Party of Zambia were targets of a violent attack by alleged cadres of the ruling United Party for National Development in the district of Serenje, Central Province. Shortly after, Zambian police arrested SP president Dr. Fred M'membe, even as the attackers remained at large. Zambia's Green Party strongly condemned the attacks and arrest of M'membe. 
__________
Indigenous Land Defenders Confront Royal Bank of Canada
Stand.earth (Vancouver)
RBC proved it has no interest in reconciliation, turning away the Indigenous delegation who arrived at the bank's Annual General Meeting in Saskatoon as hundreds of Indigenous water protectors and allies rallied outside. RBC is the primary financier of the Coastal GasLink pipeline, which lacks consent from Wet'suwet'en Hereditary leadership, the rightful titleholders of the land.
__________
Celebrating Women in Sudan's History
Camille Straatman / Dabanga (Amsterdam)
Kandaka refers to the Nubian Queens of Sudan's ancient Kingdom of Kush, centred in the Nile valley of southern Egypt and northern Sudan. Symbolising strong, fighting women, the term was applied to the women who played an important role in the revolution that overthrew the regime of dictator Omar Al Bashir.
__________
1995 to 2023: France's Giant Pension Protests
Annie Ernaux / Le Monde diplomatique (Paris)
In November '95, unlike in May '68, the entire population supported the strike. Private-sector workers, who were not striking, would say to public-sector workers, 'You are striking for us, on our behalf.' We were suddenly coming out of the tunnel of the years after 1983, and the much-touted end of politics. Workers in rail, electricity and the postal system defied the world order of neoliberalism.
__________
LGBTQ+ Rights in Africa
Efemia Chela / NewsClick (New Delhi)
The Trans and Queer Fund (TQF) is a hopeful example of grassroots organising grounded in socialist and abolitionist values in Nairobi, Kenya. TQF set up a mutual aid system to provide relief funds for LGBTQ+ people whose livelihoods disappeared due to mandated lockdowns. 
__________
Union Action for Climate Justice in Germany
Franziska Heinisch and Julia Kaiser / Socialist Project (Toronto)
During the global climate strike on 3 March, climate activists and public transport workers in Germany went on strike together in around 30 cities. This could be the first step toward ecological class struggles – and their coordination on an international scale.
__________
Class War: Workers Face Repression
South Korea   / CIVICUS Monitor (Johannesburg)
 
Tunisia   Carolyn Butler / Solidarity Center (Washington DC)
 
China   Ralf Ruckus / Jacobin (New York)
 
Ukraine   Georgii Sandul / International Politics and Society (Berlin)
__________
Scotland: An Underground Railroad for Migrants
Agatha Scaggiante / Waging Nonviolence (Brooklyn)
A movement led by people with lived experience of the U.K. immigration system has sprung up to fight for more humane treatment and housing for refugees.