America's Workplace Safety Crisis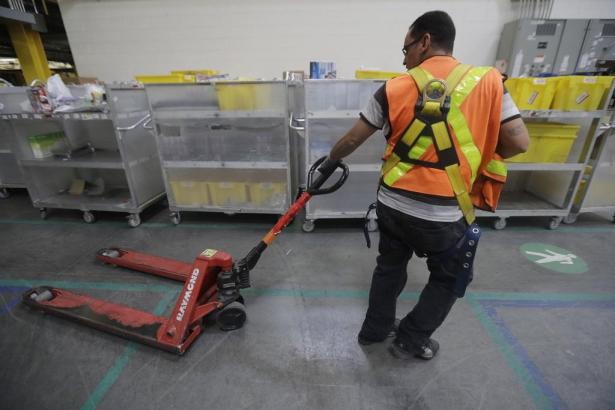 An employee pulls a pallet jack at the Amazon fulfillment center in Robbinsville Township, New Jersey, August 1, 2017.,Julio Cortez/AP Photo / The American Prospect
Three immigrant workers plummeted more than 70 feet to their deaths while constructing a residential building. A 22-year-old immigrant was sucked into a dough mixer without a safety guard at the factory where he worked; a turbine broke his neck and he was killed on the job, leaving behind his young child.
These stories aren't from 1900, during the height of rapid industrialization in the United States. The construction deaths happened in North Carolina in 2023; the factory worker died in Brooklyn several years earlier, at a tortilla factory. (I worked at the New York Attorney General's Office at the time, and we prosecuted the factory owner for workers' compensation and other violations.)
Like many other problems resurfacing today (see: child labor), workplace fatalities and hazards may seem to many like a throwback to a century ago, a historical problem that we've mostly solved. While the passage of the Occupational Safety and Health Act (OSH Act) in 1970 has vastly improved workplace safety, too many people are still sickened, injured, and killed on the job. Very often, these tragedies are not unavoidable accidents, but rather entirely predictable and preventable.

Meanwhile, new developments like climate change and gun proliferation exacerbate already-existing risks, creating more danger for workers nationwide. We need a new commitment to workplace safety: to stronger laws, more enforcement funding, and to worker empowerment generally.
April 28 is Workers' Memorial Day, a day to recognize workers who were killed or injured, or who have suffered from exposures to hazards on the job. As one would expect, it's commemorated in labor circles—but also by families of victims who are far too numerous. According to the Bureau of Labor Statistics, around 100 people are killed at work every week, each one a tragic story of its own. Worse, this number is likely an undercount: It doesn't include deaths caused by workplace transmission of COVID, for example, or gig workers killed on the job.
In addition to fatalities, far too many people are injured on the job: An average of 27 workers per day suffer amputation or hospitalization. And according to the AFL-CIO's 2023 "Death on the Job" report, an estimated 120,000 workers died from occupational diseases. These problems disproportionately affect low-wage workers, immigrants, and people of color.
Many of the worst offenders are household-name companies. The National Council for Occupational Safety and Health on Wednesday issued its annual "Dirty Dozen" report, identifying some of the nation's worst violators; for 2023, the list includes Amazon, FedEx, and Tesla, as well as major players in the railroad, chemical, airline services, and food processing industries. So where are regulators?
The OSH Act requires employers to provide workers with a safe workplace, and it created an agency—the Occupational Safety and Health Administration (OSHA)—to enforce the law and issue rules about specific workplace hazards.
You might think that companies would welcome the opportunity to improve workplace safety: In order to operate, a business needs workers who are (a) healthy and (b) alive. But you would be wrong. Business opposition to OSHA has always seemed odd, though; what CEO wants to go to bed at night or face their children in the morning knowing they've caused workers to be maimed or killed? Nonetheless, OSHA has faced severe opposition from business since before its creation, which is the main reason it is seriously underfunded. Constant pushback from business has also led to exceedingly long time spans (seven years on average) for OSHA to enact rules (known as "standards") on specific workplace dangers.
OSHA has faced severe opposition from business since before its creation, which is the main reason it is seriously underfunded.
New developments and trends make this baseline situation even worse.
Climate change is already having a devastating impact on workers. Facing extreme weather events like tornadoes or hurricanes, workers are sometimes required to stay or threatened with job loss if they evacuate, with loss of life as a result. Excessive heat is also killing workers: a farmworker in Oregon, a California UPS driver who'd just turned 24, a construction worker in Texas, and another in upstate New York, who died his second day on the job.
Now, OSHA started a rulemaking on heat in 2021, but it will likely be years before this rule is finalized and takes effect. That is especially dispiriting because unlike some complex analysis of how to manage an unusual toxic substance, the requirements for protecting workers from the heat are almost embarrassingly basic: rest, shade, water, and gradual acclimatization to high temperatures. (Any parent could tell you that.) The good news is that some states aren't waiting for OSHA and have passed workplace heat rules of their own.
Our failure to pass commonsense gun laws also affects workers. In Buffalo, Boulder, El Paso, and countless other cities, supermarket and retail workers have been killed in gun massacres, and in classrooms across the country, teachers are literally in the line of fire. Of course, the real solution is sensible gun restrictions. But workplace law is nonetheless relevant: Several states, like Washington, require employers in certain industries (those with high risk of violence, like health care or late-night retail) to create workplace violence prevention programs. This isn't expecting the impossible: It simply requires employers to anticipate risks and come up with a prevention plan to keep workers as safe as possible if there are violent incidents. Again, OSHA hasn't issued a rule in this area, even though the House has repeatedly passed a bill on the subject.
Elsewhere, there is another emergent hazard that could be easily prevented: punishing workplace quotas reported in Amazon warehouses, which cause lasting harm to workers' bodies. Amazon's injury record is far worse than the industry as a whole; in some warehouses, 12 out of 100 workers are injured annually. The U.S. Department of Justice is investigating; Washington state sued the company (and the company sued back), and New York and California both passed laws to try to stop Amazon's burning up its workforce with nearly impossible quotas. These injuries can have lifelong impact, reducing people's earnings as well as their ability to work or be physically active, consequences which themselves can shorten life spans.
Increased use of staffing agencies is also a problem: Temporary workers often fall through the cracks and don't get trained on workplace hazards, with tragic results. Gig company workers, like Uber and Lyft drivers, are also especially vulnerable. A 2022 report found that over 50 were killed on the job since 2017. The victims' families were basically on their own afterward—because gig companies engage in the fiction that workers are running their own businesses, victims' spouses and children have been left without even the limited support of workers' compensation insurance.
These new trends are occurring amidst everyday dangers that never stopped happening. We remember the Triangle Shirtwaist Factory fire of 1911, in which 146 workers died because exits were blocked. Today, Dollar General stores have faced millions of dollars of OSHA penalties for the same reason. Construction workers still regularly perish from falls or trench collapses. (One positive development: District attorneys and criminal prosecutors are starting to take these cases seriously.)
The first step to making workplaces safer is to understand that we still have a problem, and that new dangers abound. We need to take our collective heads out of the sand, and realize that the problems of workplace death, injury, and illness weren't solved in the early 1900s, or during the New Deal, or when the OSH Act was passed over 50 years ago.
We need stronger state and federal laws that give enforcers more effective tools and that respond to new workplace hazards; we also need to adequately fund OSHA so the agency can do its job. State and local leaders can act, too, passing laws and funding enforcement within their own jurisdictions. And our outdated labor laws should be updated so workers can more easily form unions; they serve as on-site safety monitors and help keep workers safe.
America's working people deserve so much more. Everyone should be able to go to work at the start of the day and return home at the end, safe and healthy and whole.
[Terri Gerstein is the director of the State and Local Enforcement Project at the Harvard Center for Labor and a Just Economy and a senior fellow at the Economic Policy Institute.]
Read the original article at Prospect.org.
Used with the permission. © The American Prospect, Prospect.org, 2023. All rights reserved. 
 Support the American Prospect.
Click here to support the Prospect's brand of independent impact journalism